Services (continued)
Other ways in which we serve the local community, Iowans, and researchers around the world:
Almost 634,000 unique visitors from 199 countries/territories made 1.6 million visits to our web site, viewing 4.5 million pages (US, UK, Canada, Germany, and China area top 5)
Iowa Digital Library – 1,085,080 million page views, accessing over 335,000 local images
Our library holdings were searched over 2.08 million times
Main Interlibrary Loan provided 9,148 articles to other libraries from our electronic journals. Some license agreements allow us to deliver these e-articles to those who can't access them off campus.
1,181 community borrowing cards were issued (945 to Iowans)
Interlibrary loan staff supplied 15,939 loans and copies to 94 of the 99 counties in Iowa. Out of all 57,180 filled requests, 29% of our loans went to Iowans.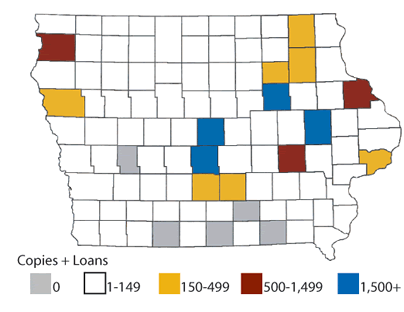 Reference and Instruction
Over 68,000 reference questions were answered (50,561 in-person, and 17,957 electronically)
We had over 14,000 participants in almost 800 instructional sessions.

Almost 600 of our participants were middle or high school students from area schools
278 of our sessions were in the health sciences