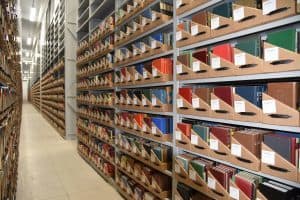 The Libraries Annex is an off-site storage facility for the University of Iowa libraries. Utilizing a high-density storage system, the Annex can hold up to 4.8 million volumes in its temperature controlled environment.
Home to over 1 million items, the Libraries Annex's collections can be accessed through Infohawk+.  Document delivery and Interlibrary Loan services are also available.
The collection is organized by size of the item and placed on shelves up to 22 feet high.  The collection is not accessible to patrons nor browseable.  There are two reading rooms at the Annex and users wishing to consult large works may request materials may be used on-site by making an appointment one business day in advance. Requested materials will be pulled by staff at the facility prior to patron's arrival.  University affiliates such as faculty, staff, community borrowers, graduate and undergraduate students are eligible to request materials.  Others users must use the interlibrary loan service at their local library.  Further information about the reading rooms:
Materials can be checked out and taken from the Libraries Annex.
Pens, indelible pencils, and highlighters may not be used – only pencils and laptops are allowed.
Food, beverages, chewing gum, and smoking are not permitted.
Computer workstations with internet access are provided.  Wifi is also freely available.
Use of personal digital scanners and photography may be allowed at the discretion of the Libraries Annex staff.  Staff reserves the right to refuse any digital reproduction request for copyright or preservation purposes.
The University of Iowa Libraries is committed to making the Libraries Annex collection accessible to all.  Users with disabilities may request staff assistance in accessing and utilizing Libraries Annex materials.
 Find us
Libraries Annex
2515 Independence Road
Iowa City, IA 52340
(319) 358-9829
Map
The Libraries Annex is open by appointment only from Monday – Friday, 9AM-4:00PM
---
Follow us on:
Facebook: facebook.com/UIAnnex
Twitter: @UIAnnex
Instagram: @uiannex
---
Links