Show What You Know
Time: Thursday, February 5th from 6:30-8:00pm
Location: Main Library Learning Commons, Group Areas C & D
Come to Show What You Know and see what your peers think you should know! Watch students give their winning presentations on a skill they think all students would want to know!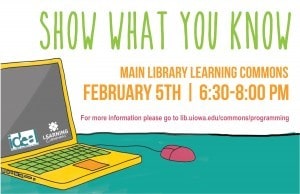 Tutoring
Statistics Tutoring Lab
Times: Mondays & Wednesdays from 9:00am-10:00am, 2:00pm-3:00pm and 4:30pm-7:30pm. Tuesdays & Thursdays from 3:00pm-4:00pm and 4:30pm-6:00pm.
Location: Group Room 1113 Red in the Main Library Learning Commons
For more information see http://www.stat.uiowa.edu/resources/tutoring
Writing Center Tutoring
Times: Wednesdays from 3:30pm -5:30pm beginning Wednesday September 10th, 2014.
Location: Open Area D across from the Food for Thought Café in the Main Library Learning Commons.
For more information see http://www.uiowa.edu/~writingc/.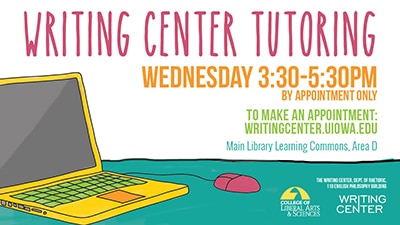 SWAT Tutoring
Times: Monday through Wednesday from 5:30pm – 8:00pm beginning Tuesday, September 2nd, 2014.
Location: South Lobby in the Main Library Learning Commons.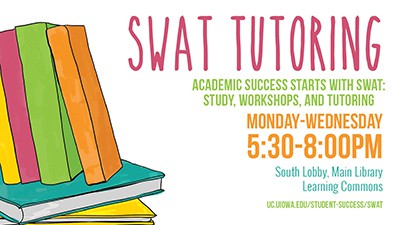 Programming for Faculty
Individual and group training about how the Learning Commons can be used to support your classroom initiatives is available for faculty and staff. Please contact the Learning Commons Coordinator for more information at lib-learningcommons@uiowa.edu.
Student Work in the Public Sphere: A Learning Commons Workshop
Time: Friday, February 20th from 1:30-4:30pm
Location: Main Library Learning Commons
Students look at and treat assignments differently when those assignments culminate in the dynamic presentation of their work in a public space. Faculty can use assignments and projects to encourage students to engage with the spaces and people around them
This workshop hosted by the Main Library Learning Commons will provide instructors the opportunity to reimagine how their classes can perform or display student works in the Learning Commons space. Participants will
tour the Learning Commons facilities.
learn how faculty and campus partners have used the Learning Commons
have time to rework a current or previous assignment into something that can be displayed or performed in the Learning Commons.
Guest instructors will share their insights and experiences in using the Learning Commons to promote their student's work. Participants will leave with a variety of project ideas for classroom use and will be well on their way towards reimagining a current or old assignment to be hosted in the Learning Commons. The institute is open to all faculty and instructors. There is no cost to attend, although pre-registration to the institute is required. Please register here.