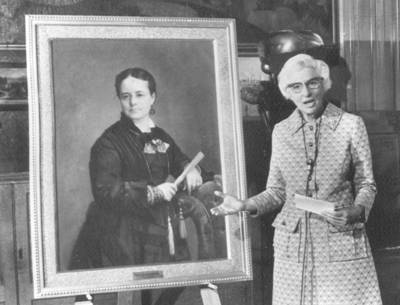 Louise Noun with portrait of Annie Savery, 1972 
$25
check or cash
Leader and Pariah: Annie Savery and the Campaign for Women's Rights in Iowa, 1868-1891
by Louise Rosenfield Noun with Rachel E. Bohlmann
Louise Noun's final book was published in 2002 by the Iowa Women's Archives in celebration of its tenth anniversary.
The book was typeset by Eldon Meeks and Timothy Fay on a linotype machine using vintage typeface  and printed at Route 3 Press (Anamosa, Iowa). It was hand-bound by Lawrence Yerkes (Iowa City).
This limited run book is available from the Iowa Women's Archives. For further information, contact the Archives:
319-335-5068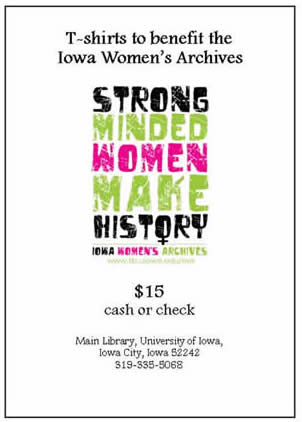 The "Strong-Minded Women Make History" logo honors Iowa Women's Archives founder Louise Noun, who envisioned an archive of Iowa women's history while researching her 1969 book Strong-Minded Women: The Emergence of the Woman-Suffrage Movement in Iowa.
Since its founding in 1992, the Iowa Women's Archives has preserved letters, photographs, writings, scrapbooks, and other materials that document the experiences of Iowa women, with particular emphasis on groups underrepresented in archives.
319-335-5068
$15
check or cash