To: UI Special Collections
To: Recent Acquisitions List
The Clarice E. Krieg Collection
of "Twelve Days of Christmas"
& "Partridge in a Pear Tree" Cards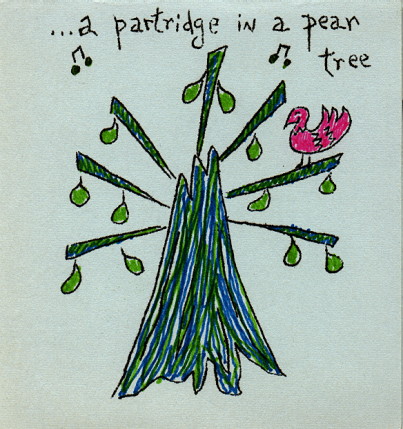 As an undergraduate at the University of Iowa, Clarice Krieg worked in the Library's Catalog Department. Graduating in 1932, she entered Library School at the University of Illinois that autumn, and took her degree the following spring. In 1935 she returned to Iowa as assistant superintendent of Cataloging, leaving in 1941 to become head of the Catalog Department at the University of Oregon, a position she held for 35 years before retiring in 1976.
In the mid-1950s, she began to collect greeting cards based on the theme of the renaissance song, The Twelve Days of Christmas. Many of the cards featured the partridge in a pear tree. By 1992 Miss Krieg had worked out a classification scheme for the collection -- which had come to include some 1100 cards. She presented this collection to the University of Iowa Libraries in March 1999.
Click here for an inventory of the collection.