Systematic Review is a research method that aims to locate and summarize all available evidence for a specific question in order to guide decisions and practices (Definition from the Cochrane Handbook for Systematic Reviews of Interventions). It will help you gather knowledge about a particular field of study, identify recommendations for a future research, establish the context of a research topic or problem, and even identify the main methodologies and research techniques used in a particular research topic or field.
Process of Systematic Reviews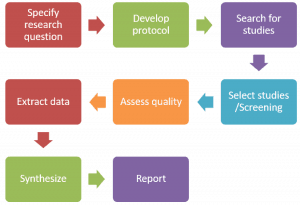 What we librarians can support you through your systematic review project?
Provide feedback on your systematic review project protocol, especially help specify your research question
Identify sources, design search strategies, and provide search results
Write up a method section describing search strategies for your report
Help you learn EndNote citation software for managing references
To get started, please complete the below request form or contact Marina Zhang at qianjin-zhang@uiowa.edu with questions.