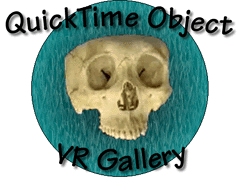 Note: This gallery only contains anatomical models. To request our full educational software package, please go to The Bones of the Skull site.
The Bones of the Skull: A 3-D Learning Tool received the 1999 Sandoz/Slice of Life Student Software Development Award and won first place in the CD-ROM category of the 2001 Instructional Computing in Dentistry Competition, sponsored by the American Dental Education Association.
To view the virtual models in this gallery, you need to download QuickTime.