The USP-NF (United States Pharmacopeia–National Formulary) is a combination of two official compendia, the United States Pharmacopeia (USP) and the National Formulary (NF). It contains standards for medicines, dosage forms, drug substances, excipients, biologics, compounded preparations, medical devices, dietary supplements, and other therapeutics.
NEW: USP has changed their access methods. All users need a username/password to create an Access Point account to view the new version. Visitors to the site from off-campus may also be required to sign in with a username/password to access the current version.
If you are attempting to access USP-NF from off-campus, you will first be required to log-in with your HawkID, and then you will be presented with another log-in page for USP-NF.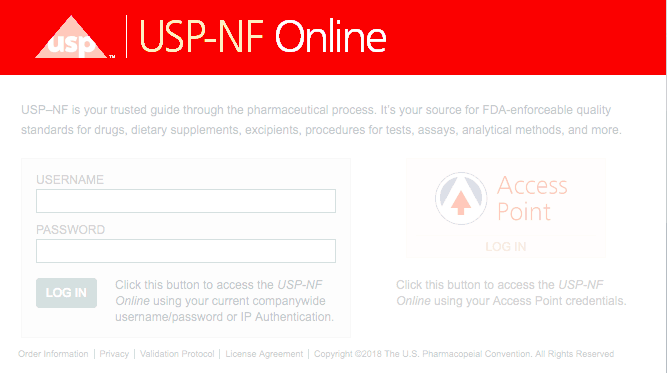 If you do not already have a username and password set up, you may create them by clicking on the "Access Point" login icon, then clicking on the link at the bottom of the following page: