What does the Iowa Women's Archives mean to you?
Share Your Story #MYIWA
To celebrate the Iowa Women's Archives' 25th Anniversary year, submit a post telling your story about your connection to IWA that demonstrates what IWA means to you. We will share your story across social media (with your permission) and gather all the stories into a collection of memories to keep in the Archives.
We plan to share stories as blog posts, photos, artwork, and other forms of media.
There are four ways to submit a story, depending on the format:
SUBMIT A PHOTO OR TEXT for Facebook/IWA Blog*: You can simply type up your story and email it to colleen-theisen@uiowa.edu and specify if you want your name used or wish it to be anonymous.
SUBMIT A VIDEO: Film your story on your phone or camera to create a video and upload it to Dropbox, Google Drive, or as an UNLISTED YouTube video. Then send an email with the link to your file to colleen-theisen@uiowa.edu. If you're using Dropbox or Google Drive, make sure the privacy settings on your file are set to "Anyone with the link can view" and that you're sending the email from your own email address.
SUBMIT A HANDWRITTEN LETTER:  My IWA Project c/o Colleen Theisen 100 Main Library Iowa City, IA 52242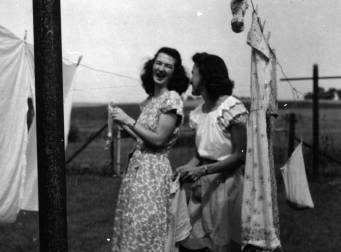 If you share a story to your own page on Tumblr, Instagram, Twitter, or Facebook and tag us using the hashtag #MYIWA, we will simply reblog.
4. I submitted my story. Did you get it?
All storytellers are sent an email confirming that we have received your story. If you haven't received one within a couple of days, please send us another email.
5. How do I get in touch with you? Email colleen-theisen@uiowa.edu.
Thank you!