MsC 848
Collection Dates: 1872 -- 1898
.25 linear ft.
Collection Guide
This document describes a Manuscript Collection held by the
Special Collections Department
University of Iowa Libraries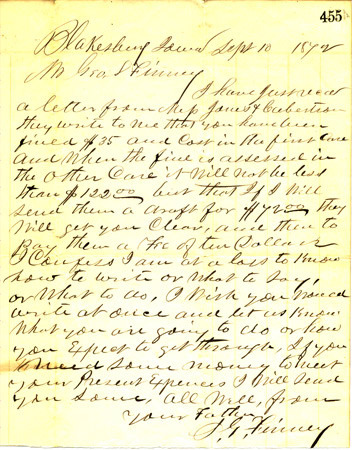 Guide Contents
Scope and Contents of the Collection
Acquisition and Processing Information
Access and Restrictions: This collection is open for research.
Digital Surrogates: Except where indicated, this document describes but does not reproduce the actual text, images, and objects which make up this collection. Materials are available only in the Special Collections Department.
Copyright: Please read The University of Iowa Libraries' statement on "Property Rights, Copyright Law, and Permissions to Use Unpublished Materials"
Use of Collections: The University of Iowa Libraries supports access to the materials, published and unpublished, in its collections. Nonetheless, access to some items may be restricted by their fragile condition or by contractual agreements with donors, and it may not be possible at all times to provide appropriate machinery for reading, viewing, or accessing non-paper based materials. Please read our "Use of Manuscripts Statement."
---
S. G. Finney lived in Wapello County Iowa, where he was postmaster of Blakesburg from 1857 to 1859. He built the first brick house in Blakesburg, which later became the bank. His son George went west and eventually became a driver for the Wells-Fargo stage company, then a cattle rancher in Nebraska. These two carried on a correspondence from 1872 to 1898. This collections contains only S.G.'s letters to George. There are 136 letters here.
---
These letters contain local and regional news, including marriages, deaths, burials, prices for grain and livestock, fist fights, races, burglaries, shootings, suicides, a beheading, fires, trials, and family news. S.G. describes the Oklahoma run, and says that most of the people who went out came back and were better pleased with Iowa than when they went. The letters also hint at family strife, with S.G. repeating in these letters that his son "doesn't know what he has to put up with." Finney also complains that he is a "perfect slave" to the work he does on the farm. He tries in many letters to coax George to come home, offering such enticements as a share of the profits in the farms he owns. S. G. says in a letter, dated December 22 , 1880, " I conclude you boys have made up your minds to remain and ware out in that God forsaken country rather than in a sivalized country, but then as we make our beds so we must lie." These letters tell the often sad tale of those left behind in the westward migration. S. G. and his wife have at least eight children, judging from these letters -- George, Albert, Louis, Frank, Eddy, Ella, Emma, and Annie. There is a Sammy or Samma referred to, who may be a younger son, as well as Arnold. Annie is married and living in southern Iowa or Nebraska; Emma is a school teacher who moves around taking jobs in different places each year, mostly in Nebraska. It appears that all of his sons have gone west. In a letter of December 2, 1889, when he is is about 72 years old, S.G. laments "I often think of how badly we are situated separated and scattered hundreds of miles apart. I know you have had a good deal to do and care for, and if anything should befall you there is plenty of vultures standing ready to take up everything. If it so there, it is so here, and everywhere. Such seems to be life, and such our destiny. Your mother is getting old and failing and when Emma leaves, then it will be lonely indeed. As for any of our boys ever coming back to take any care or interest in the home, that is out of the question. They never have taken any care of themselves, don't suppose they are worth enough to bring them back if they wanted to come."
At some point George moved to California, because included in these papers is a photocopy from The Sunday Morning Outlook calling George a Santa Monican, and containing a photograph of him and his reminiscences of driving stage.
JRoethler, October 2006
---
Acquisition and Processing Information
These papers were purchased by the University of Iowa Libraries in 2006.
Guide posted to the Internet: September 2006
---
Letters from S. G. Finney to his son George
Newspaper clippings about George Finney
Papers relating to the collection
---