At The SEAM we're dedicated to supporting undergraduate research, learning, and success. The SEAM hosts extended research assistance hours and other programs that help undergraduate students develop and improve research skills and critical thinking.
Librarians and staff working in The SEAM also collaborate with faculty and instructors to develop curricula, assignments, and lesson plans that integrate information literacy, critical thinking, and research skills into course and curricular content.
SEAM Team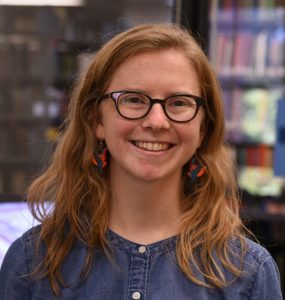 Elizabeth McKay
Elizabeth is a student in the School of Library and Information Science. She is interested in the creativity of the research process and the craft of thinking. In other words, she thinks a lot about how people think about thinking! She loves helping students align their interests with their assignments and understand where they are at in the research process.  She also enjoys taking students on the magic carpet ride of library resources.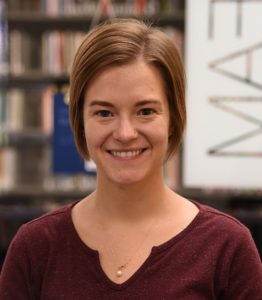 Megan Dial-Lapcewich
Megan is a student in the School of Library and Information Science. She also has a master's in Higher Education and Student Affairs from the University of Iowa, and her interests include academic student support, information literacy among undergraduate students, and student success. Her favorite parts about working at the SEAM are helping students hone in on their research topic and seeing students become more confident in their own research abilities. Her favorite things in life include her sweet puppers, Ony, running, vanilla lattes, wool socks, and – of course – books.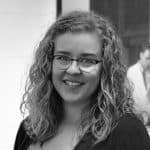 Kaeli Nieves-Whitmore
Kaeli is a student in the School of Library and Information Science and Center for the Book. Her research interests include library-related instruction, information behavior, critical information literacy, and user experience. She is particularly interested in the relationship between library anxiety in undergraduate students and the design of academic libraries. One of the things that Kaeli loves about working in the SEAM is helping students become more comfortable and confident in their research skills. When she's not on campus, you can usually find her at Prairie Lights Cafe reading and drinking tea or laying in her hammock with her dogter, Izzy.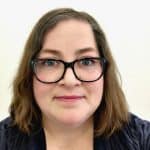 Cathy Cranston
Cathy is the Head of the Undergraduate Engagement Department and one of the liaisons to the Rhetoric Department. She also does instruction for ESL and IEP classes. Her areas of research interests include information literacy, instruction, and library management. She is interested in working with campus faculty and instructors to build information literacy concepts directly into their courses.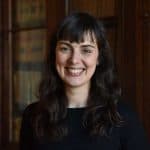 Katie Hassman
Katie is an Undergraduate Engagement Librarian. She works closely with academic and student support units to develop programs and services in support of student success. She does instruction for TRiO Support Programs, Rhetoric, transfer student and others and is always involved in assessment initiatives and projects. Her research interests include information literacy, critical librarianship, public participation and engagement, and library assessment.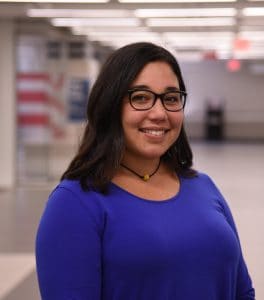 Jenay Solomon
Jenay Solomon is an Undergraduate Engagement Librarian. As a member of the Undergraduate Engagement team, she supports students with their research and information needs providing outreach services both academic and non-academic to ensure their success in and outside the library. Jenay also collaborates across campus with several programs and departments like Rhetoric and Academic Support and Retention. She enjoys working with students anywhere in their research process with the end goal of helping them become successful and effective researchers. Jenay also works with faculty to provide quality information literacy sessions, building on student knowledge using active learning activities.
Location & Hours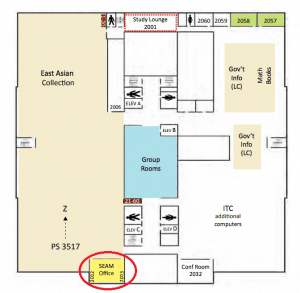 The SEAM is located at The University of Iowa's Main Library, on the SW side of the 2nd floor, Rooms 2012/13.
Drop-in Research Assistance Hours: 5 – 9 p.m. Sunday through Thursday
Faculty and instructors interested in collaborating with a SEAM librarian should contact Katie Hassman to schedule an appointment: katie-hassman@uiowa.edu