At The SEAM we're dedicated to supporting undergraduate research, learning, and success. The SEAM hosts extended research assistance hours and other programs that help undergraduate students develop and improve research skills and critical thinking.
Librarians and staff working in The SEAM also collaborate with faculty and instructors to develop curricula, assignments, and lesson plans that integrate information literacy, critical thinking, and research skills into course and curricular content.
SEAM Team

Amanda Jenkins
Amanda is a second-year graduate student in the School of Library and Information Science. She would love to work in a college or university library after she graduates in May. She's especially interested in library-related instruction and critical information literacy, as well as cataloging and classification. She's a classically trained violinist and pianist, and has recently taken up knitting! In her spare time she brews kombucha, binge-watches TV, and drinks a lot of tea.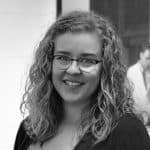 Kaeli Nieves-Whitmore
Kaeli is a student in the School of Library and Information Science and Center for the Book. Her research interests include library-related instruction, critical information literacy, and user experience. She is particularly interested in the relationship between library anxiety in undergraduate students and the design of academic libraries. One of the things that Kaeli loves about working in the SEAM is helping students become more comfortable and confident in their research skills. When she's not on campus, you can usually find her at Prairie Lights Cafe reading and drinking tea or laying in her hammock with her dogter, Izzy.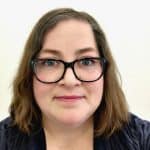 Cathy Cranston
Cathy is an Undergraduate Engagement Librarian and is currently the Team Leader for Undergraduate Research & Experience. She is a liaison to the Rhetoric Department and also does instruction for ESL and IEP classes. Her areas of research interests include information literacy, instruction, and library management. She is interested in working with campus faculty and instructors to build information literacy concepts directly into their courses.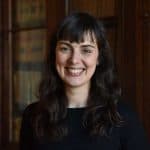 Katie Hassman
Katie is an Undergraduate Engagement Librarian. She works closely with academic and student support units to develop programs and services in support of student success. She does instruction for TRiO Support Programs, Rhetoric, transfer student and others and is always involved in assessment initiatives and projects. Her research interests include information literacy, critical librarianship, public participation and engagement, and library assessment.
Location & Hours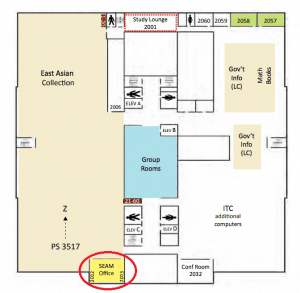 The SEAM is located at The University of Iowa's Main Library, on the SW side of the 2nd floor, Rooms 2012/13.
Drop-in Research Assistance Hours: 5 – 9 p.m. Sunday through Thursday
Faculty and instructors interested in collaborating with a SEAM librarian should contact Cathy Cranston to schedule an appointment: cathy-cranston@uiowa.edu
SaveSaveSaveSave