MsC 746

THE MARION BALLOU FISK PAPERS

Collection Dates: [1906 -- 1930]
.5 linear ft.

Scans of a document from a collection of materials held by the
Special Collections Department
University of Iowa Libraries
Iowa City, Iowa 52242-1420
Phone: 319-335-5921
Fax: 319-335-5900
e-mail: lib-spec@uiowa.edu

Mrs. Fisk's daughter, Marion Fisk Giersbach, typed her mother's program source material below.  Unfortunately, Mrs. Fisk's original handwritten "script" of her lectures doesn't exist.  As you read her description of people and places, you can imagine her drawing a quick sketch on her easel, then turning to the second easel for another scene before returning to the first and continuing with a fresh sheet of paper.

KWEER KARACTERS I'VE KNOWN

It is an old story that I presume is a familiar one to all of you, about the old couple who sat talking together one evening.  One by one they held up their relations and friends for ridicule or criticism, until at last the old lady closed the conversation by say, "Yes, Ezry, all the world is queer but thee and me – and, do you know, sometimes it strikes me that even thee is a little peculiar."

So it is with us here tonight, "all the world is queer but thee and me."  Indeed I do not doubt that if I could stay in ..... long enough, I might even find some queer characters here, and I know very well that you have come to see and hear a queer woman talk and draw pictures, and so to divert your attention from myself for a little while, I want to introduce you to some of the other KWEER KARACTERS I have known.

Before proceeding, however, further with the program, it may not be out of place for me to introduce myself to you a little bot more fully than has even yet been done.

A great many people ask me questions about myself as I go from place to place.  The one that is most frequently asked is this, "How in the world do you get your hands clean."

I don't

A close second is this: "Now, this ability of yours to draw pictures – is it a natural gift or an acquired one?"

I

think that I may safely claim that whatever gift I have in this direction is a natural one, for it is one that is shared in common with all my family.  My father draws – a pension.  My mother draws – books out of the public library, and my brother draws – a salary.  Again, I think I may claim that it is a natural gift, for it is one that I have always possessed.  Indeed my parents tell me that I may safely make the claim to have been a precocious child, for they assure me that the very first thing I ever did after my birth was to begin to draw – my breath.  I was very young, I think not over three years of age, when I can distinctly remember drawing a little blue sled – by the string, and it was about this time that I attempted to draw our family cat – by the tail.  I think, however, this might more properly be classed as a painting, for I bore the marks of that brush for some time, and the cat proved herself the better artist of the two, for she drew blood.

But speaking more seriously, I still think that I may safely claim that whatever gift I have is a natural one, – one that was bequeathed to me by the best friends and playmates of my childhood, the mountains and hills, the lakes and the clear little streams, the lights and shades of my own New England home.  And so tonight I want to take you away for a little while, if I may, to this land of my nativity.

It is a trip that is well worth taking, too, and one that many people do take each year, at great pains and expense, for this little town that first sheltered my childhood is rich, not only in natural scenery, but in historic interest, as well, for it is one of the seven little towns that was so long bandied back and forth, like a bone of contention, between the rival territories of New York and New Hampshire, until at last these seven little towns decided that if they were indeed so valuable, and so much to be desired, they were quite capable of managing their own affairs, so a rebellion sprang up – a teapot rebellion, if you choose to call it so, – a few shots were fired, a little blood was shed, and so Vermont was born.

If I could take you into the town in the way that would please me best, we should leave the beaten line of travel some distance below the village and make our way, on foot, across Hurricane Hill.  Then, as you come to the brow of the hill, if you have an eye for the beautiful, I know you would pause to admire the scene spread out before you.  Far away, against the horizon, marches the great bulk of the Green Mountains, with the lesser foothills near by.

Just opposite you stands William's Hill.  Probably no curiosity would prompt you to ask the reason for it, or even to inquire as to how it came to bear that name, for you would assume as most people do, that a family by the name of Williams owned it in the early days, but that is not the case, and by the name of William's Hill and how it came to bear that name hangs one of the oldest old New England traditions.

It is one of the stories that used to be told frequently a hundred years ago when people gathered together for an evening and told stories around their fireplaces.  It dates back to the time when the country was very new; when people lived in log houses and the fires were never allowed to go out on the hearthstones, by day or night, for matches were a thing unknown, and if, by any evil chance such a calamity did occur, then the swiftest runner of the family was dispatched with all haste, with a covered bucket, or a fire shovel, to borrow coals from the nearest neighbor, for the next kindling; to the time when women laid their hands to the distaff, and spun and wove, and looked well to the way of their households, nor dreamed of the Tango or Turkey Trot.  When they rode to church Sunday mornings, on pillions, behind their men folk, clasping fast the great family Bible, while the husband carried the gun, for the bear and the wolf were frequently seen, and the Indian was a constant menace.

I

t appears that in those days there was one young William Jones, who fell violently in love with Mary Green.  Mary Green appears to have been a young woman of unusual beauty and promise, and after one of those long, drawn out, old-fashioned New England courtships, the couple became engaged to be married.

One winter night, as they were making their way home over the snow-covered hills, in company with a party of friends from a merry making of some kind, they were startled by the hungry cry of a wold pack far in their rear.  It was answered away at the left, then at the right, and then far away in front of them.  At last the young people realized with a sickening sense of fear that the hunger cry of that wolf pack was meant for them, so they made all haste to a great tree that stood in a field hard by, and climbed to safety and protection in its broad branches.  Thither, presently, came the wolves, and gathered about beneath the tree, looking up at the would-be victims with gleaming eyes and slathering tongues.  But the young people sat, perched high and in safety, and so the long hours of the night wore away, until at last beautiful Mary, having grown weak from nervousness or chilled with the cold, lost her hold, and fell to the ground beneath.

This story has been woven into one of those old, old fashioned songs that used to frequently be sung a hundred years ago, but which are almost unknown and obsolete now, but which, it seems to me, should be preserved, not only as something of a literary curiosity, but from a historical interest as well, for so many of those old songs give us a unique but vivid picture of conditions as they used to be when our country was new, and its customs still in the making.  It was one of those old-fashioned minor melodies with a refrain that was a conglomeration of meaningless words and phrases and syllables, and began in this way.

"Come all ye people, high and low,




And you shall hear if [of?] a dismal go.




It's all about one little Mary Green




She's the prettiest little girl that ever was seen."

I'm not going to sing any more of them, but there are thirty-nine more verses to that song, and they go one to explain the virtue and beauty of Mary, the strength and valor of William, and the great Love they bore for one another, and Mary's tragic fate.  They appear to have taken love very seriously in those days, and when either a lover or a sweetheart were lost, the one who remained behind proceeded to "mourn themselves to death, and be buried in one tomb."  I don't know, I am sure, what they would think of these days of rapid-fire marriages, with automatic divorce attachments.  Why, nowadays, marriages seem to be built a good deal like automobiles, rather for speed than for endurance!

Now, considering Mary's tragic fate, you can readily understand that William could never hope to be buried in one tomb with her, but he did the best he could, under the circumstances.  The fortieth verse of the song assures us that he used to go out to that hill every day, and that is how it came it be called William's Hill, and there he used to sit

"And mourn by day and grieve by night




Until at last, his heart did break,




And he lay down and di-i-ed.




"Tiddy-fol-lol-dol-lol,




Skiddy-ki-di-do-bim.




Till he lay down, and di-i-ed."

Just at your feet, curved about like a baby crescent in the lap of the hills, you would see my little New England village, and just in the heart of the village a little brick church.  Do you know, I like that expression, "the heart of the village"?  A great city may have its parks, and its boulevards, but it seems to me that it takes a little village to have a real heart, and its [it's] always seemed such an appropriate thing to me too, that just in the heart of the village one should find a little church.

Whether it is that people aren't as queer as they used to be or whether it is that I am losing some of my sense of humor as I grow older, I'm sure I don't know, but whenever I think of the kweer karacters I have known first of all my mind turns back to that little New England village of mine, to the little brick church just in the heart of the village, and to some of the quaint and interesting people that I used to meet there from week to week.

We used to take a great deal of pride in those days in the fact that we used to have in our congregation, as a frequent guest, the only man, so far as we knew, who had ever been able to get ahead of P.T. Barnum, in a trade.

P.T. Barnum, you remember, was the one who first gave rise to the saying that "The American people love to be humbugged."  And it was acting on this belief that led him to start his circus, which in the beginning, was not all the gigantic affair that it afterward became, but simply a collection of freaks and curios, which he gathered from every quarter.

So it is said he was very much delighted one day, when he received a letter from this small Vermont boy, saying he had in his possession a cherry colored cat that he would be very glad to sell to Mr. Barnum for a moderate price.

Mr. Barnum immediately saw the advantage it would be to him to have a cherry colored cat to add to his collection, so he sent the boy a railroad ticket to Springfield, Mass., the nearest place where the circus was to appear, with a pass to the circus and all the sideshows.

The boy went down, and he had the very best kind of a time, as a boy always can at a circus, you know.  He ate peanuts, and popcorn, and drank pink lemonade, until, as he used to say himself in telling about it, he was so full he could still "chaw some but he couldn't swaller any longer."

Then at , the appointed hour, he appeared at Mr. Barnum's tent with the cherry colored cat tied up in a sack.  Mr. Barnum's face was wreathed in smiles as you see when he saw this new freak almost within his grasp, but it is said his smile turned to a frown of displeasure when the boy untied the sack, and out jumped a coal-black little kitten.  And Mr. Barnum said, "See here, boy!  I thought you told me you had a cherry colored cat for sale!"

"Yes, sir, I did, sir, and this is a cherry colored cat!  This cat is the color of a black cherry."

And it is said that when Mr. Barnum saw that all the American people, even himself, could be humbugged, his smile faded quite away and he looked like this.  [This may have been illustrated by Mrs. Fisk turning her picture upside down.]

Those who used to lead us in the Service of Song

Our church was an old-fashioned little building with the singers' seat high up in the rear, and the congregation used to rise and turn about in their pews with their backs to the minister while they watched the choir rend the anthem.

In those days, too, there was a motto painted on the wall that said, "O Worship the Lord in the Beauty of Holiness."

But the spirit of modernization has struck that little brick church.  The singers' seats have been moved around now, in back of the pulpit, and a new motto has been painted on the wall, that says, "O Sing unto the Lord a New Song."

And the last time I was home on a visit, the choir sang it.  At least, I think it was a "new song."  I had never heard it before, and I couldn't understand a single word they said.

Now I'm not one of the kind of people that are always mourning for "the good old days", and thinking that "the times that are past are the best," and yet I must confess that that day I experienced a sense of homesick longing for the days that are gone and the voices of our old-time Village Choir.

Mis' Babbitt sang soprano.




Her eyes were black as jet,




And the neighbors said her temper'd raise your hair,




But I used to think of Angels,




An' I thought I heard 'em sing,




When she used to sing soprano in our choir.

Nell Smith, she sung the alto,




I suppose she weighed a ton!




When the Lord made her, for flesh he wasn't spare.




An' she used to puff,




An' haul for breath,




An' act like she would burst,




When she used to sing the alto in our choir.

Elton Barker sung the tenor,




He was bald as any egg.




His head, it couldn't boast a single hair;




An' he used to sing in nasal tones,




About the "doleful tomb", and the "grave",




That yawned wide open for our choir.

Hark! from the tombs, a doleful sound,




My soul attend the cry,




"as I am now, so you must be.




My soul, prepare to die."

I had been telling some of these stories in the West, a number of years ago, and at the close of my entertainment, a lady came up to me and said, "Oh, Mrs. Fisk, you don't know how much we do enjoy hearing about those funny New England people of yours, but do you know, I'm a little bit curious to know – what in the world do you talk about when you're back East with them?"

"Well, then," I said, "I tell about you western folks."

"Oh, but we western people aren't so funny.  We don't do such queer things."

All the world is queer but thee, and me, you know.

I suppose it was along about this same line of thought that I had a rather amusing little experience a number of years ago with a gentleman out in Iowa.  He had been very kind to me, he had helped me set up my easels, and take them down again, and had given me safe escort to the hotel, a courtesy that I very much appreciated.

On the way home he said, "My I sure do wish you could stay in our town a spell longer.  We've got some awful queer characters in our town an' I'd like to introduce you to some of 'em.  You'd like to put 'em in your entertainment.  But now you've got to go away on the mornin' train, you won't get to meet any of 'em."

I wasn't so sure of it, though, for when I bade him goodnight I attempted to thank him for the kindness he had shown me, but with an air that was truly Chesterfieldian he waved it all aside, as he said, "Oh, that ain't nothin'.  I like to help.  I like to help anybody.  Now you know there are some folks that are awful willin' to help a young, pretty lookin' girl, but it don't make no difference to me how old and homely a woman is, I'll help her just the same."

It is true, however, that some of the most interesting people I have met have been those in the West, particularly of that part of the West known as the cattle country.  A number of years ago I found myself storm-stayed in a little hotel up in the cattle country.  Two of the cowboys were marooned there, too, and we all sought the only warm place there was in the building, the little office.  For a while a dead silence fell upon the room, for it there is anything in all this wide, wide world of which, I suppose, those great rough and ready men are afraid, it is of a single American woman.  But at last, convinced that I was safely engaged in my writing, they began to talk and swap yarns with each other.

"Well," said one, "I reckon I been as lucky as most.  I've rode everything this side of the Platte, an' I ain't never had a bone broke yet.  But now, there's Bill – Bill's diffrunt.  Why I don't believe Bill's got a bone in his body haint been broke up, one time or another.

"I remember of a good many years ago, I'se out huntin' coyotes with Bill, an' all at once his horse stepped in a gopher hole, an throwed him.  Now you know, that's a funny thing.  You take anybody that ain't used to ridin', an' you let his horse throw him, he gets so scared he gets limber all over.  Well, when he comes down limp, that a way, it don't seem to hurt him much.  But you take a man that's used to ridin', and he feels his horse a-goin out from under him, it makes him so plumb mad, that he stiffens up all over.  Well, when a man comes down stiff that a way, somethin' got to bust!  Well, that's the way it was with Bill that day I reckon, but he got right up an' went along agin, an' I didn't think he was hurt much.  Well, along came night, I left Bill at his shack an' I rode on toward the ranch alone, but just as I'se goin' over a little raise, I turned to wave goodbye to Bill an' I see Bill pitch off his horse, and then I knowed Bill was hurt.  I rode right back to him an' I says, 'Bill, be you hurt.?'

"'I dunno," says he, "I didn't think I was but I guess I be."

"Well, I opened up his shirt, an' I seen his collarbone, just sunk right in there.  'Twas snapped off short in the middle.  Well, I put my thumbs behind his shoulder-blades, an' I pressed up slow an' easy, an' I seen them bones just riz right up into place again.  So then, I knowed what I must do.  I took Bill into his shack, an' I set him down in a chair, an' I pressed them bones up into place, an' I then I tied him, just like I had him, an' I kept him tied up that way for two weeks, an' you know, them bones knet, as purty as any bones you ever see."

"Well," said his companion, "'Twas kind of rough on Bill, wasn't it?  Why didn't ye strop a board to his back when ye got his bones into place, an' then he could a kinder moved around, and enjoyed hisself."

"Huh!  I don' know.  I never thought of it.  The only thing I was thinkin' was that I'd got to get them bones tied up into place, before they had a chance to slep, and knet wrong.  An' anyway, that's the way I done it.  I tied him up in that chair there an' I kep' him tied up for two weeks, an' I fed an' watered him just like you would a horse.  But a point I want to make is this:  There ain't no use in doctors!  Now if we'd been down near a settlement they'd uv had a doctor in there, an' he'd a sweat an' fussed around an awful; lot, and he couldn't have set them bones no better'n I done it.  I reckon we'd of had a time with Bill as we did with Baldy Bradley, when he had the mountain fever.  They had a doctor in for Baldy, an' he give him medicine.  It looked like harness oil, an' it smelt like a burnt boot, an' it tasted like the both of 'em stirred up together, an' you know, eberytime it come time to hand old Baldy a jolt of the stuff, it took three of us able bodied men to turn the trick.  One of us had to set on him, an' one had to open his mouth, an' the third had to guide the spoon.  No sir, no doctor could of set them bones no better'n I done it, an' I tell you, when you get off there a hundred an' twenty-five miles from everybody an' everything, you've got to learn to do things for yourself."

And there is the cowboy's outlook on life.  He is truly Nature's independent nobleman, and he can do everything for himself, from cooking his own grub to breaking a bucking bronco, or closing a companion's eyes in his last long sleep.

At last one of them said, "Well, come on, let's go out an' have a drink."

"Nope," said the other, "I don't drink."

"You don't drink!  Why I drink."

"No, I don't drink.  I ain't drunk a drop for fifteen years.  Fifteen years last August, 'twas, that I swore off, and 'twas all because a train was late one night too.  I'd drawed my month's wages an' I went down to Hackett, an' I had a high old time, I tell you.  I got so drunk that I didn't know whether I'se afoot or horseback.  Well, when it got along about train time I went down to the depot.  The agent said the train was late, he didn't know how much, but 'twas some late.  Well, I didn't want to go back up to town, – 'twouldn't a done me any good anyhow for I was broke so I thought I'd just sit down in the depot, an' wait for the train.  But I soon saw that wa'n't going' to do, for I'se so drunk, I'se going' sound asleep, an' I was afraid the train'd come and go off without me, an I couldn't afford to get left down there, for I didn't have a cent left.  So then I thought I'd walk up and down the platform a spell, but I soon see that wouldn't do either, I'se so drunk I couldn't walk.  So then I propped myself up into a kind of an angle, where two sides of the depot come together, an' you know, I stood there all night, before that train finally come along.  But you know, I had time to do an awful lot of thinkin' while I was standin' there, an' thinks to myself, 'You big fool, you!  To work hard a whole month, a punchin' cows, an' then go an' blow the whole thing in, in one big drunk!  An git so drunk, too, that you can't stand up, an' you can't set down, an' ye can't walk, but you got to stay propped up like a corpse against the side of this depot all night.'  An' says I to myself, I won't never drink another drop of liquor, as long as I live.  An' I ain't.  I ain't drunk a drop from that day to this."

"Well, I drink," said the other, "But I tell ye there's one thing I won't never do.  I won't never go back a second time to get a drink to a place they've kicked me out of once.  You know, that's something I can't understand, can you, why it is a man'll go back to a place he's been kicked out of?"

Then it was that I heard one of the best bits of philosophy among the temperance line that I have ever heard, for the other answered, "Yes, I can understand that all right.  I can understand why a man'll go back a second time to a place he's been kicked out of.  Why, if you kick any hog in the head, he'll go right back to his slops again."

[Ed. note: Here she introduces a piece she probably sketched out in 1912 and in shorter length, that she entitled "Among the Sandhills – The Cowboy's Prayer.]

But, strange as it may seem, the one cowboy whom I really feel I know best, in all that wild, free land, is a man whom I have never seen.  A few years ago I once again found myself marooned in a little town in the cattle country, in the hills of Wyoming.  It seemed to have been an off day with the cowboys, and all day long they had been sifting into town, until by night the town was full of them.  I could hear their loud voices long before I came into the hotel from my evening entertainment.  The air was thick and blue with smoke, but every pipe and cigar was held aloft, and a dead silence fell upon the little office till I had passed out of sight around a bend in the stairway.  Then the talk and laughter broke forth again.

It veritably seemed as if that must be a House of Cards, for as I made ready for bed, I could hear every voice in the little building.  Just below me in the parlor, were the landlord's daughter and her sweetheart, engaged in that sweetest of all human occupations.  Somewhere I could here the monotonous rattle and whir of a sewing machine, evidently the landlord's wife, engaged in some belated Saturday night sewing.  Just through the partition in the next room, I could hear the heavy stertorous breathing of a man who had gone to bed early...evidently too weary to join in the fun and hilarity downstairs, and was seeking by sleep to "knit up the raveled sleeve of care."  And always below in the office was the murmur of the cowboys' voices, and occasional loud bursts of laughter.

But there seemed to be one voice that led and dominated them all – a great, rough voice – one of the kind that instinctively makes a woman shudder.  At last I heard him boom out a goodnight to his companions, and come up the stairway.  Every step creaked beneath his heavy tread.  He came down the hall, and turned into the room just across from mine.  Then fear, which is seldom a guest in my heart, took me by the throat with both hands.  In a perfect panic I stole from my bed, and made sure that my door, and both my windows were fastened tight.

As he made ready for bed, I could hear him humming a little tune, if a man with such an enormous voice can ever be said to hum, and then the music changed into words and because it was a House of Cards, I couldn't help but hear every word he said, and this was it:

"For all the mercies, an' blessin's of the day, we thank Thee, Lord.  An' now its come night an' time to go to bed, we ask You to be with us, an' watch over us still.  Bless all my folks tonight, where-ever they be.  Bless Uncle John, an' his folks, an' bless Aunt Matt, an' her folks, – an' Lord, bless me.  You know what an awful hard time I have gettin' along, an' won't You just help me tomorrer, an' help me be strong, an' help me to be sweet, an' help me to be clean of heart!  For Jesus' sake.  Amen."

And that night I slept the night of perfect peace, because in that one moment it had been given to me to see that underneath that great rough exterior there dwelt the simple faith of a little child, who asked for help "just for tomorrow."  And often when the evening shadows draw long and purple, over hill and valley, my mind turns back to that rough cowboy in his lonely little shack among the Wyoming hills, and I join my prayer with his, that God indeed may help him to be that finest of all American gentlemen, – strong, sweet, and clean of heart."

[Spacing in the typescript may indicate there is a break in the program here, or that portions of this are modular and can be rearranged, added or deleted.]

I always feel a good deal of hesitation about drawing pictures before an audience like this, because I realize that my pictures are going to appeal so differently to ones of you. 

A prominent lecturer a number of years ago – I think it was Talmadge – asked this pertinent question: "Is life worth living?"  A wag gave the impertinent answer: "It depends on the liver."  So I realize that a good deal depends on your livers, as to how my pictures shall appeal to you.

Now if I draw a large yellow globe, like this upon the easel, and could go through this audience, and ask you, one by one, what you think it represents, I should receive a surprising variety of answers.  These small boys, down in front, would answer without a bit of hesitation, "Why, it's an orange."  Because boys, you know, are always thinking in terms of things to eat.  But ask the small girls who are here, what they think it represents and they would answer just as quickly – perhaps because girls are fanciful and poetic – "Why, it's the Man in the Moon."

B

ut take that selfsame couple after ten or a dozen years have passed over their heads, and ask them what they see in the great yellow globe, and their answers would vary yet again.  They would answer quite as quickly, but this time in perfect unison: "O-o-o-oh!  It's a honeymoon."

Oh, the honeymoon!  The most saccharine and useless period of all a person's existence!  I was entertained not so very many years ago, in a home where there was a honeymoon of the most virulent nature.  They were a lovely young couple – indeed I think I might say they were about the most thoughtful people I ever saw, for they thought I must be very tired after my entertainment and wouldn't I like to go immediately to bed.

But hardly were the curtains drawn between my room and the living room, than I thought I heard them having refreshments out there, all by themselves.  I thought they were opening pop bottles – but they weren't.

Well, it was all right.  It sounded good to me.  I approve of honey-moon kisses.  The only trouble is, too many folks consider them as just fishing smacks, and they are left safely tied up ashore when the one great voyage is begun.  And that is why, I fancy, there are so many wrecks along the sea of life, and if there are any of you men here tonight who have grown careless of the tender attention of your honeymoon days, I would beg that you go home tonight, and try to renew that old sweet time.

You may find it a little hard at first, from lack of practice, – indeed you may have shared a time as one old gentleman who did try to follow such advice, but his wife drew away in horror, from his very first caress, as she said, "Why, you get away from me, you old fool!  What's the matter with you anyway?  Are you drunk again?"

Perhaps it is because of this very carelessness, then, that if we should ask this self-same couple after another ten or a dozen years have gone over their heads, what they see in this great yellow globe, their answers would vary yet again.  Nine times out of ten, the wife would answer without even a second glance, "Oh, I suppose it's a dish pan!"  But ask her husband what he thinks it represents and he would answer, "Why, it's a pie." because, you see, his mind has gone back to its boyhood's estate, and he's once again thinking in terms of things to eat.  A truth that was well recognized by the old lady who was approached by a young friend, and asked how she might always be sure to keep her husband's love through life.  And the old lady sized up all the wisdom of the ages in just three words, "Feed the brute."

So, if you should ask him what he thinks it represents, he'd say, "Why, it's a pie."  And if you should press the question a little farther, and ask him "What pie?" a bright smile would come over his face, and he would say, "Why, it's the pie that mother used to make!"

O, those pies that mother used to make!  How much we women have heard of them, haven't we?

But, do you know, there is one thing that has always struck me as a little bit queer, and that is, how little the men ever have to say about the pants their mothers used to make.

They praise her doughnut, and her pies,




Her coffee and her steak,




But where's the man that sighs for pants




Like mother used to make!

She used to take a pair of pa's




When they were old and frayed,




And decorate 'em with a patch




Of some contrasting shade,




And take them in around the waist,




And cut the knees off, too,




And say that they for every day,




Were just the thing for you!

And then she sent you off to school,




And when you wouldn't go,




She wondered what got into boys




That they played truant so!

Yes, still you praise her pie, her cake,




Her coffee and her steak,




But where's the man that sighs for pants




Like mother used to make!

I could never understand this myself, till a little while ago. I was visiting a friend of mine who was just starting her little boy off to school in his first pair of home-made trousers.  At first, the child was just delighted with them, and he said, "My, ain't it funny about these pants? They're tighter than my skin."

And his mother said, "Why, no, dear, they aren't either tighter than your skin."

"Well, they are, too, because I can sit down in my skin just as easy as anything, but I can't sit down in these pants at all."

But his joy was soon turned to sorrow for on the very first day that she started him off to school, it didn't seem as if he had barely more time than to get to the schoolhouse and back, than she heard him coming down the road, crying as if his little heart would break.  And his mother ran out and said, "Why, Freddie, dear, what is the mater?"

"Ba-a-a-w!  The boys all made fun of my trousers."

"The boys make fun of the nice little panties made for her boy!  Why, what do they say?"

"Ya-a-aw!  They say – they can't tell, by my looks, whether I'm comin' or goin'."

I never think of poorly clad or poorly understood children, that it doesn't carry me back to the place where I first attended school.

A little red school house it was, at the top of a long hill, down which we children had the most magnificent coasting in the winter time.

Just at the foot of the hill stood Dascomb's Store, a long white building, with a pink door, on which the somewhat eccentric storekeeper had painted this motto: "Be just, and fear not."

I well remember one day when I was coasting down the hill, I lost control of my sled.  Before I could regain it again I had gone the full length of that hill, had crashed through that pink door, and had gone half way across the store building.  It wasn't necessary for me to go any farther than that, for the storekeeper came the other half of the way to meet me.  We had a little conversation, – at least, he did, and I didn't think he was very just, and I found it absolutely impossible to "fear not", as I gazed into his blazing eyes.

It was in this little red schoolhouse that I learned my first lessons, my a – b, abs, and my first arithmetic lesson, which I remember very well to this day, went this way, "Two arples" – and I don't know where my teacher did come from, Bawston, I suppose, but anyway, we had to say arples – "Two arples and two arples make four arples, and two pears and two pears make four pears, but you cannot add arples to pears, nor pears to arples."  I used to say it over and over just like that, because my mother taught me that I must always be a good girl and do just what the teacher said; also I had tried a few little experiments of my own, and had found out I would better do what she said, too.  So I used to say it over obediently, "Two arples and two arples make four arples, and two pears and two pears make four pears, but you cannot add arples to pears nor pears to arples."  But I couldn't understand it at all, for I added apples to pears and pears to apples every day out of my lunch basket, and it never hurt me any.

How different that is from the table of values which the American children are learning nowadays, which goes for substance, if not the exact phraseology"  "Ten mills make one trust; ten trusts make one combine; ten combines make one merger; ten merger make one magnate, and one magnate makes the money."

And yet we cannot too severely criticize Big Business, when we stop to realize that it has been ordained from the very beginning of time.  Why, did you ever stop to realize that even Eve was made for Adam's Express Company?

But the crowning glory of the little red schoolhouse was in none of these things, but rather in a great old butternut tree that grew across the road, and the crowning glory of the butternut tree was a great broad limb that stretched out its hospitable length toward the schoolhouse.  And on this limb the children had woven a most wonderful game, which they called the "swing and drop."  It consisted of climbing out on the limb as fare as one dared, swinging down by the hands, and dropping to the ground beneath.  Anyone who had accomplished this was then given a seat on the broad limb where they might sit, and swing their feet and sing songs.

Now I had never been able to accomplish this, for my mother had always taught me that I must be very "careful of her only daughter," but at last the iron entered my soul.  I realized that I would just as soon be dead, as not to have a seat on that broad limb, so one day I surreptitiously set my mother's clock ahead a half hour, and in that way I got an early start to school.  I hung up my hat and dinner bucket in the entry and went and stood looking up at the great tree.  I am sure I know how all great sols feel when they start out on the world's adventures.  Why, that morning I could have sailed the Seven Seas, or discovered the North Pole.

At last, realizing that time was flying, I climbed out on the broad limb, as I had seen others do, swung down by my hands, shut my eyes, breathed an involuntary prayer for safety, and dropped to the ground below.  When I opened my eyes again it seemed strange to me to see the little clouds still floating lazily by in the blue above, and the birds still singing their undisturbed songs, for it had seemed to me as if all Nature ought to stand still in wonder and amazement, that I, Marion Ballou, had at last done "the swing and drop."

To make my accomplishment secure I did it again and yet once again.  Then when the other children came to school, I said, "Hm!  I can do the "swing and drop."  And with one accord they all took up the chant, "Huh! cowardly calf, you can't either.  You don't dast."

"Aw, I do, too, dast," I replied and then and there I proceeded to do the swing and drop before their unbelieving eyes.  After that I was accorded a seat on the broad limb, where I might sit and swing my feet, and sing songs with the rest, and I can truly say that none of the accomplishments of my later life have given me one half the pride that it did that morning when I first  learned to do the "swing and drop."

But whenever I think of that little red schoolhouse I always think of some of the boys and girls who went to school with me there in the early days.

One of the first who always comes to my mind is John Keating.  He was a roguish Irish lad, with black hair, and blue eyes, and a long, wicked tongue, which he used to wear, most of the time, sticking out like this, at me.

Oh, that boy!  He had the most unholy way of getting us all into mischief, and then shinning out of it, and leave us to get out the best way we could.  Its seems strange to ,me, when I think of this propensity of his, that none of us ever realized what his profession in life was to be, but we didn't, and there was a prophesy that was rife in that little town, that "John Keating was certainly born to be hung!"

So I was greatly surprised when I was home a few years ago, when my father came home from a State's Court Case, of considerable importance, and said, "Why, do you know, I saw one of your old schoolmates at court today."

"Is that so," I asked, "Who was it?"

"Why," he said, "It was John Keating."

"Well, I said, "I am not at all surprised at that.  What did they decide to do with him anyway?  Hang him?"

"Hang him!" he exclaimed.  Why, he's the State's Attorney!  He's as smart as a whip."

Another boy who was a close second to him in all the mischief that was afoot was Charlie Howard.  I don't know whether the teacher would rather have him present with all the mischief he stirred up, or whether she would rather have him absent with the comparative quiet, but I will say this for her, she was a faithful soul, and she pretty nearly always sent for him.  She always knew just exactly where to send, too, for on his way to school he had to pass a big mill, and like Budge and Toddy, he loved to see the wheels go 'round.

But I used to think sometimes that her sole and only object in getting him there was that she might keep him out on the dunce stool, and Charlie Howard was very far from being a dunce, if he could ever once he got interested in anything.

My last distinct memory of him is one day when, in our arithmetic class, we were studying that bane of all childhood, – fractions!  On that particular day we had a lot of imaginary logs of wood to saw up into given lengths, and always there was a troublesome little fraction left over.  When at last the class was called to order Charlie Howard came out, with his freckled face just all abeam.  To be sure he had only solved one of his problems, for he had spent all the rest of his time, figuring out a brilliant scheme by which he might use up all those little fractions of wood, making spools, or chair trimmings, or something of the kind, – I don't exactly remember what it was, but anyway, we could al make an independent fortune by it.  I am sure it was a good scheme, too, but the teacher couldn't seem to see it that way, and after the rest of us were dismissed, Charlie Howard was kept in to finish his problems, and my distinct memory of him, is of seeing his freckled face pressed against the window pane, a little bit wistful, but after all bearing the smile of accomplishment.

You'll be surprised to know that he only waited to finish the eighth grade, and then disappeared from school.  One of the last times I was home, I was interested to inquire what had become of him, too, and they told me he had gone down into Massachusetts, and fortunately had fallen into the hands of a man who understood boys and their peculiar activities, who had got him interested in a trade school; and later in business and today Charlie Howard is one of the biggest, and one of the richest, business men in the whole state of Massachusetts, so I saw that the wheels had turned to some account in his head, after all, and I have always felt that the great success he has made in life has been because he was always studying out some scheme by which he might save the little waste pieces.

Now of the one little girl who went to school there, in whom I trust you are mainly interested, there really isn't much to say.  I was kind of a non-descript little individual, with long, mouse-colored hair, which my mother used to braid and tie with pink ribbons, every morning when she started me off to school.  I guess those boys thought my braids were bell-ropes, – they used to pull them most of the time, and I have always thought that accounted for the extreme length of my hair, – it was nearly torn out by its roots in its early age.  Between those two boys I certainly had a hard time, and to make this picture a perfectly life-like one, I have drawn myself here, between the two boys, and people who see this picture here and see me now remark on how much I've kept my baby looks.

There was another boy who went to school with us there, in the early days.  His name was Willie Smith.  Did you ever notice how many perfectly lovely people there are in the world by the name of Smith.  I could never understand until a little while ago where so many Smiths came from.  Then one day, as I was going into San Jose, our train was pulled in on a sidetrack, opposite a great red brick factory.  Heavy laden dray teams were driving in and out; through the windows I could the whir and flash of belts and machinery, and men and women hastening back and forth at their toil.  Altogether it was such a scene of unusual activity that my curiosity was aroused as to what sort of place it might be, so I lifted my car window and looked out, and there I saw painted in great white letters on the side of the red brick factory: Smith Manufacturing Company.

Now I have never learned whether Willie Smith's parents were manufactured there or not, but Willie came to our school, and he was a lovely boy.  He had blue eyes and red lips, and yellow hair, and a clean neck!  He was the only boy in our school that had a clean neck, and his mother used to start him off every morning with a great white tie beneath his chin.  Oh, we girls thought he was just sweet, but the boys said he was a sissy.

Near our schoolhouse was a great bed of wild strawberries, and always at and recesses, in strawberry season, you could find us children there gathering that luscious fruit, Till

"Our lips were kissed redder still




By the strawberries on the hill!

But it wasn't very long before we noticed that Willie was never one of our number, so we said one day, "Why, Willie, don't you like strawberries?"

"Yes," he answered, "I like 'em all right, but I don't like to pick 'em.  I don't like to get my fingers dirty."

"Oh, well then, Willie," we said, "we'll pick 'em for you.  We'll pick six berries for one kiss."  Poor Willie!  He nearly died from overeating.

Well, at last came the time when he, too, went away to seek his fortune, like all the rest of us, was gone for about two years, and then came home, a poor miserable wreck.  For two more years he lingered on, a burden to himself, and to everybody else, and then he died, a victim of his own dissipations.  Whether it was that he was always afraid of getting his fingers dirty by honest toil, or whether he was always waiting for somebody to pick his berries for kisses, I'm sure I don't know, but of all the boys and girls who went out from that little red schoolhouse, he was the only one who made a colossal failure of life.

I haven't any moral to teach in the little tale, and I wouldn't for one moment want to be understood to say that all good boys are going to turn out bad or that all bad boys are going to turn out good.  What I would rather say is this: that primarily speaking there are no such things as bad boys.  There are quiet boys, – a few, – and active, mischievous boys, but if I had to take my choice between them, I should every time choose an active, mischievous boy, whose blood is full of good, red corpuscles, and then I should pray for wisdom, to guide his activities aright, for it is upon this one question, whether his activities are guided right or wrong, that depends the whole future course of his life, and whether it shall eventually spell success or failure.

It is just along this line of thought, of directed or misdirected energy, that I want to introduce you to two other old friends of mine, men who were born at about the same time, under much the same circumstances, and were blessed by Nature with much the same gifts, yet who have left behind them a very different heritage to the world. 

One of these was known far and wide throughout our countryside as Uncle Ben Hathaway, and he was a wonderful fiddler.  There was never a country dance, or a barn-raising, or a merry-making of any kind, that was counted complete unless Uncle Ben was there with his fiddle, and it almost seems, as I speak of him tonight, that I can once again hear his voice, as he used to call out the figures in the dance: "Balance your partners, and all hands around."

The story of how he had become such a famous fiddler was a familiar one to all of us, for in his boyhood it was the custom for every child to have his "stent" of work to do before he could play.  So one day, when his father went away from home he left the boy a number of rows of beans to hoe, but hardly was the old man out of sight, when the boy broke forth into bitter lamentations, and he said, "I don't want to hoe beans!  I'd rather die than hoe beans!"

And his mother said, "Why, Bennie!  What do you want to do?"

"Oh," he said, "I want to fiddle.  I'd a heap sight rather fiddle than hoe beans."

"Well, then, Bennie," his mother said, "if that is the way you feel about it, you go an' fiddle, and I'll fix it up someway with your father about the beans."

And that was the way Bennie grew up, – always fiddling, and always waiting for someone else to hoe his row.  So he grew to young manhood's estate.  Then came that tragic day when a dark cloud arose over the southern horizon of our country, the dark cloud of war, and because Uncle Sam's need of men was great and his eyes were keen and sharp to detect those who were strong of arm and limb to serve him, and seeing that Uncle Ben was such a one, he touched him upon the arm and said, "Come,. follow me."  Now this was not at all to Uncle Ben's liking.  I suppose he felt he would rather die than go to war, but Uncle Sam's mandates might not lightly be disregarded, and he was cast into a sad state of mind indeed, until one day, wandering around the farm barefooted, as was his wont, and coming into the woodshed so, he was seized with a brilliant idea, which seemed to him little short of inspiration.  Lifting his great bare foot, he set it upon the chopping block, seized the axe, and with one blow severed his great toe.  This rendered him exempt from service on the ground of physical disability.  Among those who were too short sighted to see the real cowardliness of the act, it passed almost as a kind of bravery, but this, in brief, is the story of how it happened that Uncle Ben limped, and fiddled, all though his life.

But there came a time when another messenger touched him upon the shoulder and said, "Come, follow me."  This time not a messenger that might be put off by any subterfuge, or any excuse, – the messenger whom we call Death.  So Uncle Ben laid down his fiddle and his bow and went away on the long journey from which there is no returning.  Because he had been a popular man, the people came in great crowds to his funeral, and the women and children went inside the house, with the mourners, but the men stayed outside and talked together, and they said, "Well, Uncle Ben's gone!  He was a might fine fiddler!  I wonder who we'll get to do our fiddlin' for us now.  I suppose we'll have to get Juddy Jennison.  He ain't near as good a fiddler as Uncle Ben was, but I guess he'll have to do.  Yes, we'll have to get Juddy Jennison."

So it was that Juddy Jennison took up the fiddle and the bow, where Uncle Ben's marvelous hands had dropped them, and though he could not play as well as Uncle Ben had done, yet in a little while the young people found they could trip the light fantastic to his music quite as wall, and soon Uncle Ben and his wonderful playing became only a memory and a tradition throughout our countryside.

A

bout the same time there was born, across the state line in New Hampshire another lad.  He, too, was gifted musically, and I do not doubt, but that time him too often came the thought that he "would rather die than hoe beans," but his father and mother were of wiser sort, and they taught him that it was "work first and play afterwards."

But music will out, so one day when the work was done he took the hollow stock of a seed onion, and from it he fashioned himself a flute, and so cunningly had he devised it, that he could really play upon it.  When his father saw what the boy had done he felt that perhaps such genius should be encouraged, so he bought him a seraphine, or ancient instrument familiar to few of you here tonight.  On this the boy and his sister learned to play.  They played everything they knew, and when these were exhausted they made up songs of their own.

So the years passed on until the young man was twenty-one years of age, then he went down to Boston, purchased a horse and wagon, and a little melodion and started out through the countryside giving concerts in schools and churches, and wherever they would give him a hearing.

Then came the time when Uncle Sam touched him upon the shoulder and said, "Come, follow me."  I do not doubt but to him, as to every strong young man, came the horror ands the dread of war, but it never occurred to him to seek an excuse why he should not enter his country's service.  He was away, the night the summons came, and all the way home a little song, both words and music, kept persistently running through his mind.  He tried to put it from him, but in vain, so when he had reached home he took down an old violin from the wall, an instrument he had never used before and never did again in the composition of a song, and wrote the simple little piece.

A few days later he went down to Concord, New Hampshire, to take his examination for service, was found to be physically unfit, and was dismissed, so he never did bear arms for his country, but who shall say that he did not render her just as effectual service, for about that time, there was a demand for a song, by which the soldiers might march, and sing in camp.  The Oliver Ditson Company had advertised for such a song, and half trembling at his own temerity, the young man sent down the simple little song he had written the night of his draft, offering to sell it to them for the modest price of fifteen dollars.

They tried it over, were disgusted with it, because of its simplicity, and refused to have it at any price.  They hired a musician of considerable note to write such a song for them, purchased and published it, but it fell still-born from the press.  The soldiers simply wouldn't sing it, that was all.  Then, because the call was insistent, and the need was great, they bethought themselves of the little song which they had once refused, purchased and published it, and in less than six weeks it was being sung by every Southern campfire, and in every Northern home.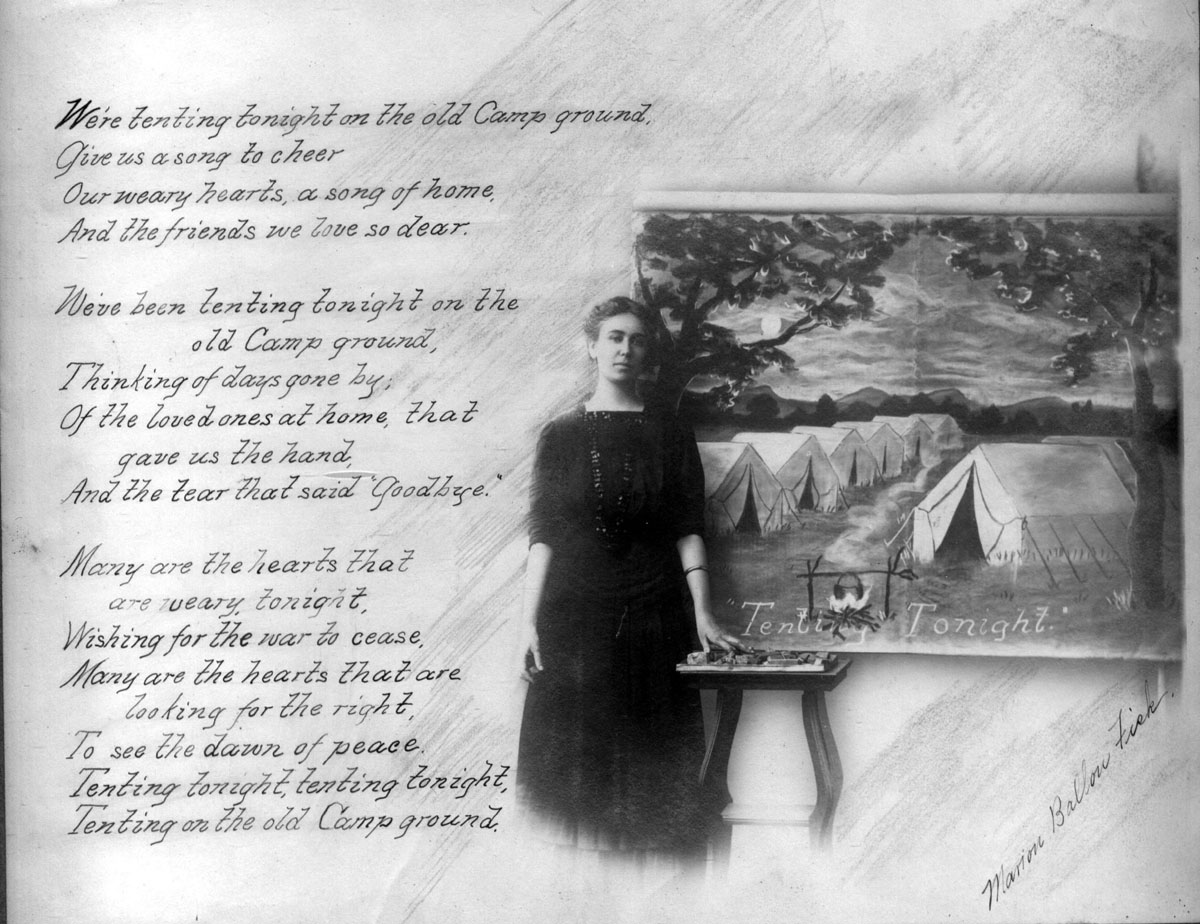 I very well remember one day when I was a little girl, seeing an eccentric looking man, come driving into our yard.  He was driving a brown horse, hitched to a pink express wagon, and in the back was strapped a little melodion.  My father and mother received him with the greatest joy, and the little melodion was set up in the kitchen, for he would have nothing whatever to do with the parlor.  I have always liked to remember that that night I was allowed to sit up, far beyond my usual bedtime, while I listened to my father and mother, and their friend talk, often to be sure about things which I could not understand, but I liked to listen to his kindly voice, and watch his gentle, genial smile.

And at last they sang songs, sometimes songs in which my father and mother joined him, sometimes songs which he sang alone, and at last he told us this little story of his boyhood and youth, practically as I have told it to you tonight, and sang us the little song he had written the night of his draft, the song that has made the name of Walter Kittredge known, and loved, all over our country.

"We are tenting tonight on the old camp ground,




Give us a song to cheer,




Our weary hearts, a song of home,




And the friends we love so dear.

M

any are the hearts that are weary tonight,




Wishing for the war to cease,




Many are the hearts, looking for the right,




To see the dawn of Peace.




Tenting tonight, tenting tonight,




Tenting on the old camp ground.

We've been fighting today on the old camp ground.




Many are lying near,




Some are dead, – and some are dying,




Many are in tears.

Many are the hearts that are weary tonight,




Wishing for the war to cease,




Many are the hearts, looking for the right,




To see the dawn of Peace.




Dying tonight, dying tonight,




Dying on the old camp ground.




A photograph of Mrs. Fisk [reproduced just above] shows her standing in front of her easel with her drawing of the camp ground, and she has penned this alternative – additional? – verse:

We've been tenting tonight on the old Camp ground,




Thinking of days gone by;




Of the loved ones at home that gave us the hand




And the tear that said "Goodbye"




[Ed note: this photograph is not part of the collection but remains with the Giersbach family.]

If we could read one another's hearts as we can read our own, I am sure that we should find that most of the queer things people do springs from common desire in the human heart, and that is the desire for happiness.  This is as wise and right a desire as it is universal, and yet in this, as in everything else in life, there are both right and wrong ways of seeking for it.  One of the cleverest little stories along this line comes to us from the Emerald Isle, "The Ashes of Old Wishes."

It was a wonder night in the fall o' the year, when Dame Nature has grown most kindly toward her children, and allows them all, every tree and bush and little shrub, to deck themselves out in their garments of brightest hue, for one last frolic before she tucks them away, safe wrapped in white, for their winter sleeping.  A wonder night in Ireland, too, as all the good people there know, for it was the night when the fairy folk walk abroad and do kindly deeds to the children of men.

Darby O'Gill sat alone by his fire, with none to bear him company, save Michael, the great cat.  Bridget and the children had gone to bed early that they might be ready for early morning mass, but Darby sat by his fire and waited for of late years he had made great friends with the fairy folk.  They often came to see him, and sometimes brought him a present and this year, for some reason, Darby hoped his present would be an unusually fine one.  While he sat and wondered what perchance it might be, he was startled by a little chuckle across the fireplace.  Looking up he saw that the King of Fairies himself had come in and taken his seat opposite him.

Darby O'Gill greeted him cordially and the king said, "Ah, Darby O'Gill, it's a foine present that I'm after bringin' you this avenin'!"

"Ah!" said Darby, "it's glad indade that I am to hear it!  And what, might I ask, might it be?"

"Oh," said the king, "I've brought yez the foinest jar of poteen that there is, in all ould Ireland ground."

Then it was that Darby O'Gill's heart took a cropper and he fairly snorted in his wrath.  "A jar of poteen!  A jar of poteen, did yez say?  And I thought the laist ye wad be bringin' me wad be riches."

"Oh, now, Darby O'Gill!" said the king.  "How often must I be afther tellin' ye that I'll never ruin and spile ye by bringin' ye riches!"

"Ah!  Roon and spile indade!  As if anybody was ever rooned or spiled by riches!"

And thereafter Darby O'Gill sat so glum, and so dour, that he wouldn't speak a word to the king, and so silence fell upon them for a space, until at last the king said, "Darby, Darby O'Gill, I've a good mind to, – yes, I will.  See here, I'll give ye anny three wishes ye'll be afther makin' this night, barrin' only riches.  Now mind what I say, Darby, barrin' only riches."

A pleased smile came to Darby's face, as he said, "Well, then, the furst wish I'll be afther makin' is this; that I may be well fixed an' as comfortable as Lord Killgoblin is."

For Lord Killgoblin was the richest man in all the countryside, and by phrasing his wish thus Darby O'Gill thought he had got around the king's injunction in a very clever style.  But hardly was his wish uttered than he felt himself growing smaller and smaller, and being carried away over the tree tops, till they came to the castle of Lord Killgoblin, and in the presence of the great man himself.  But he didn't look at all as he did when he rode to horses and hounds, for tonight he was wrapped in blankets, his great feet were swathed in bandages, and resting on a cushion in a great chair in front of him.  With every breath he uttered groans and curses that were horrible to hear.  His servants fled in and out with frightened faces, seeking alike to avoid his caustic tongue and the stout oaken stick that he held in his hand.

Darby watched the scene in shocked silence, then he turned to the king.  "Phwat's the matter wid him?" he asked.

"Oh, it's nothing but the gout.  All rich men have it."

"Do ye mane I'd have that turrible pain in my toe, too, if I'se as well fixed and comfortable as he is?"

"Shure, only you'd have it worse'n he's got it, because he's alus been used to high livin' an' you ain't, an' you'd overeat right away in the furst place."

"Oh, well, then," said Darby, "I don't know as I'd want it.  If I'd have to have that turrible pain in my toe, an' besides lose me adorably disposition, I guess I don't want it.  Ye can take that wish back, King, but I'll tell you what I do want.  I want to live to be – oh, I don't know how old I do want to be.  Fact is, I don't ivir want to die.  I'm afraid to die.  I'd just like to go on livin' in this jolly old warld, for iver and iver!"

Once again they took up their journeying until they came to the Black Forest, and to the little cottage where lived old Daniel Delaney, and his good wife, Julia.  Almost years had passed over their heads, and for almost they had lived together as man and wife.  A large family of children had romped through the little cottage. but, one by one, all had passed to the Great Beyond, and last year, word have come that little Danny, the youngest and best loved of all, had died in far-off America.  So tonight, Daniel Delaney and his good wife, Julia sat alone by their dying fire, with none to bear them company, almost deaf, almost blind, almost helpless with age, the objects of county care, and the occasional kindness of oft-forgetful neighbors.  These things passed through Darby's mind, as he saw them sitting there., and then he heard old Daniel begin to speak in the quivering tones of age.  "Julia, Mavourneen, did yez mind how little Danny used to say – why, where's Danny?  ...  Oh!  I mind now...he's gone, ain't he Julia? ...  They're all gone, ain't they, Julia?  ...  An' of all our own kith and kin, there's none left alaive, save you an' me.  An' there's nobody cares aught fir us, save each other, and even Death itself won't come anigh us to set us free, an' oh, Julia, lass, it's so weary an' tired that I grow of the waitin'."

And then he began to cry, as old men will, and old Julia began to comfort him, as old wives always have, and always must.  "Thar, thar, now Daniel, don't ye be a cryin', an' a takin' on that way anny more.  Instead o' feelin' so bad, let's just count over how good the Lord has been to us, for he's taken them away out of the world, that we loved and cherished, till taint goin' to be no trouble at all to lave it, Daniel, no trouble at all.  An' then He's filled Heaven so full o' them we love, that it's goin' to be jest a pleasure to go to 'em, Daniel, jest a pleasure.  Thar, thar now, lad, don't ye be a feelin' bad anny more."

And Darby O'Gill turned tear-filled eyes to the King, as he said, "O King!  Does ye mane it?  Does ye mane that the time would iver come when Bridget and I wad be sittin' alone that way, wid all our friends an' the children gone?  When the only blessin's we could count, wad be an empty earth, an' a full heaven, an' this death, that I fear so much, would be my last and greatest friend?"

And the King said, "Aye, Darby O'Gill, only it will be worse for you, for it's written in the books that Bridget and the children shall all pass over ahead of you, and you'll be waitin' this side of the river all alone."

"O well, then, I don't want it!  Why, King, ye know that's a wish I wouldn't want at all.  Yez can take it back, – I don't want it, I don't want it!  But I'll tell ye one thing I do want, an' it ain't so very much aither, if only I can think to say it right.  I want to be happy, an' that's all I'll ask.  I want to be perfectly happy."

"Oh, well, that's easy," said the king.

So once again they took up their journeying, until they came back to the little village, close by Darby's own home, and paused by the house of the smithy.  There the king motioned to Darby to go down thro' a little alley, and look thro' the windows of a hovel, that stood in the rear.  But Darby O'Gill had grown wise by his evening's experiences, and he hesitated long, and held back, until at last, urged on by the friendly hand of the king, he went near, and looked thro' the windows of the little hovel.  As soon as his eyes became accustomed to the half darkness, he made out the face of Tom, the smithy's son.  He had been an idiot from the day of his birth, and all the eighteen years of his life, he had lived confused in that little hovel, more like a beast, than like a human being.  But tonight, because it was the night when the fairy folk walk abroad in Ireland, and all hearts are kind, fresh straw had been thrown in for his bed, and by some happy chance, a bit of bright red calico had been caught in it.  This had caught the poor fool's eye.  He had caught it up in his silly hands, turning it back and forth in the dying light, and was laughing and gibbering to it in foolish glee.  It was the only bit of color in all that poor fool's life.

And for the third time that night, Darby O'Gill turned stricken eyes to the king as he said, "O King, does ye mane it?  Is that the only way to be a perfectly happy man in life, to be a fool, an' not to know it?"

And the king answered, "Aye, Darby, it's the only way I know."

"O well then, I don't want that ayther.  I'll tell ye, King, I guess I've lost the three wishes that ye gave me the night, but I've larned the lesson ye wanted me to larn.  I've larned the lesson o' content.  I'm goin' home the night, an' as long as Bridget and the childer are spared to me, as long as I've a sup to eat, and a bit to dhrink, an' a roof-tree over my head, ye'll never find Darby O'Gill to complain o' ought, or to wish for more."

As the king bade him goodnight, and flew away over the treetops, Darby O'Gill heard him singing "The Song of Content."  It's a little song that all the good people of Ireland know and love well.

"If you've mate, when you're hungry,




An' dhrink, when you're dry,




Not too old when you marry,




Nor too young when ye die,




Then go happy, go lucky, go lucky, go happy,




Go happy, go lucky, goodbye, goodbye.




Go happy, go lucky, goodbye, goodbye."

But I can speak to you as a true prophet this evening, that Darby O'Gill had not found the true secret of happiness, for truest happiness does not consist merely in counting over the good things that life has given us, – even in taking too much pride and self congratulation in our own sup to eat, and a bit to drink, or even in our own loved ones gathered around us, but it is rather found in sharing our good with another's need, and I want to bring you in closing another little story, – this time a true story that also comes to us from the British Isles.

An American tourist was making a tramping trip, thro' England.  One day his way led him up a long and dusty hill.  The way was long, the hill was steep, and the dust was exceeding deep.  Half way up the hill he paused to catch his breath, and his attention was held by a little sign that was painted, and set close beside the roadway.  It read: "Follow the path to the left, There's a cool spring just down the hill."  So he followed the little path, until he came to the little spring, where it bubbled out from among the rocks, all cool and clear, and silver sweet.  A bright tin dipper hung there, so he drank at the springside, and refreshed himself, then turning about he saw a bench and on it a basket of apples, all green and gold and rosy red, and another little sign which said, "Sit down and rest, and help yourself."

As he ate he wondered what sort of a fairy land this might be into which he had come, so when he finished he made his way to a little cottage, whose roof he had seen among the orchard trees.  There he found a quaint old English couple, and prevailed upon them to tell him their story.

A simple little story it was, too, for youth and happiness had been theirs, and high hope that they might go out, hand in hand, to be of service to the world.  But one by one, other duties seemed to come to them.  First an old father and mother whose faltering foot must be guided down thro' the valley of the shadow; then a widowed sister who came to their care, and after she was gone, her orphan children to be brought up and educated.  One by one, all these duties had been assumed and discharged, and at last they found themselves free to go out on that long dreamed of journey of helpfulness to the world.

Then for the first time they looked upon one another with startled eyes, for never before had they realized that time was creeping upon them apace; the snow of many winters lay white on their foreheads; that they were old, – aye, old and poor, with nothing left to them save the little farm on the hillside.  But at that, the little farm was theirs, and the cooling spring, and the goodly orchard, and these they determined to share with the chance traveler who came up that long and dusty way.  So the little signs were painted, the bright tin dipper hung, and every day, in orchard season a basket of fresh gathered fruit found its way to the spring-side.

A simple little story, simply told, and you and I might never have heard it had it not been that the chance traveler that day was our own American poet, Sam Walter Foss, and he has immortalized the loving service of the quaint old English couple in a little poem, which I want to leave with you tonight, as my goodnight wish for your life, and for mine:

"There are hermit souls that live withdrawn




In the peace of their self-content;




There are souls like stars that dwell apart,




In a fellowless firmament.




There are pioneer souls that blaze the way




Where highways never ran;




Let me live in a house by the side of the road




And be a friend to man.

Let me live in a house by the side of the road,




Where the race of men go by, –




The men who are good and the men who are bad, –




As good, and as bad, as I.




I would not sit in the scorner's seat.




Nor hurl the cynic's ban –




Let me live in a house by the side of the road




And be a friend to man.

I see from my house by the side of the road,




By the side of the highway of life,




The men who press on, with the vigor of hope,




And the men who are worn in the strife.




And I turn not away from their sighs, or their tears,




Both parts of an Infinite plan.




For I live in a house by the side of the road,




And I am a friend to man.

I know there are brook-gladdened meadows beyond,




And mountains of wearisome height, –




That the road passes on, thro' the long afternoon,




And stretches away to the night.




But still I rejoice when the trav'lers rejoice,




And weep with the strangers that moan.




Nor live in my house by the side of the road,




Like one that dwelleth alone.

Let me live in a house by the side of the road




Where the race of men go by.




They are good, – they are bad, –




They are weak, – they are strong, –




Wise, – foolish – so am I.




Then why should I sit in the scorner's seat,




Or hurl the cynic's ban?




Let me live in a house by the side of the road




And be a friend to man."

I want to bring you in contrast, and in closing, another little legend, which comes to us from the Italians, the legend of Saint Michal (Michal), the cobbler.

St. Michal lived in the lower streets of Rome, and among those who knew him he was counted a very queer character, for while he had little of this world's goods, yet he so gladly shared with whoever came to him in need, that the word had gone out among all the poor and outcast everywhere, that if they could but reach St. Michal's door, they would receive help, and refreshment and comfort.

St. Michal was a goodly man, and often as he cobbled on his shoes he meditated on the word of God, and his nightly prayer was this, that he might live worthily, so that sometime he might see the King, in all His beauty face to face.

One night as he lay upon his bed, St. Michal had a dream.  In it, he seemed to see his risen Lord appear before him and say: "Michal, Michal, arise and make ready thy house for tomorrow I must come and dine with thee."

St. Michal awoke and perceived that he had had a vision, not a dream, so while it was yet dark of the morning, he rose and lit his candle, and began to set his house in readiness for his Great Guest.  He paused only to prepare for a hasty breakfast for himself, but just as he was about to sit down and eat, he heard a little child crying in the street without.  He went out to see perchance what the trouble might be, and there he found a little boy of perhaps four years of age, who had lost his way.  St. Michal brought him in, fed him the porridge he had prepared for his own breakfast, and then, when the little one had eaten he took him in his arms, and started out thro' the streets of the city.  For hours they wandered up and down, until a glad cry of "Oh, there's home" the little one leaped from his arms and disappeared down a side street.

St. Michal hurried homeward on frightened feet, fearful, lest, in his absence, his Great Guest might have come, but everything in the little cottage was just as he had left it.

Thro' the remaining hours of the morning, St. Michal labored tirelessly, and at noontime a goodly meal was set forth upon his table for he said, "It may be at the noontide, my Lord will come."  And just at the noontime hour, he heard a hand upon his door, and he hastened gladly forward, for he said, "It may be my Lord is even now at the door without."

But it was not his Lord who stood there, but a widow woman, pinched and blue with the cold, with a crying child clasped close to her breast.  St. Michal brought her in, fed her the dinner he had prepared for his Great Guest, then took the little one in his arms, and rocked it for hours that the mother might rest.  When at last she was refreshed, and able to resume her journey, he set her forth once more upon her way, wrapped in his own great coat, and with his blessing sounding in her ears.

Thro' the long hours of the afternoon St. Michal labored feverishly and at last, when the shadows drew long and purple thro' the streets, St. Michal's little cottage was in perfect readiness for the coming of the Great Guest.  It was speckless and on the table sat such a goodly meal as St. Michal had never dared prepare for himself.  Then, just as the dusk drew on to dark, St. Michal once more heard a hand upon his door, and he hastened gladly forward  for he said, "Surely my Lord no longer delayeth his coming!  He is even now at the door without."

But it was not his Lord who stood there, but a soldier but lately returned from the wars, with wounds all undressed and untended.  St. Michal was almost vexed by the intrusion, but the soldier's need was great, and the habits of a lifetime were strong upon him, so he brought the soldier in, washed out his  wounds, wrapping them in clean linen, and healing balm; gave him the dinner he had prepared for his Great Guest, and bade him lie down upon his own bed to rest.

Then St. Michal sat down before his own table, and he buried his weary old head in his arms, and he cried and he prayed, as he said, "O Lord, Thou knowest that I was unworthy that Thou shouldst come into my house today, for I am an old simple cobbler.  And I have been so busy answering the calls that have come to my door today that I failed to make fit preparation for Thee, and so Thou couldst not come and be my Guest today.  In answering the needs of others I have neglected Thee.  O Lord, forgive, forgive!"

And even as he cried and prayed thus, he heard a voice that spoke his name: "Michal!  Michal!"

And turning to the voice he saw that the soldier had risen from the bed, but it was the wounded soldier no longer, but the risen Christ with pierced hands, outstretched in blessing.  He said:

"Michal, Michal, three times have I come to thy door today, for I was the little child that had lost its way.  I was the widow whom ye comforted and fed.  I was the soldier whose wounds ye dressed.  'For I was am hungered and ye gave me meat; thirsty, and ye gave me drink.  I was a stranger, and ye took me in.  Inasmuch as ye have done it unto one of the least of these, my brethren, ye have done it to me.'"

Next day the neighbors missed the cheery rat-a-tat of St. Michal's hammer  at its toil, and they went in to see if anything had happened to the good old man, and there they found him, still sitting by his table, with his weary old head buried in his arms, but on his face a smile of ineffable peace, for at last he had received the answer to his life-long prayer, – he had "lived worthily" and he had seen his "Master face to face."

And for your life and for mine I can ask no richer, fuller thing than this, a life as full of service, and at the end a sailing as peaceful as that of St. Michal the Cobbler.

"Sunset and the evening star




And one clear call for me,




And may there be no moaning of the bar




When I put out to sea.
But such a tide as moving seems asleep,




Too full for sound and foam,




When that which drew out from the boundless deep




Turns again, – Home.

Twilight, and evening bell,




And after that, – the dark.




And may there be no sadness of farewell




When I embark.




For tho' from out our bourne of time and place




The flood may bear me far, –




I hope to see my Pilot, face to face




When I have crossed the Bar."

            – Tennyson

THE YELLOW STREAK

I have been advertised and introduced as a "cartoonist."

This is a word that I always rather dread, for it is so widely misunderstood.  There are so many people who confuse the two words "Cartoonist" and "Characturist" [sic] and the moment the word "Cartoon" is spoken arise visions of such old friends as these.

(Follow cartoons of

...)

Equally familiar are the political cartoons which adorn the pages of our large dailies.

All these truly are cartoons, but they are not of the only kind.  Perhaps the most famous cartoon in all the world is Dagnan Bouveret's cartoon of the Holy Family.

Had Death not stayed the artist's hand it would have come down to us as a great painting, but as it is, it remains for all time as a wonderful cartoon., which brings us to the true definition of the word, as it is given to us by Webster, that wise wizard of words: "A cartoon is any drawing on large paper."

Now this evening I shall not bring you pictures of the Mutt and Jeff type, because they have never particularly appealed to me – neither have I sufficient artistry to bring you a Holy Family, but I want to bring you some cartoons of my own, – drawings on large paper – that I trust may please and interest you.

The subject I have chosen this evening is "The Yellow Streak" and first of all I want to introduce you to the one who gave me this title.

To do this properly I must invite you to go with me to the centre of civic influence in our little town, Dascomb's Store.  It may seem almost strange at first thought to designate a store as being a centre of civic influence, but I think I am justified in doing this, for Dascomb's Store is the meeting place of our Club.

Ours is a small town, but we have a Club.  It is a unique club in a way, I think, for it has neither Constitution or by-laws, stated list of officers or members, or federation with another club, tho' it has its counterpart in every small town.  Each town gives to its own club the name that locally seems best fitted for it.  Now in our town we call ours "The Sit and Spit Club."

Its meeting place, as I said, is Dascomb's Store, and there on pleasant summer evenings you may find the members gathered outside the store, seated on old chairs, or overturned soap-boxes.  In the winter time they move inside the store, and sit about the great stove box.  Only one daily ritual is theirs, and that is, every evening at 7:15 when they march down in solemn procession to "see the evening cars come in."  Then they follow the mail bags to the post-office and wait until the mail has been distributed, and then, armed with the evening papers, they take their way back again to Dascomb's store to spend the evening and there they sit, and spit, and discuss all the affairs of the town, the state and the nation.

While, as I said, they have no regular officers yet if there could be I am sure that the one whom was familiarly and somewhat lovingly call "Uncle Zeke" would be unanimously elected Dean, both because of priority of membership, and faithfulness of attendance.  He is always!  There is this difference, however, between Uncle Zeke and the other members of the Club, for as he says himself; "We've all got a lot of time to set and think, but most of 'em prefers to – jest set."

But Unlce Zeke can "set and think", and think to some good account too, when, as he says, he "really takes the trouble to put his mind to it."

I am always glad when I have an opportunity for a little uninterrupted conversation with Uncle Zeke, for he always has something to say that makes me think, too, as a couple of years ago when an errand took me to Dascomb's Store one morning, it was with unadulterated joy that I discovered this quaint old friend of mine, seated outside the store al alone on his favorite soap box.  But there was an unusually sober look upon his ordinarily merry face and I said,

"Why, Uncle Zeke, you're looking kind of sober this morning."

"Yep, I'm feelin' that way, too.  I'm all het up.  An' it's all along of a piece of music that I heard last night, to."

"Why, Uncle Zeke!" I said, "I am surprised at that!  I didn't suppose you were musical enough to be upset by a piece of music."

"Nope, you wouldn't think it.  I didn't either.  I went down to Hank Whitcomb's to hear some new pieces they got on their phony graff, an' they played me one, 'twas called 'I Didn't Raise My Boy to Be a Soldier.'  Well, you know, that piece has been runnin' in my head ever since, an' ye know it's come over me, that that's what ails the boys an' it's what ails the country.  We ain't a raisin' our boys to be soldiers, nor any other useful thing.  We're a raisin' 'em to stand out on the street corners, an' keep their finger nails rosy, an' wear polky-dotted shirts, that're goin' to cover up polky-dotted characters one of these days, if we don't watch out.  (Why, look at the mothers in this town!  They're wantin' their boys to go into the higher perfessions, or be lions of society when their salvation lays in the milkin' yard, or in bein' a plow-hand.  An' the fathers are jest as bad.  Why, they're settin' up all day, an' half the night, tryin' to raise up their sons to be sunthin' that can git along without work.  We're a inculcatin' greed into one ear, an' unadulterated peace into the other)*  We're raisin' up our  boys to be yeller, that's what we be, – to have a yeller streak!  Say, Mis Fisk, if you want to talk about somethin'. why don't you talk about that, – about the yeller streak that's in all of us, just wigglin' to get out?"

*  apparently written but not used in the final lecture [noted by Marion Fisk Giersbach, Mrs. Fisk's daughter]

Then Uncle Zeke went thro' our long list of mutual acquaintances and showed  the yellow streak that was in every one of them until at last in self defense I said, "But Uncle Zeke, you haven't any yellow streak, have you?  You aren't afraid of anything, are you?"

"Me?  Law, yes!  I'm afraid of two things.  I'm afraid of my wife, an' I'm afraid of work.  Say, do you know what kills more folks than anythin' else?  Why, it's worry.  But I ask you plain, what is it folks worry about?  Why, it's work!  Just look at the men in this town.  They're worryin' all spring for fear they won't get their crops in the ground, an' they're worryin' all fall for fear they won't git 'em out again.

"An' I says to myself, 'Zeke Hopkins, if you live out half your days, you got to cut out worry, an' the only way to do it is to cut out work.  An' so I done, (action note in parenthesis: 'swap quid')

"Now summer, winter, spring or fall,




Me and my ole hound




You'll find us down to Dascomb's Store,




Jest – a settin' round."  (action note before 'settin': 'expectorate')

– Picture of Uncle Zeke is complete at this point.

I didn't agree with Uncle Zeke.  Very often I don't agree with him, but at that time I had no answer for him.  So I took my questions, as I do many of them, to another quaint old friend, whom I want to introduce to you.  For more than forty years he has been a guide in the Maine woods, and he has that broad and kindly outlook on life that comes to one who spends much time in the open.

When I put my question to him he said, "Why, yes, I suppose we all have got a yellow streak of sorts, and yet I don't believe we've all got the yellow streak that's ordinarily meant by that expression, – that of personal cowardice.  I believe that if the time should come that this country was in danger, you would find that her young manhood would rise, as they have never risen before to vindicate her honor, and her freedom.  But if you want to talk about a yellow streak  that is in all of us, why don't you talk about that other peculiar cowardice that makes a man afraid to live his own life in his own way, for fear of the estimate the world's goin' to set on him?  Now mebbe I can explain better what I mean if I tell ye a little story of somethin' that happened to me more than thirty years ago, up here in the Maine woods."

"Old man Capwell had hired me to go out with him as a guide on one of his huntin' trips.  With him he had his son, and his son's friend, a young feller named Thompson.  One day we'd planned a long trip, so I got up early, almost before sun-up, and I was fryin' flap-jacks for our breakfast, when all at once I heard a little noise on the other side of the river, an' I looked up, an' ye know, I seen one of the purtiest sights that's ever been given my old eyes to see.  For there was a deer, that caught the glint of my camp-fire thro' the trees, and he's come down to see what it's all about, an' there he stood on the river's edge, jest as still as if he'd been carved out of stone.

"You know, that's the way we always hunt for deer, be it night or day, we jest make up a bright light, an' the silly thing'll come to it every time.  Say, that's a funny thing, too, ain't it, when ye stop to think about it, that neither beasts nor men can keep away from the bright lights?

"Well, I was thinkin' somethin' of that kind to myself when all at once I heard a little intake of breath back o' me, and I turned around an' I seen young Capwell an' Thompson had come out.  Young Thompson said, "My!  What a beautiful sight!"  But young Capwell said, "My!  What a shot!"

"Oh, I dunno," says Thompson.  "I think it's most too fur for a shot, an' besides, it don't seem quite the square thing to me to shoot a trustin' deer what's just walked into camp that way, as you may say.  I say, let's let it go."

"O," said Capwell, "you make me tired!  Do you know, you're always gettin' off some such stuff as that.  Do you know, if you make that your outlook in life, where you're goin' to end up?  Well, I can tell you, right now.  You're goin' to be a failure.  The way you do, my friend, is to take advantage of everything that comes to your hand, no matter what, or when, or where, or how."

"Well, they called the old man, and they talked it over.  It was a long shot, an' a hard one, but they agreed they each should have one try at it, an' if any one of 'em should bring it down, that one should have its antlers for a trophy of the summer's hunt.

"Well, the old man, he had the first short.  I dunno whether he come very near to it or not, but anyway, the noise of the rifle was enough to scare the deer, an' he kicked up his heels, an' away he went for the deep woods, an' I was mighty glad to see him make his get away.  But it seems he hadn't got very fur, when he found he was worse scared than hurt, an' the lure of that camp-fire was on him, an' pretty soon he's right back in his old place agin.

"Well, then 'twas young Thompson's turn.  I dunno whether he came very near to it, – I presume he didn't, for he wasn't much of a marksman, but anyway the noise of the rifle scared the deer, an' away he went agin.  But that time he didn't go so fur.  'Twould appear he was gettin' used to bein' shot at, as you might say, an' pretty soon he come creepin' back till he was right where he'd been in the first place.

"Well, then 'twas young Capwell's turn.  He took a long, steady aim, an' he let 'er go, an' ye know, he got that deer, right between the eyes.

"Well, we got into our canoe an' we went over to the other side, an' there was the deer, lyin' dead, right where he fell.  Now, ye know, I've allus been one o' them kind of curious old creatures that could see 'sermons in stones, an' books in runnin' brooks' an' I says, 'Well, fellers, he's a dead deer, an' I guess he deserves to be dead, because he was a plumb fool.  He had two chances to make his get-a-way, an' he never took either one of 'em.  But, do you know, it seems to me as tho' there's a lesson in this for you boys this morning'.  For you boys are startin' out in life, just as that deer did, an' do you know, there's many an' many a thing that's going to take a shot at you before you are through.  Some of your temptations are goin' to come in the hidden garb of success, an' some of your temptations are goin' to come in the drab dress of failure.  Some are goin' to come in the blue of discouragement, and depression an' some are goin' to come in the black of out an' out temptation.  But, do you know, boys, there's only jest one thing for you to do.  Try out all the things that come your way, an' if ye find that there's ary one of them that's takin' away from you one grain of that precious somethin' that you call your manhood, don't be like this silly deer, an' come back into temptation's way agin; but do you boys flee for the deep woods, an' stay hid up, either, till your temptation's past, or you're strong enough to meet it, an' conquer it.

"Well, young Thompson, he looked kind of serious, but young Capwell said, 'O, dry up!  Don't go mussin' up a perfectly good mornin' that way, with one of your everlastin' old sermons.'

"Law, law!  That was more than thirty years ago.  I'd plumb forgot all about kit.  I don't suppose I ever should have thought of it agin, if it hadn't been that I kind of got the sequel of it last year, as ye may say.  I'd got kind of run down, an' I tho't I'd go down to Boston for a spell, an' see if 'twould do me any good to be down there among the haunts o' men.  I'd heard rumors from time to time that young Capwell was makin' a great success of things in a business way, so I tho't mebbe when I got down there, I'd look him up.  But, law!  'Twant no job at all to do it!  Why, I found the whole city was just aringin' with his name.  It appeared he'd just pulled off some deal or other, an' he cleared up around in the neighborhood of a hundred an' eighty thousand dollars, an' they was all talkin' about it.

"They told me he was the most successful man in Boston, an' they told me how much he was worth, but do you know, they never told me that every one of them dollars was cashed in on an orphan's cries, or a widder's tears!

"They told me he was the most beautiful man in Boston, but they never did tell me that his wife wouldn't live with him; that his daughter had run off with the chauffer, because he was the only real male human she'd ever seen, an' that his son was that very minute in a sanitarium tryin' to fight blue monkeys with pink tails, off the footboards of his bed.  Tremens, 'twas, done that.

"Well, I hunted up this most successful man in his office, an' I declare, I wouldn't never a knowed him.  He was old an' stoop-shouldered, an' bald-headed, an' his face was crossed with little ugly lines.

"Well, I said, 'Capwell, they told me you've made a great success in life.'

"'Yes,' he said, 'I have.  I've made a great success in life.  It seems as if everything that I have touched, has turned to money in my hands.  Money, and power.  Do you know it's a wonderful thing to feel that at one word from you practically every wheel in Boston would stop turning.  But it's no thanks to you, old man.  Why, if I'd followed your advice, I'd be right where that poor Thompson is today.  I took him in business here with me – tried to make something of him, but he was always gettin' off some of the stuff you did that mornin' we shot the deer up in the Maine woods, if you remember, about 'takin' advantage', an' losin' his man hood, an' all that sort of rot, an' I just had to get rid of him.  You'll find Thompson out in one of these little suburban towns, runnin' a one horse business.  Plumb failure, Thompson is.  Plum failure.  Well, I feel I've given you all the time I can spare today.  Goodbye.'

"Well, then, I hunted up Thompson, in the little suburban town where he was at, an' I declare, I wouldn't never a knowed him either.  He was old an' stoop-shouldered, an' bald-headed, an' his face was crossed with lines, but they was the little crinkly kind that come from much smilin'.  Why, do you know, there wa'n't a man, or a woman, or a little child in all that town that wa'n't Thompson's friend.

"'Well, Thompson,' I said, 'they tell me you've made a great failure in life."

"'Yes,' he said, 'I have made a great failure in life as the world counts success and failure, for my name will never be written among the millionaires, but after all, I'm rich in this:  I've got a nice little business, sufficient to support myself and my family, and give us all the necessities, and some of the luxuries; I've got a nice home, I've got a fine family; I've got a host of friends and I've got a splendid digestion.  Why, do you know, I can eat me a bowl of bread and milk, an' lay down an' sleep all night like a baby an' I ain't afraid to look any man in the face.  An' after all, old friend, what more is there in life for any man than that?'

"Well, ye know, I've thought an awful lot about them two men since I come back up here into the Maine woods.  Ye know it's always a funny thing to me, how many folks confuse them two words, success, an' money, but of them two, it seems to me it's Thompson that's made the real success in life.  What do you think?"

"Well," I answered, "I think you have the very same philosophy of life that Kipling did when he wrote his "IF"

"If you can walk with crowds, and keep your virtue,




Or talk with kings, nor lose the common touch,




If neither foes nor loving friends can hurt you,




If all men count with you, – but none too much




If you can fill the unforgiving minute




With sixty seconds worth long distance run,




Your is the earth, and everything that's in it,




And what is more, you'll be a man, my son."

The path of anyone who draws pictures in public, especially one who is drawing free hand, as I am doing, is best with a good many troubles and dangers.

I realize that from tonight on for a time, there are going to be a good many of you embryo cartoonists in town, among the boys and girls here before me.  Some of you fathers and mothers are going to have a perfectly terrible time!  And some of you boys and girls are going to have a terrible time, too, because things just won't look the way you want them to.  So I'm going to give you one of the first lessons that was given to me by my teacher, who was not only a very good teacher, but something of a life's philosopher as well, and it was like this:  "When you begin a picture have in mine exactly what you are going to draw, – and draw it.  Don't be in any uncertainty about it, for if you are, your hand will waver, and you'll make a smudge on your paper.  And a smudge on your paper is like a smudge on your life; you may be able to work it over, but you can never, never rub it out.

From that time on I have tried to follow his directions, and never make a smudge on my paper, but for your sakes this evening I have sacrificed a sheet.  In other happier years I might tear this sheet off and begin again, but the Government says we mustn't waste a single sheet, so I must try to work this over (1).

It doesn't look it, but really this has great possibilities in it, and will make a picture of historical value, in the commercial life of America for this (2) my friends, is a birdseye view of the well from which John D. Rockefeller drew his first can of oil!  It doesn't mean such a great deal to us but it meant an awful lot to John D. and still it does say something to us, when he decides simultaneously to increase his missionary gifts and the price of oil.

But the picture has great possibilities in it than that, and this (3) is a picture of the heart of William Hohenzollern, ex-king of Prussia and Emperor of Germany!  Really, I beg your pardon.  I realize that this is no place to show a picture of this kind, – but then, the old villain's heart never was in the right place anyhow, so –

It is a simple matter, then, to turn it into a turnip, which closely resembles that article which the late Crown Prince wore upon his shoulders, if you know what I mean (4).  And it was the workings of that same turnip head, of his, that enabled him to carry out those several "strategic retirements from Verdun, thus confusing our enemies as to our real intentions."  Oh, no, Willie!  You never fooled us about your intentions, for one minute, and in those strategic retirements, we were only one jump behind, you know, all the time!

But I feel we have given the Hohenzollern family all the attention, and perhaps more than they deserve, so we will bid farewell to the most yellow son of the most yellow ruler of the most yellow people that the world has ever seen!

Now this lovely picture that I am making is a picture of the outlook of Berlin, looking toward Paris, in the early days of November, 1918 – a very dark outlook indeed! (5) 

Indeed I think I may go farther, and say that it would have been the outlook of the whole world, had the Kaiser achieved his life's dream of world dominion.  In his arrogance and pride he said, "Alexander, Caesar, and Napoleon failed.  I shall not fail."

And to make his boastings good, he had taken into account, every human possibility, and every human emotion – save one.  He had counted on the strangle-hold he had on Italy, thro' his intricate system of German banks.  He counted on the weakness and terror of the lesser nations, on the decadence of France; on the "contemptible little army" of England; on the disaffection of Ireland, and the indifference of her dominions overseas.  More than all he counted on the greed of "the idiotic Yankees." 

His preparation at home had been quite as complete.  With dried foods enough stored, to keep Germany going, so he boasted for an indefinite number of years, –which renders rather futile, don't you think, their hunger cries, just at the close of harvest?  With the accumulated gold of forty years and the most perfectly trained and equipped war machine that the world had ever seen.  Oh, yes!  "Und Gott!"  For the good old German Gott had entered into an iron bound contract with Wilhelm, to stay by him to the end.  And then he had his "shining sword."  Those three, the Kaiser, "und Gott," and "the shining sword" made a combination hard to beat.  Indeed it makes us tremble, when we think how hard they were to beat.

But the one thing that the Kaiser overlooked in all his calculations was the human emotion, the love of liberty, and that all over the world, there were millions of men who would rather die than not be free, and it was this love of liberty that at last bro't into the conflict more than twenty nations, from Great Britain, on whom the sun never sets, down to little Liberia, with her puny army of only four hundred men, and her navy consisting on one old river boat.  It was this love of freedom that rose like a sun o'er the darkened sky, dispelling the shadows of night, and at last flinging its banners across the sky, taking on definite shape and color and promise.

"Three flags are waving, brave and true,




On each the red, the white, the blue.

There's red in the French tricolor,




The blood of her sons well given,




When the Bastille fell, amid maddened yell,




And the tyrants' power was riven.

And the blue is the blue of each one, true blue,




And the white is the truce of peace,




That shall come once more, when the battle's o'er,




And cruel war will cease."

And as long as the tricolor of France shall stand, there shall be written beneath it in the blood of her sons, that motto born of the war, in her hour of agony, and travail and sorrow, the motto that kept France upon her feet, crushed yet undefeated:

"They shall not pass!"

"There's red in the flag of Britain,




The blood of her sons who died




In a foreign land, on a distant strand,




Mid the sweep of the battle's tide.




And the blue is the color of each one, true blue,




And the white is the truce of peace,




That shall come once more, when the battle's o'er,




And cruel war shall cease."

And as long as the cross of St. George shall fly, there shall be written beneath it in the blood of her sons, the motto that was born in hr hour of sorrow and woe, the motto passed on from dying officers to struggling men, the motto that will be not only a watchword to Britain, but to discouraged people everywhere:

"Carry On!"

"There's red in America's banner,




The blood of her sons who gave




Their lives that we might have liberty,




When the despot sought to enslave.




And the blue is the blue of each one, true blue,




And the white is the truce of peace,




That shall come once more, when the battle's o'er,




And cruel wars shall cease."

[Note: at foot of page in parentheses– (The Literary Digest, December 7, 1918)  This may refer to the above poem].

America went so late into the war, and it was her glorious privilege to have a part in so soon bringing it to a conclusion, that there was no motto born to us from our sorrow and woe.  But perhaps there is nothing that has come to us out of the war, that so typifies the American spirit, as the speech of Gen. Pershing at the tomb of Lafayette: "Lafayette, we are here!"  For in that speech, Gen. Pershing not only acknowledged the debt that we owed to France as our foster mother, but the larger debt we owe to all the world.  For whether she wills it or no, America stands unique among al the nations, as the exponent of the square deal everywhere; as the guardian of the rights of the weak and oppressed; as a nation that will not fight for gain, but will fight, and if need be die, for an ideal.  And this obligation is laid upon us not alone by the living, but by those who have died, that freedom might live.  And oh, my friends!  How great this debt we owe!

If you could take your place on your public square tomorrow morning to watch the  Allied dead pass in review, you would see the British dead, at daybreak, marching twenty abreast.  Until sundown they would march, and all the next day, and the next.  It would take the British dead ten days to pass you standing there.  It would take eleven more days for the French dead to pass.  It would take the daylight of five weeks for the Russian dead alone to pass.  And then would come in long line the Italians; the Serbians; the Belgians; the Romanians; and all those others who have died that freedom might not perish; and last of all, our own khaki-clad Americans.  It would take two months and a half for the Allied Dead to pass before your eyes.  And I am sure if they could speak, the message would be this:

We Shall Not Sleep

"In Flanders' field the poppies grow




Between the crosses, row on row,




That mark our place, and in the sky




The larks still bravely singing fly,




Scarce heard amidst the guns below.

We are the dead.




Short days ago we lived, felt dawn,




Saw sunset glow,




Loved and were loved.  And now we lie
In Flanders' Fields.

(Take up your quarrel with the foe.)




To you, from falling hands




We throw the torch.




Be yours to hold it high.




If ye break faith with us who die,




We shall not sleep, though poppies grow




In Flanders' Fields."

---

(Lieut. Col. Dr. John McCray of Montreal.  Written while the second battle of Ypres was in progress.  He now lies buried in Flanders' fields.)

"Three flags are waving, brave and true,




On each the red, the white, the blue.




Let them float on as one, unfurled,




That right and Peace




Shall rule the world."




Marion Fisk Giersbach, who typed Mrs. Fisk's ms., pencilled the note here, "picture."

It does us good to look back along the way we have come as a Nation, that we may gain from the past, some hope, some encouragement, perhaps some lessons for the future.

It was my privilege, a few years ago, to stand on old historic ground, overlooking the placid scene, which I shall bring to you, the Hudson River just below West Point.

The real object of our visit was a great historic mansion, that stands high upon the shore.  Historic it truly is, but there is no well beaten path to its door, nor will there ever be.  The yard is choked with weeds, the doors and windows are barred fast with heavy wooden shutters, and I must confess that we made our rather ignominious entrance by crawling in thro' the cellar window.  We made our way thro' the dark rooms on the first and second floor, and so at last to the little stairway that led to the attic.  But three steps from the bottom my friend paused, and removed a little panel from the wall, so cunningly hidden that I should never have seen it at all, and there was revealed against the chimney a little closet.  It was scarcely big enough to hold me, but I crept within, and my friend replaced the panel, and left me kneeling there, in a darkness that could almost be felt.

And kneeling so I tried to imagine, if I could, the feelings of one who had knelt in that self-same closet, many, many years before, but he, not as I with a friendly hand outside, awaiting the slightest tap, but he in cowardice, and treachery and fear, in the most yellow hour of all his yellow life.  And the story of his boyhood came back to me, and I thought how inevitable it was, that such a manhood should have developed from such an ungoverned boyhood as his had been.

It is a story that is, perhaps, familiar to some of you, though it is not, I believe, generally known, and dates back to the time before ever the United States had come into being, but was simply a little group of scattered colonies.

In Norwich, Conn. old Doctor Lathrop had opened his home to three apprentice boys.  The youngest of the three was a mischievous little chap, who kept the whole house in a turmoil.  Punishment was frequently threatened, but in Mrs. Lathrop the boy had found a staunch, tho' unwise advocate and friend.  She always took up the plea on his behalf saying, "O, do not punish him this time, Dr. Lathrop!  It was only a piece of thoughtless mischief.  I am sure, and he meant no harm.  He'll never do it again.  Besides, why do remember, he's scarce more than a child!"?

But there came a day when his mischief passed all bounds.  He had indulged in pranks that had endangered not only his own life, but that of his fellow apprentices.

That evening as Mrs. Lathrop walked in the garden with the two, they came upon the form of a little bird, lying dead on the walk, cruelly torn limb from limb.  Mrs. Lathrop stooped and picked the dead bird up in her pitiful hands, as she said,  "Oh!  Who did this cruel thing?  William, did you do this?"

But William shook his head.  Then turning to his companion, she said, "Benny, did you do this?"

T

here came a defiant toss of the boy's head as he said, "Yes, Ma'am, I did it."

"Why, Benny!" she said, "This was a wanton and cruel thing for you to do, and for this you shall certainly be severely punished."

Dr. Lathrop was called and when the boy saw that his own staunch friend had failed him, he took up the plea, in his own behalf, saying, "Do not punish me this time, Dr. Lathrop!  It was but a piece of thoughtless mischief, and I meant no harm.  I'll never do it again; besides, why do remember, I'm scarce more than a child."

But his pleadings were in vain, and he received the punishment he deserved.

That night, as Mrs. Lathrop passed up the stairway, she came upon the boy as he stood on the landing, looking out at the setting sun.  A little robin was piping mournfully outside in the trees.  She stopped and laid a kindly hand upon the boy's shoulder as she said,

"Benny, that was a cruel thing that you did today.  Listen, Benny.  Do you hear that little bird outside in the trees?  That is the mate of the little bird that you killed today, and it is mourning for its mate.  Listen, Benny, can't you almost seem to hear the very words it says?  Why, it's saying over and over, 'Oh, cruel, cruel Benny.'"

She looked in vain for some answering light in the boy's eyes, but all that she saw was the defiant toss of the head, the cruel mocking smile upon his childish lips, that she was learning to know and to dread, and with a sigh she turned on the stairway.

*  *  *  *  *  *  *  *  *

Thirty years passed by, years that were fraught with much of meaning to the colonies, for in that thirty years their national sense was born.  They had issued their Declaration of Independence, and now, poorly equipped, if indeed they could be said to be equipped at all, their heroic little Continental Army was making its great struggle for Liberty and Independence and Freedom.

Then one day into New London, Connecticut, came riding a Tory General, at the head of his troops.  He rode immediately to the house of one whom he had long called his friend, and ordered that dinner be prepared for himself, and his followers.  He sat down and ate and drank, in the house of his friend, then, turning to an orderly he said, "Set this house on fire, and carry out the order, thro' all of New London."

In less than half an hour, practically all that little city was in flames, and that Tory General stood and watched the men and women and little children of that stricken town, as they ran, screaming and crying thro' the streets, bearing their few possessions in their hands.  And the same cruel smile curled his lips as he said, "Oh, I love to see 'em run like that, – like rats in a trap.  Do you know, there's only one thing, in all the world, that I'd like better than this, and that is to go up to Norwich, and set it on fire, as I'm burning New London now!  And there's one house above all others, that I'd like to see up in smoke, and that's old Dr. Lathrop's house.  That old Hound whipped me well once.  I've never forgotten, and I've never forgiven."

As he spoke, it seemed for a moment, as if the years had been rolled back, like a scroll.  Once more, for a moment, he was the little boy standing upon the landing of the old Lathrop stairway.  Once more for a moment it seemed as if he could feel Mrs. Lathrop's kindly hand upon his shoulder, once more he could hear the mournful voice of the little robin outside in the trees, and it seemed to speak his name, and say over and over again, "O cruel, cruel Benedict Arnold.!"

Aye, Benedict Arnold, traitor!  Benedict Arnold!  Hated in his own land and despised by the country that bought his manhood!

Today we stand at the most critical period of all our national history, more critical by far than that which faced the colonies so long ago, for while they were a very little people, yet they were one people, of one blood, and with one ideal, but today America has become the melting pot of all the nations.  Two scores of blood flow in our veins, and where the old days had but one arch traitor, today America is beset by traitors a hundred fold.

Traitors?  Who are they?  Not only those, though forced to silence, yet with a serpent smile, sought to betray the country that had taken them to her loving mother breast, and had given them shelter, protection, livelihood and a home.  These are with us still, and should always be watched.  Did it mean nothing to you that just one week after the Armistice was signed the Department of Justice found it necessary to send out a warning to beware of German propagandists, who so soon were beginning to show their heads?

Traitors?  Who are they?  Not alone those pacifists and politicians who thro' warped judgment or selfish greed, would have betrayed their country.

No, one of the greatest dangers now lies in the unconscious and unwitting traitors, even, it may be you and I.  Not traitors to the physical America, but to her new-found soul.  The war has taught us lessons we never knew, or if we knew, had half forgot, lessons of thrift and economy, of unselfishness, and sympathy and fellowship,  These are the lessons the war has taught us.  Have we learned them?  These are the things that come to a nation only through the efforts of its individual citizens.

"Size is not grandeur, and territory does not make a nation;...  Truly America has a great future before her – great in toil, in care, and in responsibility, great in true glory of she be guided in wisdom and righteousness, great in shame, if she fail.  But the one condition of success, our sole safeguard, is the moral worth and intellectual clearness of the individual citizen."

(Thomas Henry Huxley, at the founding of Johns Hopkins University, 1876)

And if we fail to be in thought or ideal or act to be one hundred percent true Americans, then we have betrayed her soul; we have been traitors to

Our Heaven Born Banner

"When Freedom from her mountain height




Unfurled her standard to the air,




She tore the azure robes of Night




And set the stars of glory there.




She mingled with its gorgeous dies,




The milky baldric of the skies,




And striped its pure celestial while,




With streakings of the morning light"

And so when at morning and evening we see in our eastern and western sky the colors of our Heaven Born Banner, which God Himself has painted there with His immortal hand, may it serve each day to remind us anew of the trust that has been given us, that we may each day renew our pledge to be neither traitors in war, nor traitors in peace, but true to our Ideal America.  And then, but not till then, shall we have the grace by which we may emphatically sing that

"Our star-spangled banner, forever shall wave,
O'er the land of the free, and the home of the brave."

Marion Fisk Giersbach, who typed Mrs. Fisk's ms., pencilled the note here, "2 pictures."