MsC 746
THE MARION BALLOU FISK PAPERS
Collection Dates: [1906 -- 1930]
.5 linear ft.
Scans of a document from a collection of materials held by the
Special Collections Department
University of Iowa Libraries
Iowa City, Iowa 52242-1420
Phone: 319-335-5921
Fax: 319-335-5900
e-mail: lib-spec@uiowa.edu
Marion Fisk Giersbach was the daughter of Marion Ballou and Chester Fisk, and was referred to many times in letters home from her absentee mother who was on the Chautauqua Circuit year from 1908 to 1926. This unpublished—and unfinished—manuscript provides recollections and insights. —Walter Fisk Giersbach, son and grandson

The voices sang lustily as the studio size piano was attacked by the pianist. The word chart was held aloft by the leader of the group.
"Chautauqua, Chautauqua
The name we love
And love more each bright summer day.
Girls and boys, with their toys
Gather here –
Chautauqua, Chautauqua
In summertime
The season that's best of the year
Come, give a cheer
Make it loud and clear
And shout Hip, Hip Hooray."
The bright colored banners were strung across Main Street; posters were in the store windows and on street posts. Everyone in town knew it was Chautauqua week.
The crew men and Junior lady had arrived the day before. The freight car carrying the tent, platform boards, and chair and costume trunks had arrived on the railroad siding. After working all night, the three crew men, all college boys, had the big tent up so the Junior girl could welcome all the children of the town to the Junior Chautauqua. From experience, the boys knew there would be games, stories and songs (such as the one above) every morning for a whole seven days—with a pageant on the last night in which the town children would all take part.
Chautauqua was the only thing of its kind, the brain child of men of who had conducted a winter Lyceum lecture and music series for years and felt a summer program might be worth trying. And it was most successful. For in the days before cars and television, communities were isolated from the best stimuli of life except as they were brought in from outside.
Most towns had a park, just off Main Street, with shade trees and a bandstand, a natural gathering place when the farmers came to own on Saturdays for the weekly buying and selling. And on Wednesday evenings, the local band concert made beautiful background music for young strolling lovers, while children and dogs cavorted noisily, crawled under the bandstand, and perhaps calmed down a bit when popcorn came in sight.
With the coming of Chautauqua, right in the center of the park, an added ingredient of pleasure and culture was welcome, bringing a week of music, drama and lecture from the outside world of the city.
I was one of the cavorting youngsters in Kansas [Sabetha], and thrilled at the story hour and games provided for us by the Junior lady. We had talked about the Chautauqua so much before it arrived we could hardly contain ourselves when the great day came and the three-pole oval tent was pulled up and the last stake driven in.
I grew up too, saying goodbye to my father [Charles Leon Fisk], who spent his vacation along about 1904 as a member of the Hesperian Quartet. We knew he'd gone out on "Chautauqua," and we knew—my brother and I—that he was not only a beautiful tenor soloist, but a female impersonator whose act was a big feature of the Quartette program.
He looked like a beautiful woman and sang divinely—until he and his fellow members began to "ham it up" a bit in a comedy routine. Chautauqua was in our blood and we welcomed him home with open arms, anxious to know where he had traveled, what he had seen, and how the Quartet had been received.
One season he wrote home that he had grown a moustache (I'm sure that was the end of the impersonations.) and we might not recognize him. My brother was still a baby in arms as we prepared to go to meet the train. Suddenly, my mother was inspired—she took hair combings and made a beautiful moustache which she tied on my baby brother, and we went to the railway station. The train came, and my father in his new moustache and straw sailor hat stepped jauntily down to greet his family. Then he saw that baby. His Irish eyes flashed and he glared at my mother accusingly as he tore off the fake moustache, and said, "Marion what do you mean putting that thing on an innocent little baby!" She was laughing, and as quickly as it came, the glare died in his eyes and everyone laughed at his sudden burst of temper. It was an unforgettable homecoming that year.
In later years, my father was as active selling the Chautauqua in our town as he had been a talent in other communities. For to have a Chautauqua, a group of citizens had to pledge to sell the tickets, which made it possible, or pay costs not met by ticket sales. Business men and interested citizens believed the program was worthy of support, and little trouble was encountered in getting the signatures from one year to the next. The Chautauqua was recognized as a perfect way to bring the best to a community in the way of culture, education and contact with the world beyond the town's boundaries.
The first Chautauqua, of course, was that at Lake Chautauqua, when people came from far and near for a period of study under great and well-known leaders. The Lyceum, which took many of the same leaders into local communities, developed because the lecturers or musicians could not successfully book themselves. Then came the summer program, offered to the small and isolated larger farming communities, and held in a tent. The Lyceum had been held usually in a church or school auditorium. I say usually, because sometimes there were surprises, such as the town where my mother appeared of all places in the large back room of the town saloon. The family entrance was used and all was quite circumspect, but it was unusual. The Chautauqua which went to the people carrying tents and other equipment was born in 1903, and welcomed as an enricher for the local community. It was then that culture came to Kansas where we lived.
Nineteen hundred and eight was an important year to the Fisks, for it was in that year that my mother stepped out of her homemaking life and became a Cartoonist and Lecturer on the Redpath Chautauqua Circuit in Kansas.
It didn't just happen, for according to the stories we were told, my mother was ready and prepared for something like this. As in most of life, a crisis forces one to change a pace or turn in an entirely new direction. My father, overworked, had a physical collapse in which he was allowed by the physician to preach on Sundays, but other activity must be curtailed. Not knowing whether improvement would be soon or whether he'd have to have complete rest created the crisis: What can we do for a living if the healing takes too long? Finally, the suggestion, "Marion, you may have to become the breadwinner."
"I? What could I do?" from my worried mother.
"You can draw, and you are an able speaker."
Both of these things were true. My mother had been drawing from the time she was a child. When she married and the young Fisks were in Chicago's slum, she drew pictures in her Sunday School so the many languaged children would get the lesson by the eye if not the ear.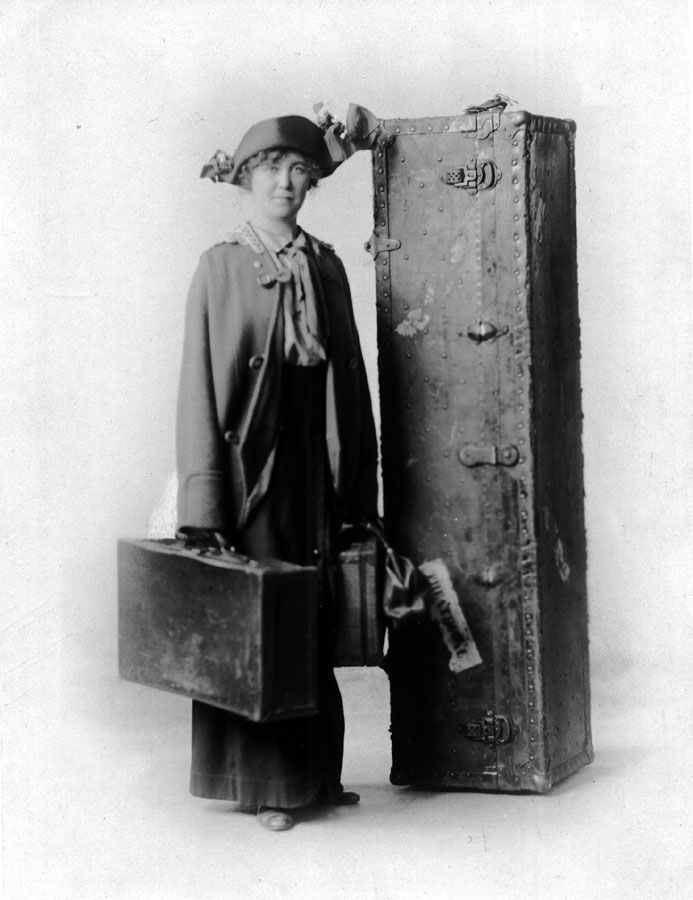 A good deal of brushing up was necessary. Fortunately, the town photographer Frank Hill came to her aid. He had hoped to be a cartoonist and studied under Frank Beard, a most able and well-known person. [Thomas Frances Beard, Civil War cartoonist for Harper's Weekly.] Deciding he was not quite good enough, Frank Hill became an able photographer. He said he would give her all the information he had. They made contact with an art firm, which made and sold soft chalks one inch square, three inches long, which she used for the next 20 years. My parents designed two easels, which would use extra size paper, metal-legged, which could be folded and packed in a specially made trunk. And, in between were the lessons in quick coloring and blending, and practice and preparing of lectures from her own experience. And, as she worked, deftness came and her originality began to flower. Finally, the day came when she was ready and the Chautauqua executives gave her an opportunity in a neighboring town to display her talents. Excerpts from a letter to her mother are interesting for, of course, she was scared:
"I guess there were about 1500 people there and I was fairly sick to my stomach I was so scared. I was asked to sit on the platform while another lady gave an address, and as I looked out over the audience I said to myself, "There you sit, 1500 of you, but probably there aren't half a dozen of you can draw as well as I do, and there isn't one of you would have the nerve to draw in public, and so at my worst I'll do better than you could do," and while I knew, just the same, that if I didn't do well I'd get awfully criticized, yet it did a good deal to calm me down, and when I got up to speak I was perfectly at ease & mistress of myself....
"The people greeted me nicely and clapped every picture and three or four times between whiles. The next morning the daily published my picture and an account. I will send it to you later, but will you please return it, as it is the only one I cold get hold of. I heard praise enough to quite turn my head, and the manager paid me my expenses more than he had promised. I'll tell you why I want the paper, because it is a good recommend, and I am going to try to get some more work with it."
It was necessary to collect and prepare original material. Then came the planning of pictures for her two easels. The method was to draw a picture on one easel, then leave it while working on the second easel, tearing off the sheet and going on with number one. When the story and pictures were decided upon came the difficult period of developing speed in drawing, yet keeping the natural colors and perspective for a good drawing, and at the same time having a continuous story that fitted the drawings. She was credited with using 20 colors, which meant they must be carefully laid out before she began work so she might pick them with a minimum of looking.
[Note: Image above is from a photograph not included in the collection showing MBF with her traveling bags and the trunk especially constructed to contain her easels.]