April – June 2009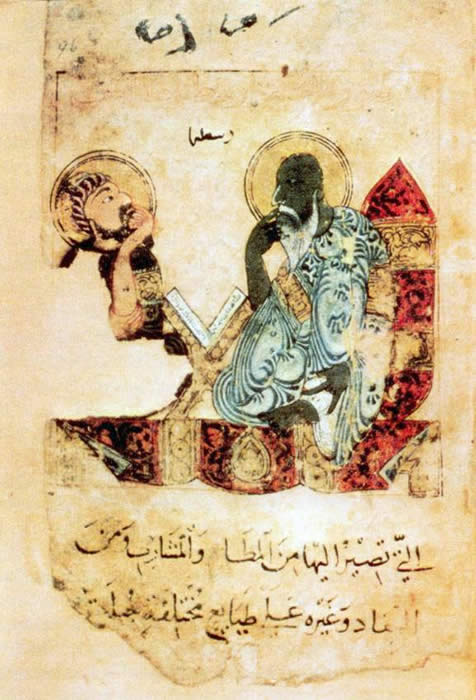 Opening Reception –
Tuesday, April 7, 2009 4-5 p.m.Middle Eastern music played on the qanun (or kanun) will be performed by Firaz Sultan. The qanun is a plucked string instrument similar to the zither.

Middle Eastern treats will be provided by Ali Baba Restaurant.
Mediterranean civilizations have produced some of humankind's greatest scientific and intellectual achievements. However, by the 8th century CE this accumulated ancient knowledge was in grave peril of being lost forever. The traditional centers of learning – Athens, Alexandria and Rome – were in political and cultural decline, while many pre-Christian European scientific manuscripts were lost or destroyed on suspicion of heresy. Much of what would survive of classical Western knowledge would do so thanks to the intervention of an unexpected savior: the Arabic speaking Muslim scholar. As the Islamic Empire spread out of Arabia, its caliphs directed that surviving ancient manuscripts (Greek, Aramaic, Persian and Indian) be gathered together at official libraries like the Bayt al-Hikmah ("House of Wisdom") in Baghdad and translated into Arabic. This embrace of foreign intellectual traditions was emblematic of the Islamic concept of tawhid, which for many Muslim leaders and scholars meant that the highest purpose to which humans could aspire was to learn – from any intellectual or cultural source – all one could about God's creation.
Film Series –
Wednesdays, 7 p.m.A comprehensive 12-part film series spread over six nights documents the remarkable history and the most significant cultural, scientific and technical achievements of the Arab empire, which came to prominence between the 7th and 13th centuries.

The films will run on April 1, 8, 15, 22 and May 6 and 20, 2009 at 7 p.m. in Meeting Room A at the Iowa City Public Library, 123 S. Linn St. Discussions will follow the screenings.
Within a few centuries the Islamic Empire spread from Spain to India, encompassing a wide variety of peoples, languages and cultural traditions – Arabs, Persians, Assyrians, Jews, Greeks, Egyptians, Berbers, Spaniards, Turks, Christians, Zoroastrians and Hindus – all interacting through the medium of the Arabic language. Indeed, it was mainly in the hands of non-Arabs (and in many cases non-Muslims) that the Arabic language was developed into the premier instrument for scientific, intellectual and administrative discourse of its age. In the early period, scholars working in Arabic were generally polymaths, equally at home in healing the human body as in developing more precise instrumentation for astronomy. The intellectual and cultural ethos shaped by the Islamic concept of tawhid encouraged breadth in the research programs of individual scholars, expansive efforts to translate the knowledge of other civilizations, and increasingly, original research in fields ranging from medicine and pharmacology to philosophy and physics, mathematics, optics, astronomy, cartography, mechanics, and many others.
Following the right-to-left direction of Arabic writing, the exhibit moves counterclockwise from the right side (West wall) of the lobby in a thematic arrangement:
Case 1, West wall:  Arabic language, Baghdad's Bayt al-Hikmah, Philosophy
Case 2, South wall, west: Andalus
Case 3, South center (freestanding): Calligraphy
Case 4, South wall, east:  Medicine
Case 5, Southeast (freestanding):  Mathematics and Optics
Case 6, East wall:  Astronomy, Cartography, Geography, Historiography
Case 7, North center (freestanding):  The Thousand and One Arabian Nights
Case 8, North center (freestanding):  Maqamat al-Hariri.
Selected Bibliography
Bloom, Jonathan and Sheila Blair.  Islamic Arts. London: Phaidon, 1997.
Brandenburg, Dietrich.  Islamic Miniature Paintings in Medical Manuscripts. Basel: Roche, 1982.
Chebel, Malek. Symbols of Islam. Paris: Assouline, 1997.
Genius of Arab Civilization: Source of Renaissance, edited by John R. Hayes.  New York : New York University Press, 1992.
Lewis, Bernard. Islam and the Arab World. New York: Knopf, 1976.
Nasr, Seyyed Hossein. Islamic Science. London: World of Islam Festival Publishing, 1976.
Pier Giovanni, Donini. Arab Travelers and Geographers. London: Immel, 1991.
Stewart, Desmond. Early Islam. New York: Time, 1967.
Turner, Howard R.  Science in Medieval Islam.  Austin: University of Texas Press, 1997.
Acknowledgements
Exhibition planning
Rebecca Routh, Edward Miner, Karl Schaefer
Production and Installation
Rebecca Routh, Edward Miner, Karl Schaefer, Khalda Mohieldin, Duncan Stewart, Bill Voss, Kristin Baum
Graphic design
Serina Brekke
Special thanks
The Middle East and Muslim World Studies Program and the Medieval Studies Program for their co-sponsorship of the exhibit
Dr. Karl Schaefer of Drake University for the loan of his Quran stand, Quranic manuscript leaf, calligraphic posters and Islamic coins
Khalda Mohieldin for the loan of her Sudanese tambourine
Edward Miner for the loan of his Omani decanter
Annette Miner for the loan of her Berber jewelry and other Moroccan objects