In 1932 the collections of classical languages, romance languages, and German were combined on the main floor of Schaeffer into the Foreign Languages Library.
In 1933 an exhibit room to showcase special collections acquisitions was set up in the semi-circular room on the basement floor of Schaeffer, directly below the Foreign Languages Library.  This room also contained permanent displays of some of the treasures from the Mark Ranney collection.  The Leigh Hunt Library, which was purchased in 1934, was shelved in an adjoining room.
The original Ranney library of medical volumes had been destroyed in the 1901 fire at Old South Hall.  In 1907 his widow died and left 3,000 more volumes in her husband's memory.  The Mark Ranney Memorial Library was then located in room 305 Schaeffer Hall. (Photo circa 1909)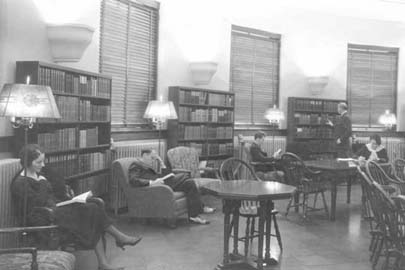 In 1934 the Campus Course Library, an informal lecture room, library, and lounge, was opened on the third floor of Schaeffer. It contained 2,500 volumes for "general reading in many cultural fields." Professor Shambaugh conducted his course "Approaches in Liberal and Cultural Education" in this library.