Recreational Reading Libraries
Union Library:  In 1931 a recreational reading library was opened in the Iowa Memorial Union.  The northeast corner of the sunporch was modified to accommodate the 650 books, and the furnishings, including bookcases, were moveable so parties and other occasions could use the space.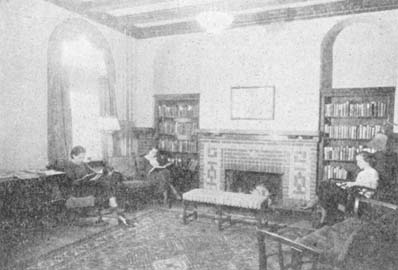 In March 1934 a reading room was established in Currier Hall, followed by the Quadrangle in the fall.  The University's Graphic and Plastic Arts Department designed bookplates for the books in these libraries.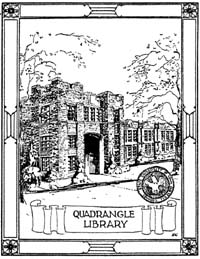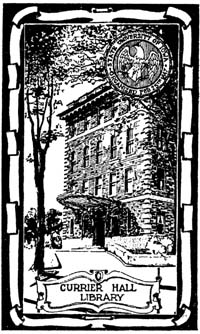 The English Reading Room was established in October 1940 in the same room which housed the Ranney and Springer collections in Schaeffer Hall.  This room was intended for undergraduate majors in English and Honors sections of English.
German Library
Begun in 1891 when Charles B. Wilson, professor of German, instituted a plan to build a German library through donations from Iowa Germans. These 400 books were destroyed in the 1897 fire.  In 1909 the German Library was located in room 103 of Schaeffer.  It was consolidated into the Foreign Language Libraries along with classical and romance language books in 1932.
Military Library
The Military Library, a small, rarely used office collection which had been in existence since the 1890s, was transferred to the general library in the spring of 1943.