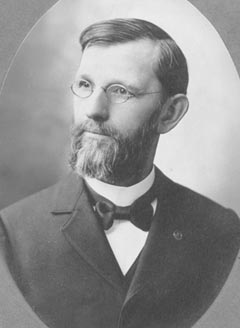 MALCOLM G. WYER
Librarian
1904 – 1913
Malcolm Wyer was previously a librarian at the University of Minnesota Library, then Colorado College.  At Iowa, Wyer directed a consolidation of departmental collections and book budgets, resulting in a larger central fund from which to buy badly needed reference sets.  He felt the "incompleteness of the book collection was a disgrace to a university library," and cited that "in biography there were not adequate lives of even the Presidents of the U.S."  Wyer began building a staff of professional librarians who undertook the effective re-cataloging of the book collection which had not been done since the fire in 1897, and also met with every freshmen class in English to give the students instruction in using the library.  Wyer taught in the summer library training school, and in 1906 was made resident director of the program.
Wyer received his M.A. at the University of Minnesota; B.L.S. at New York State Library school, Albany; doctor of library science, University of Nebraska, Lincoln; and three honorary degrees from the University of Nebraska-Lincoln, Colorado College, and the University of Denver.
Wyer left Iowa for the University of Nebraska, then became Librarian at the Denver Public Library, and held a dual roll as Founder and Dean of the University of Denver School of Librarianship.