At The SEAM we're dedicated to supporting undergraduate research, learning, and success. The SEAM hosts extended research assistance hours (5-9 PM, Sun – Thurs) and other programs that help undergraduate students develop and improve research skills and critical thinking.
Evening research assistance hours are provided by graduate students who are librarians-in-training, currently enrolled in the School of Library and Information Science. (If you're interested in working for us, please contact Jenay Dougherty.)  
The SEAM is managed by the Undergraduate Engagement Department at the Main Library. Our librarians collaborate with faculty and instructors to develop curricula, assignments, and lesson plans that integrate information literacy, critical thinking, and research skills into course and curricular content. Faculty and instructors interested in collaborating with a librarian should contact us to schedule a meeting.
Meet our Graduate Students
Amelia Loew is a graduate student at the University of Iowa currently studying for a Master's in Library Science.  She enjoys gaming (both analogue and digital) and making up stories that maybe she will write down someday.  Amelia loves investigation in many fields and is happy to help with research at The SEAM.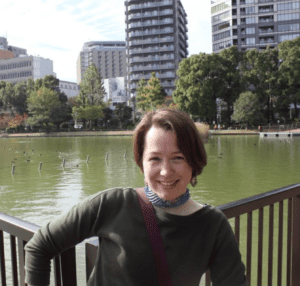 Reagan Anania is a Library and Information Science graduate student at the University of Iowa. She loves any kind of crafting hobby and is currently learning to sew. She is excited to be working at The SEAM and to help you with what you're researching!