At The SEAM we're dedicated to supporting undergraduate research, learning, and success. The SEAM hosts extended research assistance hours (5-9 PM, Sun – Thurs) and other programs that help undergraduate students develop and improve research skills and critical thinking.
Evening research assistance hours are provided by graduate students who are librarians-in-training, currently enrolled in the School of Library and Information Science. (If you're interested in working for us, please contact Cathy Cranston.)  
The SEAM is managed by the Undergraduate Engagement Department at the Main Library. Our librarians collaborate with faculty and instructors to develop curricula, assignments, and lesson plans that integrate information literacy, critical thinking, and research skills into course and curricular content. Faculty and instructors interested in collaborating with a librarian should contact us to schedule a meeting.
SEAM Team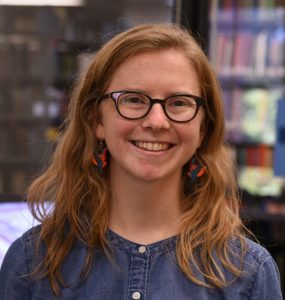 Elizabeth McKay
Elizabeth is a student in the School of Library and Information Science. She is interested in the creativity of the research process and the craft of thinking. In other words, she thinks a lot about how people think about thinking! She loves helping students align their interests with their assignments and understand where they are at in the research process.  She also enjoys taking students on the magic carpet ride of library resources.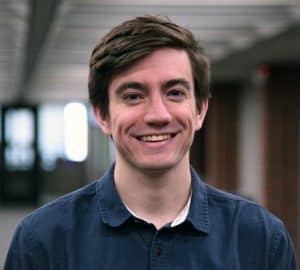 Will Cooper
Will is a first-year graduate student at the University of Iowa and is pursuing a Master's in Library and Information Science. His undergraduate degrees are in History and Political Science, but he enjoys branching out into different fields as well while helping students in the research process. He enjoys helping students build confidence and expand their horizons by aiding them in the research process, whether it be the first-ever rhetoric assignment or senior capstone [thesis? not sure what they call these at UI]. When Will isn't in the SEAM, he enjoys running, watching NBA basketball, playing trivia and (perhaps predictably) reading good books.
Shu Wan