Special Collections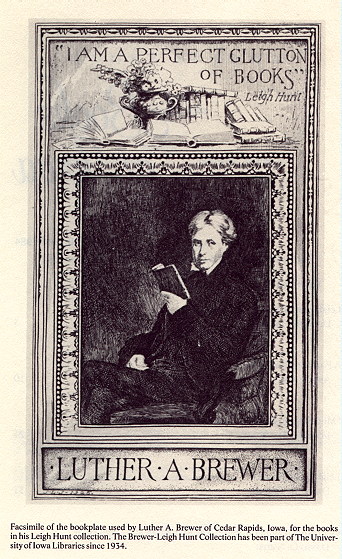 The University of Iowa's collection of materials by and about Leigh Hunt has been much written about. The following articles were first published in Books at Iowa, 1964-1996. Copyright: The University of Iowa Libraries.
Barnes, Warner. "Leigh Hunt's Letters in the Luther Brewer Collection: Plans for a New Edition." 3:10-14.
Blainey, Ann "The Courtship of Marianne Hunt" 23:3-10; "The Wit in the Dungeon: Leigh Hunt in Surrey Gaol" 34:9-14; "A Portrait of Leigh Hunt" 40:10-20; "A Treasure House" 53:23-28.
Brack, O M, Jr. "Lord Byron, Leigh Hunt and The Liberal: Some New Evidence" 4:36-38.
Brack, O M, Jr. and D.H. Stefanson, compilers. A Catalogue of the Leigh Hunt Manuscripts in the University of Iowa Libraries. Iowa City: Friends of the University of Iowa Libraries, 1973.
Brewer, Luther A. 1:4; 3:10-11; 21:3-9, 30-31(pr.), 31(illus.); 57:17-34; "Leigh Hunt Association Books" 1:4-10.
Cheney, David R. "Leigh Hunt Sued for Debt by a Friend" 27:30,35-56; "Leigh Hunt, Essayist" 40:31-40; "Leigh Hunt and the Dashwood Annuity" 45:50-61
Gates, Eleanor M. "Leigh Hunt And Anna Maria Dashwood: A Shelleyan Romance" 49:16-34
Haight, Gordon S. "Letters From George Henry Lewes To Richard Hengist Horne"
Horne, R. N. "Leigh Hunt" 25:28(illus.), 34-44
Norman, Parmalee. "A Neglected Irish Novelist: Marmion W. Savage" 35: 3-13.
Leigh-Hunt, Desmond. "Leigh Hunt's New World Forebears" 40:3-9
Shaddy, Robert A. "Around the Library Table with Luther A. Brewer: Annual Reflections on Collecting Leigh Hunt" 57:17-34.
Smith, David Q. "Genius and Common Sense: The Romantics and Leigh Hunt" 40:41-57
Thompson, James R. "'Mild Singing Clothes:' The Poetry of Leigh Hunt" 40:21-30.