CIVIL WAR DIARIES OF GEORGE MARION SHEARER
MsC 80
Collection Dates: 1863 -- 1865
.25 linear ft.
(Shares a box with MsC 78 and MsC 79)
Collection Guide
This document describes a Manuscript Collection held by the
Special Collections Department
University of Iowa Libraries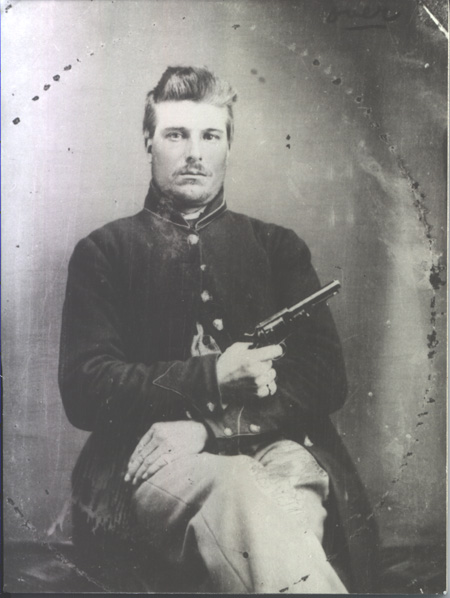 Guide Contents
Biographical and Historical Information
Scope and Contents of the Collection
Acquisition and Processing Information
Access and Restrictions: This collection is open for research.
Digital Surrogates: Except where indicated, this document describes but does not reproduce the actual text, images, and objects which make up this collection. Materials are available only in the Special Collections Department.
Copyright: Please read The University of Iowa Libraries' statement on "Property Rights, Copyright Law, and Permissions to Use Unpublished Materials"
Use of Collections: The University of Iowa Libraries supports access to the materials, published and unpublished, in its collections. Nonetheless, access to some items may be restricted by their fragile condition or by contractual agreements with donors, and it may not be possible at all times to provide appropriate machinery for reading, viewing, or accessing non-paper based materials. Please read our "Use of Manuscripts Statement."
---
Quoting an obituary in the collection:
"From the roster of Iowa soldiers is taken the following record of the late George Marion Shearer, departed this life May 17, 1912:

'George Marion Shearer was born Sept. 18, 1837 at Irvington, Indiana and enlisted Co. "E" 17th Infantry on March 10, 1862, his residence being Ashland, Wapello county, Iowa. Mustered April 5, 1862. Wounded Nov. 25, 1863 at the battle of Missionary Ridge. Promoted to First Corporal December 10, 1863. Re-enlisted and remustered April 22, 1864. Taken prisoner October 13, 1864 Tilton, Ga. Mustered out May 26, 1865, Davenport, Iowa'

"In connection with the mention of having been wounded at Missionary Ridge, Nov. 25, 1863, the particulars were that in the charge Mr. Shearer was placed between two of his cousins, Baretmus and George Martin Shearer, who were killed by a bursting shell, a fragment of the missile striking Mr. Shearer on the head and wounding him, also destroying the hearing of one ear. As a soldier, Mr. Shearer was faithful to duty wherever found and as he kept a daily diary of his experiences throughout the long dark and bloody days of the rebellion, his treatment at the hands of the rebel prison guardians, the deprivations and sickness and horror, all are depicted in his memorandum. He was in prison at Camp Lawton, 42 miles southwest of Atlanta, Ga. Nov. 8, 1864 when the national election took place. His notes of that day say:

'The result of the vote taken by Union prisoners of war in Camp Lawton, Georgia, Nov. 8, 1864. Whole number of votes cast 4,622. For Lincoln 2,778. For McClellan 1,844. Lincoln's majority 934. 17th Iowa Vote: Lincoln 213, McClellan 16. Lincoln's majority 197.'

"On Saturday, December 31, 1864 is this diary entry:

'The year goes out cold and blustry, and leaves me a prisoner in Lawton. The report has been received that Sherman was going to make a special exchange for his men. As yet we have no assurance. We can hear nor see nothing. Prisoner shot dead while attempting to steal a board over the dead line.

'The year 1864 has closed with the war still going on though much has been done to bring it to a close. It is generally expressed that the coming year will end the war.'"
Shearer was also held at the notorious Sumpter Prison in Andersonville, Georgia. He came home in the spring of 1865. That fall he took a tour of western Iowa, taking notes on the quality of the land he finds there.
---
Photographs: George Marion Shearer, Laban Shearer
This collection consists of three small hand-written diaries, one for each year 1863 -- 1865; transcriptions of these diaries in mimeograph copy; three photographs with one negative; an obituary; an Andersonville Prison survivor's certificate; and correspondence from R. T. Fedderson.
---
Acquisition and Processing Information
These papers were given to the University of Iowa Libraries in part by George Marion Shearer's grandson R.T. Fedderson in 1961
Guide posted to the Internet: September 2006
---
Box 1
Andersonville Prison survivors certificate
Diaries with transcripts. Digitized diaries
Letter from R. T. Fedderson to Leslie Dunlap conveying materials to the library, and telling of other members of the Shearer family involved in the war
Obituary from the Ottumwa Courier
Photographs
---