Collection Guide
---
Administrative Information
Digital Surrogates: Except where indicated, this document describes but does not reproduce the actual text, images and objects which make up this collection. Materials are available only in the Special Collections Department.
Copyright:  Please read The University of Iowa Libraries' statement on "Property Rights, Copyright Law, and Permissions to Use Unpublished Materials"
Use of Collections: The University of Iowa Libraries supports access to the materials, published and unpublished, in its collections. Nonetheless, access to some items may be restricted by their fragile condition or by contractual agreement with donors, and it may not be possible at all times to provide appropriate machinery for reading, viewing or accessing non-paper-based materials. Please read our Use of Manuscripts Statement.
---
Scope and Contents
With the exception of the last three folders, the bookplates collection is organized alphabetically, largely by family name or the name of an institution. More than one bookplate as well as copies of one and the same plate are indicated in brackets.
Claudia Pummer, July 2004
Box 1
Folder 1
Adams, George Burton
Adams, Ruth
Adams, Walter
Adler, Hermine and Ija (Epicurean Library) [4 copies]
Aeschlimann, Ery
Alderman, Muriel [2 copies]
Alexander, Amy B. [2 copies]
The American Library Association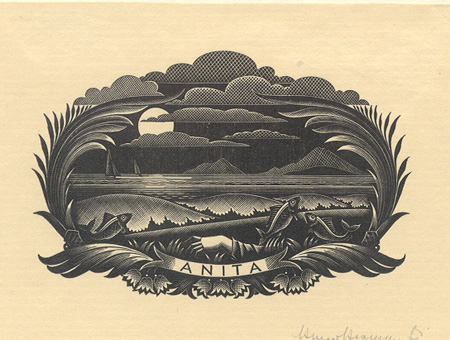 Anita
Anthony, Cornelia
Ariel, P.C.
Armour, George Allison
Armstrong Collin
Asmann, Edwin S.
Folder 2
Baanders, H.A.J.
Bailey, Louis Jonathan [7 different plates]
Baker, Edith M.
Balbi, Giorgio
Barnett, Percy Neville [2 different plates, 3 copies]
Bates, Albert C. and Alice C.
Bates, E. A.
Battalion 3, F. Hb.R. 46
Beecher, (H.A.?)
Beers, Amy
Belasco, David
Bell, Foster Ellen
Belmont, Oliver
Folder 3
Bernheim, A.C.
Bernheim, Julius C. and Emily S. [2 copies]
Bigelow, Elizabeth Tallant
Bindley, John
Birrell, Augustine [2 different plates]
Bisbal, Victori
Bixby, W.K.
Black, Carrie Nelson and Samuel Luccock
Bliss, Catherine Anita
Bonacossi, Vittoria Alessandro Contini
Boreham, E.G. [2 different plates]
Bradford, June
Brainerd, Helen Elvira
Brainerd, Ira Hutchinson
Bramanti, B.
Bramanti, Donato
The Earl of Bread'albane
Breghot du Lut, F.
Brewer, William A.
The British Council [2 different plates]
Brown, Clyde Stephen and Lilyan Kendall
Brown, Georgette
Burchett
Burnham, Guy M.
Burnham, William Henry and Katharine French [2 copies]
Buxton, Alethea Constance Dorothy
Byers, Alexander M.
Folder 4
Cano, Manuel
Carnegie, Andrew
Carson, Jean Stoddard
Carter, Lillian W.
Carver, Maretta Vernon
Caulfield, Richard
Chandler, Gardiner
Chase, W. H. [4 copies]
Cheever, L.O.
Cheney, John Turner
Chew, Beverly
Church, Sarah Heyliger
Cismon, Conte di Val
Clapp, John Bouve
Clark University [2 copies]
Clement, Clara Erskine
Clobery, R. Glynn
Cole, Robert Williams
Columbia University (Barnard College, Annie Nathan Meyer Drama Library)
Columbia University (School of Architecture, Ware Memorial Library)
Columbia University (Stephen Whitney Phoenix)
Coons, Lee M. [2 copies]
Coppini, Alberto
Corey, George Henry
Corrigan, W. Edward
Cushing, Harvey [name written in pencil]
Folder 5
D'Alloro, Foglie
Dana, Charles L. [2 different plates, but same motive]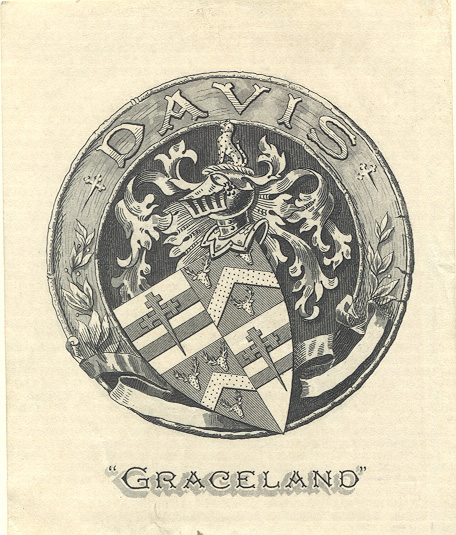 Davis ("Graceland")
Davis, Millard
De Gruson
De Scrilli, Valentino
De Togores, Josep
De Vazeille, Randanne
De Vilhena, Joao Jardim
Diamond, Betsy
Diamond, Elizabeth
Diamond, Elizabeth Watson
Diamond, J.E.
Diamond, Jack
D'Ivori, Joan
Doane, Gilbert H. [2 different plates]
Donavit
Downey, Mary E. [2 different plates]
Folder 6
Eleanora
Elin, Fae
Elisabeth
Ellwanger, George H.
Emerson, George W. [4 copies]
Enrichetta
Erickson, William Andrew
Evans, Clara Therese [2 different plates]
Ex Libris Society (ELS)
Folder 7
Fabbri, Mary and Ernesto
Fabregas, Josep[h] [2 different plates]
Fearing, Daniel
Feldblum, Adolph
Fenini, Mansueto
Ferrer, Joseph Costa
Ferrer i Valls, Sebastia
Fitzpatrick, George
Flinn, Robert Stanley
Follansbee, George Edward
Forrester, James
Forrester, William
Forti, Eugenio
Forster, Edward
Forster, George (Reverend) [2 copies]
Forster, John (Iohn) [2 copies]
Forster, R.M.E.
Forster, William John
Folder 8
Foster, ?
Foster, A.B.
Foster, Allen Evarts
Foster, Dwight
Foster, Edmund
Foster, Ellen Bell
Foster, Ingham [3 copies]
Foster, James [2 different plates]
Foster, John (William, Esquire; Right Honorable) [3 different plates, 1 copy]
Foster, John Frederick
Foster, John, Jr.
Foster, John Morrell [3 copies]
Folder 9
Foster, Joseph [3 different plates, 5 copies]
Foster, Mary F. [3 different plates, 6 copies]
Foster, May F. [4 different plates, 10 copies]
Folder 10
Foster, Philip Staveley
Foster, Robert H. [2 copies]
Foster, Robert Lionel [2 different plates, 3 copies]
Foster, Robert T. [2 copies]
Foster, Rober Thompson [3 different plates, 6 copies]
Foster, Roger
Folder 11
Foster, T. Henry [18 different plates, 50 copies]
Folder 12
Foster, Thomas
Foster, Thomas Campbell
Foster, W.H.T [2 different plates, 5 copies]
Foster, Walter K.
Foster, William [2 different plates]
Foster, William H.
Fowler, Alfred [2 different plates, 3 copies]
Fowler, Harry Alfred [2 different plates, 3 copies]
Franco e Mary
French, Edwin Davis
Furman, Dorothy
Box 2
Folder 13
Garland, Hamlin
Gatvillaro, J.
Gentile, Giovanni R.
Gerber, John C.
Gheri, Edoarda Enrico
Giugnola, Gustavo E.
Godard, George Seymour
Goldsmith, James A.
Goelet, Ogden [2 copies]
Graebel, Reverend Richard Paul
Graham, Wallace Belmont
Gray, Arthur Fairfield [3 different plates]
The Grolier Club
Groves, Charles J. [3 copies]
Guicciardini, Paolo
Folder 14
Hamershlag, Robert I.
Harding, Isabel and Lucien
Hardy, Thomas
Harvard College Library (Gift of Flora V. Livingston)
Harvard College Library (Kipling Collection, Gift of Flora V. Livingston
Harvard College Library (From the Collection of Books printed by Thomas B. Mosher; Gift of Oliver C. Sheehan)
Hayes, Violet
Hazelton, Roger
Hills, Harriette Elizabeth
Hine, William S.
Historical and Philosophical Society of Ohio (From the Income of the Elizabeth Haven Appleton Fund)
Historical and Philosophical Society of Ohio (Rufus King; Ex Legato Margaret Rives King)
Hoadley, Charles J. and George E.
Hofmayer, Stephen P.
Holbrook, John S.
Holman, Robert (2 copies)
Hooley, Ernest Terah
Hopkins, Francis (B.?) [7 copies]
Hopkins, Henry
Hopson, Ada M. [2 different plates]
Hopson, W.F. [3 different plates]
Hubbard, Elbert
Hutton, Laurence
Huxley, Aldous
Folder 15
Ibanez, Vicente Blasco
Indiana State Library
Inwright, Norman E.
Ireland, Sam
Jackman, Wilbur Samuel
Jackson, Charles
Jackson, Jonathan
Jones, Dan Burne [4 different plates, 6 copies]
Kearsley, R.M.
Kling, Flora Gardiner
Knight, Joseph
Kohlman, Rena Tucker
Kold, Gunnar
Krijgsman, A.
Kuiperz, E.J.
Folder 16
Lahey, Edwin A.
Lake Zurich Golf Club
Lambke, Audelle M. [4 copies]
Lance, Andrew Hasell
Landry, Stuart Omer
Lauck, Gerold McKee
Lawrence, Emily Hoe
Lee, Georgia Medora
Leek, Marjorie H.
Lefferts, Marshall Clifford
Leikind, Morris C.
Lemperly, Paul
Leverhulme, Baron
Lewis, George R. [3 copies]
The Library of Congress [2 copies]
The Library of the White House (A Gift to the Nation from the American Booksellers, 1934)
Lloyd, Mary Eleanor
Lockwood, Helen Virginia
Loebl, Jerrold [2 copies]
Lord, Janet Hay
Lori, Mario
Luigi e Paola
Lundman, Alma Tress
Folder 17
Mackay, Katherine
Mabie, Hamilton Wright
Malcolm, Herbert Lawrence and Helen Parsons
Mantero, Gianni [2 copies]
Marcella
Maria
Marshall, Frank Evans [2 different plates, 7 copies]
Mary
Masonic Library Cedar Rapids, Iowa (Theodore S. Parvin, Founder)
Mathews, Hope Knight
McClure, Roy Don Aldson
McClelland, John M. Jr
Folder 18
McConnell, John W.
McKee, Thomas Jefferson
McPeak, Ival
Merman, Solange
Merrow, Paul Gurley
Messenger, Zora Belle [2 copies]
Michalon, J. M.
Migliorini, Carlo
Milligan, Blanche
Mitchell, Weir
Moceo, Marie e Benny
Monsalud? , Joseph
Montalto
Montgomery, Clare [2 copies]
Morrell's [5 copies]
Mosenfelder, J. Alroy
Mosher, Thomas B.
Folder 19
Neasham, Ruth W.
Neltner, John C.
Neuville, Rene
New Haven Colony Historical Society
New York Life Insurance Company
Newton, A. Edward
Niccoli, Alfredo
Northwestern University (The Joseph Schaffner Library)
O.B. Nelson Post No.3 American Legion
O'Conner, Icey
Ohio State University (The Edward Orton Memorial Library of Geology)
Oliva, Victor
Osborne, Thomas Mott and Agnes Devens
Ouwejan, Remmet Jacobus
Folder 20
Paola
Pasquali, Georgi
Paxton, William McGregor
Pennyman, James Worsley
Perring, Colonel Sir John
Platt, Isaac Hull [2 copies]
Platt, Grege Johannis
Pond, Mabel Dickinson
Pratt, Joseph H.
Prescott, Winward
Preston, Howard Willis
Prideaux, Colonel William Francis
Princeton University Library [5 copies]
Purdy, Harold and Gertrude
Folder 21
The Queens Borough Public Library [3 different plates]
Rault, Auguste
Remey, Charles Mason
Rice, William
Roberts, Newton W.
Robinson, Bernard B.
Rodolfo e Michela
Rowfant Club
Saar, Josef
Saffo
Salice, G.
Salvadori
Sandra
Sanford, May
San. Giorgio [2 copies]
Savage, Lyndall
Sclavo (Siena)
Scott, James Martin
Scripps College (The Ella Strong Denison Library)
Sculp, V. Devincenti
Sedgwick, Robert
Shaffer, Harry G.
Shawgay, Sheila Singer
Folder 22
Sheean, Oliver Clement [6 different plates, 8 copies]
Sherwin, Henry A.
Sigales, Bartomeu [4 different plates]
Silvana
Folder 23
Simmons, Gina and Will
Singer, Hanna
Skallerup, Harry R.
Smith, Harry Bache
Smith, Margaret Pollard
Social Law Library Boston
Society of Colonial Wars (in the State of New York)
Spenceley, Major Frederick
Starrett, Vincent [2 different plates]
State University of New Jersey - College for Women
Stauffer, Bob
Stearns, C.A.
Steckel, Edith A. [2 different plates]
Steckel, W.J. and B.H.
Stowe
Strange, Michael
Strozzino, Lo
Summer, Samuel N.
Folder 24
Taft, Henry W.
Tapley, H.F. [2 copies]
Tarkington, N.B.
Taylor, Chas [2 copies; 1 color, one b/w]
Taylor, Helen M.
Terry, Roderick [2 copies]
Thomas, Isaac Rand
Thompson, James Henry
The Thompson Library
Tillmann, Frederick
Toedteberg, Emma
Townsend, Charles Cooper
Townsend, J. Barton
Treffinger, Elizabeth
Folder 25
University of Notre Dame Library
University of Wisconsin - Library of the College of Agriculture (Stephen M. Babcock Funds)
U.S. Naval Air Station Ottumwa, Iowa (Presented by Mrs. T.H. Foster)
Van Alen, Mrs. J. Laurens
[Vanderbildt]
Velda
Vila i Pujol, Montserrat
Viner, George Heath [2 copies]
Volkmar, Fritz
Von Cles, Ferdinand
Folder 26
Wake Forest College (in memory of Hubert Evans)
War Service Library
Wells, Carolyn
The Western Reserve Historical Society (Collection of William P. Palmer)
Wickenburg Public Library (Gift by Mr. & Mrs. T. Heny Foster) [2 copies]
Wilkens, Charles
Wilkerson, Mildred B. [2 copies]
Williams, Frederick Wells
Winchell, Alverd W., M.D.
Winthrop, Henry W.
Wolseley, General Viscount of Wolseley County of Stafford and Baron Wolseley of Cairo
Wood, Collingwood Lindsay
Woodbury, John Page
Yale University Library
Folder 27
BOOKPLATES WITH INITIALS ONLY
A.B.M.
B. R.
C.H.S. [2 copies]
E.B.S.
S.A.F.
Folder 28
FAMILY CRESTS / MOTTOS (without a family name)
"Actorum Memores Simul Affectamus Agenda"
"In terra pax"
"Malo Mori Quam Foedari"
"Si Fractus Fortis"
"If you've borrowerd this book ..." [rhyme]
Folder 29
NO INSCRIPTIONS
[8 DIFFERENT PLATES, 9 COPIES]
F

older 30
CORRESPONDENCE AND MISCELLANEOUS
Letters and Papers of T. Henry Foster concerning his bookplate collection.