Collection Guide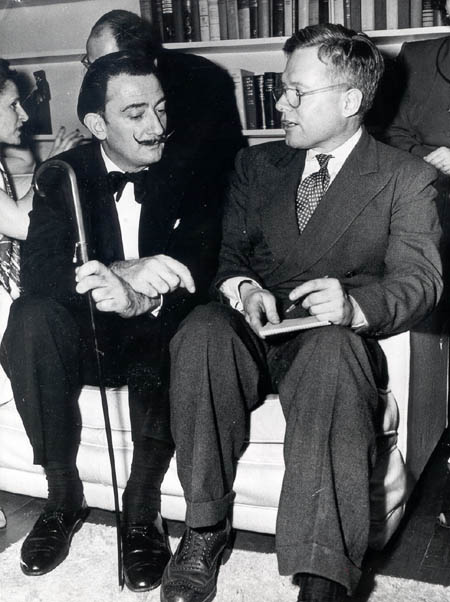 George Shane with Salvador Dali
Guide Contents
---
Administrative Information
Access and Restrictions:
This collection is open for research.
Digital Surrogates: Except where indicated, this document describes but does not reproduce the actual text, images and objects which make up this collection. Materials are available only in the Special Collections Department.
Copyright: Please read The University of Iowa Libraries' statement on "Property Rights, Copyright Law, and Permissions to Use Unpublished Materials"
Use of Collections: The University of Iowa Libraries supports access to the materials, published and unpublished, in its collections. Nonetheless, access to some items may be restricted by their fragile condition or by contractual agreement with donors, and it may not be possible at all times to provide appropriate machinery for reading, viewing or accessing non-paper-based materials. Please read our Use of Manuscripts Statement.
---
Biographical Note
Chronology
1906 -- Born: Eldon, Iowa

1938 -- Art critic for Des Moines Register

1944 -- 1945 -- Served in Army Personnel

1951 -- Purchase award, Des Moines Art Center and One-Man Show

1952 -- 1953 -- President of the Des Moines Art Forum

1958 -- Research on Impressionism in Paris

1969 -- Death in Des Moines
---
Scope and Contents
George Shane worked as as artist for the Register for many years, painting popular pictures of town squares, courthouses, local landmarks, and century farms for the supplement to the Sunday Register. Often, he wrote brief histories to accompany the painting. This collection contains a series of some 85 of these color reproductions from the Sunday Register. The original paintings were so popular that every painting but one was sold to private collectors, including one to Norman Lear, who bought the one of downtown Greenfield, where he was filming the movie Cold Turkey (1971) . Shane also did paintings for himself and for sale, and had work in many art shows, including a one-man show in the Des Moines Art Center in 1951. Catalogs for many of these shows are part of this collection, as are records of sales. Shane was active in the Des Moines art community, including the Des Moines Art Center and several of exhibit catalogs and bulletins from the Des Moines Art Center are preserved here as well. He also created artwork for commercial entities. Shane apparently had many friends in the artistic community, and there are works by other artists included in this collection, including a small series of hand painted greeting cards sent to Shane by fellow artists. All these artworks are collected in the first series in the collection, Artwork.
Shane also worked as a reporter and columnist for the Des Moines Register for many years. His reporting for the Register was mostly human interest stories, but the majority of his stories were about art. For a time, he wrote a column called "The Visual Arts" and twice he took trips and sent articles back to the Register about the art he encountered -- from Venice and the continent in 1958 and from Mexico in 1966. We have very few manuscripts of Shane's work, but many clippings by and about Shane, and a file of clippings on art. There are gathered into Series II of the collection, Clippings.
Series III is Correspondence, made up of a small collection of his correspondence. His paintings for the Des Moines Sunday Register, and the century farm series in particular, generated correspondence from the public, and this correspondence is included in this series.
Shane's military records, biographical sketches, and other miscellany make up Series IV, Personal.
Shane probably worked from photographs, and there are many photographs of scenes and buildings in the collection. The photographer is unknown -- it may have been Shane. There are photographs of some paintings, some by Shane, some not. We can only assume that these were paintings which Shane admired and which he tried to imitate or at least to learn from. Photographs of Shane himself are included in the photograph series, as well as other artists, including Andy Worhol, Calder, and Dali. Also included are contact prints and negatives. These are gathered into Series V, Photographs.
Apparently, Shane did extensive research for his projects, and some of his research is included here in Series VI, Research. Examples are a file on New Orleans, which includes photographs, brochures, and one series dealing with how steeples look in paintings and photographs.
---
Related Materials
Kern, Jean B. "The Des Moines Art Center." Palimpsest, Vol.XXX:No.1 (January 1949), pp. 23 -- 32
Falk, Peter Hastings, ed.Who Was Who in American Art. Folio N6536 W48 1999
---
Acquisition and Processing Information
These papers were given to the University of Iowa Libraries by
Floren
ce Shane in 1973 and by Katherine Shane Long in 2001, 2003, and 2004.
Guide posted to Internet:
June 2001
Addenda:
Incorporated into the collec
tion in October and November 2004
---
By Shane

Catalogs for exhibits. 2 folders

Des Moines Art Center Bulletins concerning Shane

Drawings

Ford Times with paintings by Shane

Pages from the Sunday Register. In oversized folder

Printing plates for catalog for 1951 one man show

Records of sales of paintings

Reproductions of art works

By others

Artwork by various artists. Some are in the oversized folder

Exhibit catalogs for the Des Moines Art Center

Greeting cards from fellow artists
By Shane

Articles

"The Visual Arts" column

About Shane

About art
General correspondence

Correspondence about farms
Biographical sketches

Military records

Miscellaneous

Supplemental agreement to a contract for purchase of the Allerton News. September 25, [1930?]
Andy Warhol with George Shane. Contact prints mounted on cardboard

Biplane

Contact prints

Miscellaneous

Negatives

Paintings

People

Scenes. 7 folders

Shane. Large format portrait. In oversized folder

Still lifes
General research

New Orleans

Manuscripts