To: UI Special Collections
To: Inventory of Fred Schwengel Papers
PAPERS OF FRED SCHWENGEL
This document describes a collection of materials held by the
Special Collections Department
University of Iowa Libraries
Iowa City, Iowa 52242-1420
Phone: 319-335-5921
Fax: 319-335-5900
e-mail: lib-spec@uiowa.edu
OBITUARIES OF FRED SCHWENGEL
Des Moines Register, April 3, 1993
Schwengel dies at 86; served in U.S. House
By Gene Raffensperger and Jane Norman, Register Staff Writers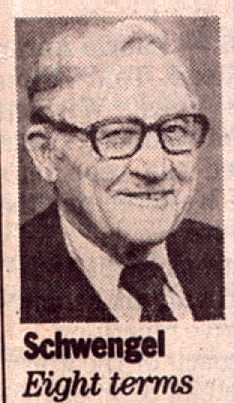 Fred Schwengel, 86, who served Iowa for 16 years in the U.S. House of Representatives and was a preeminent historian of the United States Capitol, died Thursday night in an Arlington, Va., hospital of a heart ailment.
Members of the Iowa delegation in Congress, Republicans and Democrats alike, took to the floor of the House and Senate to pay tribute to him. They praised not only his passion for history but also his honesty and integrity.
"There is literally no member that has ever served here who loved this Congress and history more than Fred Schwengel," said Rep. Jim Leach, R-Ia., who since 1977 has represented Schwengel's old district.
"He was guided, he noted, as a member, by three principles: One was to respond to his conscience. One was to represent his constituents. And the third was never to do anything that reflected unfavorably on this body."
Started in 1944
Schwengel, a Republican, started in politics in 1944 by being elected to the Iowa House of Representatives. He served five terms and then won election to Congress in 1954.
He was re-elected five consecutive times before falling victim to a Democratic landslide in 1964. But Schwengel battled back to win the seat again in 1966. He won two more terms before losing again in 1972, at which time he retired from politics.
Schwengel was born on a farm in Franklin County. His father believed an education was sufficient that taught a boy reading, writing and some math skills. Schwengel wanted to go on to high school, however, so he left home and lived with another family while working his way through Sheffield High School.
Schwengel went on to college and became a teacher.
In 1937, he quit teaching because of low pay. He moved to Davenport. and entered the insurance business.
A fiscal conservative, Schwengel was a moderate on most other issues. He helped persuade President Eisenhower to support construction of the Interstate highway systern on a "pay-as-you-go" basis. He respected the rights of labor, defended civil rights, and helped defeat an amendment to allow prayer in public schools.
Schwengel was a scholar on the topics of Abraham Lincoln and the Civil War. A friend once joked of Schwengel's love of Lincoln lore: "Fred won't be happy until he's shot at Ford's Theater."
When he arrived in Washington, he became fascinated with the history of the Capitol. He helped found the U.S. Capitol Historical Society and was its president,for 30 years.
Rep. Fred Grandy, R-Ia., told fellow members of the House, "Wherever he is now, and I assume he is in heaven, he is probably forming the Celestial Historical Society right now to chronicle the history of heaven. And when we get there we will all be enriched by the fact that Fred Schwengel got there before us."
"Credit to Iowa"
Sen. Tom Harkin, D-Ia., who started as an intern in Schwengel's congressional office, said: "Fred Schwengel was a great person. He was a great friend. He was a credit to Iowa and a credit to this institution."
Schwengel is survived by his wife, Ethel; two children, Franklin Dean Schwengel of Santa Monica, Calif., and Dorothy Jean Cosby of Alexandria, Va.; one brother, Carl Schwengel of Lindenhurst, Ill.; one sister, Helene Toussaint of Washington Island, Wis.; five grandchildren; and one great-grandchild.
Memorial services will be at 2 p.m. Monday at Calvary Baptist Church in Washington. Graveside services will be at 11 a.m. Thursday at Memorial Park in Davenport. Visitation will be Wednesday afternoon and evening at Runge's Funeral Home in Davenport.
The family suggests that mentdrial gifts be sent to the Fred Schwengel Memorial Fund, U.S. Capitol Historical Society, 200 Maryland Ave. N.E., Washington, D.C. 20002, or to his church, Calvary Baptist Church.
Des Moines Register, Wednesday, April 7, 1993
OVER THE COFFEE
by Donald Kaul
An epitaph for Schwengel
I don't generally allow myself affection for politicians; it's unprofessional. (Does an experimental psychologist fall in love with laboratory rats?)
In Fred Schwengel's case, however, I made an exception. He was an American archetype, the citizen-legislator; a Midwestern cornball idealist who never forgot where he came from or lost sight of where he was going.
His death last week at the age of 86 does not mark the end of an era -- Schwengel's era passed years ago, but it serves as a reminder that there was a time when the term "public service" did not bring a roll of the eyes when mentioned in connection with Congress.
Talk about family values, Fred Schwengel was family values with legs. And a civic booster. And a positive thinker. Give him a lemon and he'd make lemonade. Give him two lemons and he'd organize a Lemonade Club.
You know the stories of successful people who worked their way through college? Schwengel worked his way through high school, living away from home because his father didn't believe in frills, like education.
When he went on to college, he and his roommate were so poor they shared one suit between them, passing it back and forth for dates and special events
Did any of that make him bitter or self-pitying? No, he was too busy for that.
There was no convenient fraternity at North Missouri State Teachers College at Kirksville, so he helped found one, just as in later years, when he arrived in Congress to find there was no Capitol Historical Society, he founded one of those too.
He was a physical fitness nut long before it became a fad. When he was in his 70s he could still drop onto the carpet and give you 100 push-ups and, in his prime, he is said to have done1,000 daily. Yes, 1,000. Unsurprisingly, shaking hands with him was like getting your hand caught in a grape press.
He was a force in whatever community he lived in, whether Kirksville, Mo., or Davenport, Ia., or Washington, D.C. He was an activist in the best sense of that word, giving freely of his time to the Community Chest, Red Cross, YMCA and Boy Scouts.
That makes him seem like more of a Babbitt than he was. What he believed in was the power of people to affect their own lives, if they organized their efforts. He was more of a "Mr. Smith Goes to Washington," without the naivete.
Get the picture? He was an old-fashioned go-getter. He would look around at what needed to be done, then go about getting it done. No excuses, no complaints. When you were with him you felt in danger of being sucked into the vortex of his enthusiasm. It was almost physical.
He came to Congress in 1954 after careers as teacher, coach and insurance agent, and 10 years' seasoning in the Legislature. He stuck around for eight terms, a string interrupted only by the Johnson landslide of '64.
While he was one of the most sincerely religious men in Congress, he opposed prayer in the schools and any blurring of the separation between church and state. He once wrote:
"A religious experience to be acceptable to God and to be worthy of the name must be a voluntary response to God. The power of government in whatever form it may take, must not be used in an attempt to force people to be religious."
He was, in short, one of the last of a dying breed -- a raving moderate.
My undying memory of him is as tour guide. He loved Washington and its monuments and he loved to show them off. He'd rush you through all the the secret rooms of the Capitol, up in the attic, in the basement, on the roof, in the dome. Then he'd do the same with the Lincoln Memorial (Lincoln being one of his chief passions), taking you to places only he and the Phantom of the Opera knew existed.
Once he contrived to get us locked in the Lincoln Memorial as darkness fell, then roared with laughter at the absurdity of our plight.
Schwengel was not a great legislator, but he was a good one, aligning himself always with the forces of moderation, tolerance and enlightenment. He always left a place better than he found it.
That's not a bad epitaph.
To: UI Special Collections
To: Inventory of Fred Schwengel Papers
-END-