Manuscript Register
PAPERS OF A. M. FINE
Collection Dates: 1960 -- 1991
16 linear ft.
plus two oversize boxes and one map case drawer
This document describes a collection of materials held by the
Special Collections Department
University of Iowa Libraries
Iowa City, Iowa 52242-1420
Phone: 319-335-5921
Fax: 319-335-5900
e-mail: lib-spec@uiowa.edu
Posted to Internet: February 2004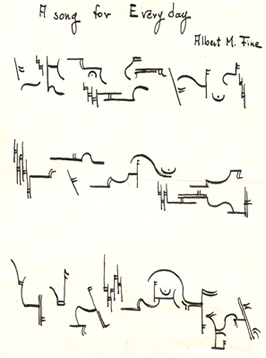 Acquisition Note:
The core of the A. M. Fine Collection was donated to the University of Iowa by Ida Fine in 1995. Two smaller donations were made by John Broderick in 1995 and William Rand in 1996.
Access and Restrictions: This collection is open for research. Citations should read: Alternative Traditions in the Contemporary Arts, The A. M. Fine Collection.
Note:
Donor has retained the copyright and the exclusive rights of reproduction, adaptation and distribution of the musical scores in box 15. Cosmic Notices material in box 10 is sealed until January 1, 2006.
Film/Video: Box 10
Digital Surrogates: Except where indicated, this document describes but does not reproduce the actual text, images and objects which make up this collection. Materials are available only in the Special Collections Department.
Copyright: Please read The University of Iowa Libraries' statement on "Property Rights, Copyright Law, and Permissions to Use Unpublished Materials"
Use of Collections: The University of Iowa Libraries supports access to the materials, published and unpublished, in its collections. Nonetheless, access to some items may be restricted by their fragile condition or by contractual agreement with donors, and it may not be possible at all times to provide appropriate machinery for reading, viewing or accessing non-paper-based materials. Please read our Use of Manuscripts Statement.
Biographical Note
Albert M. Fine (1932 -- 1987) was born in Boston , Massachusetts. He graduated from Revere High School in 1949. In 1958 he earned a B.A. from the Julliard School of Music, and in 1960 he received his M.A. from the Julliard in orchestral conducting. In addition to being a composer, Fine was an artist and poet, whose compositions ranged from instrumental works to incidental music to off-Broadway theatre. Although perhaps most widely known within contemporary discourse for his Fluxus works and as a leading exponent of the Mail-art movement (in collaboration with the late Ray Johnson), Fine's cross-disciplinary activities also overlapped with the creative productions of his friends and colleagues Phillip Glass, John Cage, George Maciunas , and Allen Ginsberg. Alternative Traditions in the Contemporary Arts (a program of the Libraries in association with the Museum of Art and the School of Art & Art History) was chosen as the official repository for the artist's works and papers by the A. M. Fine estate.
Scope and Contents
The A. M. Fine Collection consists of 16 linear feet, one map case drawer, and two oversize boxes of original art works by Fine as well as Robert Janz and Ray Johnson, some of Fine's correspondence, personal items, poetry, essays, and twenty-six of his original music scores. This material's approximate dates range from 1960 -- 1985.
Box List
Box 1
Note books #1 -- 4 and #5 -- 8
B/W art works vol. 1 and 2
Box 2
Poetry #1 and #2
Correspondence from Ray Johnson and Robert Janz
Box 3
Math Theory
Binder 7
Box 4
Complete music scores
Fine's color artwork
Box 5
Ray Johnson correspondence
Miscellaneous printed matter owned by Fine
Music related materials
Record with Fine on clarinet
Box 7
Fine's correspondence
Rubber stamps
Box 8
'Math Theory'
Envelopes with assorted items
Box 9
Correspondence from assorted artists, writers, composers, etc.
Cosmic Notices
Audio and visual recordings
Fine works
Master photocopies of Fine's correspondence and artworks
Box 11
Poetry and writing
Box 12
Personal effects
Personal effects
1 necklace (brown twine & lead weight) ( Broderick donation)
2 clip-ons ( jewelry ) ( Broderick donation)
2 wall hangings ( Broderick donation)
one with blue crayon

one with dark blue shoelaces and light brown spool with black interlaced laces
Jewelry
2 clip-ons (alligator clip-on), 1970's
2 bead necklaces
1 necklace (doorstop), 1970's
Collages
1 mixed media-feminine imagery (1960's) very uncharacteristic A.M.Fine work. Has two loose feathers and a button needs to be reglued . Signed by Ida Fine as documentation (19"x12")
1 newspaper collage, newspaper clippings with Fine's commentary
Box 15 (oversize)
Original Music Scores by A.M. Fine
"Billy the Kid." n.d., 9 pages
"Dance Piece No. 2 for James Waring." 1965, 46 pages
"'Dance "Cadenza' for James Waring." 1964, 22 pages
"Fantasia Fur Klavier." 1966, 7 pages
"Fear no Forks." 1965, 6 pages
"Hommage to the late Mr. I. Stravinsky." n.d., 1 page (missing)
"Peblum." 1965, 6 pages
"Piece for deedee R." n.d., 2 pages
"Play-Piece." (2 duplicate pages). 1964, 2 pages
"Proceed and variety." 1965, 12 pages
"Seconds." 1964, 2 pages
"Simple Song for Eric." 1965, 2 pages
"Solo For."1965, 7 pages
"Sonatinima." 1964, 14 pages
"Song for Christopher." 1965, 2 pages
"Song for George Brecht." 1965, 2 pages
"Song for My Lover." n.d., 8 pages
"Song for Ray J." 1965, 4 pages
"Symphonic Sketch for Piano No. 1." 1965, 3 pages
"Tango." n.d., 6 pages
"The Name of this Piece is." 1964, 3 pages
"Three Movements for Piano." 1965, 7 pages
"tune and chorale." 4 pages
Other
Composition notebook, "Notes towards the integration of the Harmonic and Twelve tone 'systems.'" Dec. 3 -- 5, 1980
Two composition notebooks, "Happening A Symphonies," Books I & II, Longy School of Music, Cambridge , Massachusetts , 1965
Box 16 (oversize)
The contents of this box are from the William Rand Donation (Note: descriptions taken from inventory by Rand )
7 geometric drawings (Note: these pencil sketches have more purpose than apparent to the casual eye). Albert's insistence on fundamental practices regarding geometric division begin a deconstructive poetic narrative demonstrating a profound wit and sophistication.
200 photocopies (Visual Poem) from the collection of Albert M. Fine Instructions: Albert would frame pages in those simple black frames from Woolworth's and an assortment of these pages can thus be hung on the wall in a grid, as many as you like.
One copy "Doorknobs" poem
11 original visual poems
23 photographs and contact sheet of A.M. Fine by Rand circa 1978
Artist statement by W. Rand and 1 flier for a Fine poetry reading and the following 4 photocopies of writings:
"The Tides of Spring . " 1985

"Confusion." 1985

" Delirithisthique Vingtiarde." 1984
The following works on same sheet:
"Dimensional Diridactics." 1985

" Exupery's Piscine." 1985

"Her." 1985
9 additional envelopes with parts for #1 & 2
1 drawing labeled "up, down, I can understand, but what is a volcanic plug"
Map case (Third floor stacks)
Works by Fine
Mixed media collage-feminine imagery, 19"x 12", 1960's (this is very uncharacteristic of Fine's work. It is signed by Ida Fine as documentation)
2 Poetry Reading posters, 8 1/2" x 11," 1966
Page One A Book About Life, no date
Untitled Drawing on poster board, no date, precursor to Page One A Book About Life
Page Two A Book About Life, no date
Page Two Page Three A Book About Life,1966
An Unparallel Event, 1966
Tito's Day, no date
A Song for Everyday, 1964
Color drawing of traced objects, no date
Service spoon drawing, no date
Spoon Drawing, no date
Postcard Flower, no date
Ink drawing postcard, addressed to Miss E.R. Rosen, 1975
Ink drawing postcard, addressed to Mrs. I.R. Fine, 1978
Ink drawing on notecard, 1976
Cactus collage postcard, addressed to I.R. Fine, 1983
Skunk in hotel pool collage postcard, addressed to I.R. Fine, 1969
Box 17 (Offsite Oversized ATCA location)
Works by Fine, cont.
Geodesic Globe (on steel branch installed on marble plinth) (This is Fine's last sculpture) The base was chosen by William Rand according to the artist's instructions. (Rand donation)
Rubber base to rod (Rand donation) (see Box 18)
Cymbal stand
Black Mountain era scroll, 1950's
Box 18 (Offsite Oversized ATCA location)
Works by Fine, cont.
Rod (made to lean on wall, probably designed for shadow studies) (Rand donation) (base in Box 17)
Movie theatre tickets glued onto blackboard, framed 10 x 10, 1965
2 untitled works, no date

The University of Iowa Libraries
© 2003. The University of Iowa. All rights reserved