Collection Guide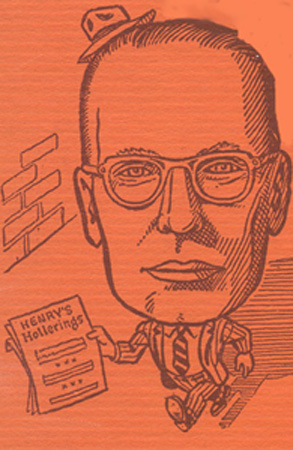 Harry Walsh from the dust jacket of How to Write Columns
Guide Contents
---
Administrative Information
Access and Restrictions:
This collec
tion is open for research.
Digital Surrogates: Except where indicated, this document describes but does not reproduce the actual text, images and objects which make up this collection. Materials are available only in the Special Collections Department.
Copyright: Please read The University of Iowa Libraries' statement on "Property Rights, Copyright Law, and Permissions to Use Unpublished Materials"
Use of Collections: The University of Iowa Libraries supports access to the materials, published and unpublished, in its collections. Nonetheless, access to some items may be restricted by their fragile condition or by contractual agreement with donors, and it may not be possible at all times to provide appropriate machinery for reading, viewing or accessing non-paper-based materials. Please read our Use of Manuscripts Statement.
---
Biographical Note
John Milton Henry was born in 1895 on a farm in Silver Creek Township, Pottawattamie County, Iowa. He attended elementary and high school in Macedonia, Iowa, and as a child, published a newspaper, hand-printed on ruled paper. While still in high school, he became a correspondent for a Council Bluffs paper. After high school, he attended the University of Kansas where, as a special student, he finished the journalism program in three years. He returned to Macedonia to operate a one-man newspaper, but after a year joined the staff of the Council Bluffs Nonpareil. He stayed there thirteen years, eventually becoming a manager, and then became managing editor for several radio stations in the Council Bluffs area.
He joined the WWII effort late but, because of his managerial experience, he was assigned to head the personnel board at Camp Colt, on the battlefield at Gettysburg. Here he worked in a tank corps under the indirect supervision of Dwight D. Eisenhower.
Active in Republican politics, Henry was involved in the Taft and Wilkie campaigns. Because of his radio, newspaper, and political activities, he knew a large number of people and was hired by the Des Moines Register to do public relations work as their Public Affairs Editor. Part of Henry's job was to counter a perception that there was an antagonistic relationship between the Register and the smaller papers in the state. One of the ways Henry accomplished this was to print columns made up of items taken from small town newspapers. In the process, he became recognized as an expert on column writing and eventually co-authored, with Olin Hinkle, a college textbook on the topic. (How to Write Columns, Greenwood Press, 1952). He was also a syndicated columnist and roving correspondent for Drew Pearson's "Washington Merry-Go-Round" column. While at the Register, he became acquainted with Jay N. "Ding" Darling, the Pulitzer Prize winning cartoonist. Henry was involved in the publishing of several books of Darling's cartoons, including Ding's Half Century and As Ding Saw Hoover.
Henry died June 6, 1981 in Des Moines.

Jacque Roethler 2005
---
Scope and Contents
This collection is co
mprised of manuscripts for The Mounted Drill Team, an oral history interview with Henry, copies of several articles, one copy of "The Green Sheet," and a few clippings.
---
Acquisition and Processing Information
Guide posted to Internet:
August 2005
---
Articles
"The Iowa Award"

"The Weekly May Tread Softly -- But They Can Pack a Potent Column"
Clippings
"The Green Sheet"
Manuscript
The Mounted Drill Team
Oral history interview, Bob McCown, March 20, 1979, Iowa City, Iowa
Audio cassette

Transcript