Collection Guide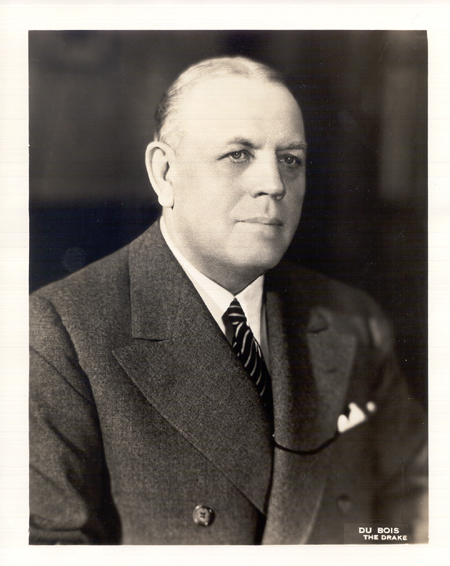 Guide Contents
---
Administrative Information
Access and Restrictions:
This collection is ope
n for research.
Digital Surrogates: Except where indicated, this document describes but does not reproduce the actual text, images and objects which make up this collection. Materials are available only in the Special Collections Department.
Copyright: Please read The University of Iowa Libraries' statement on "Property Rights, Copyright Law, and Permissions to Use Unpublished Materials"
Use of Collections: The University of Iowa Libraries supports access to the materials, published and unpublished, in its collections. Nonetheless, access to some items may be restricted by their fragile condition or by contractual agreement with donors, and it may not be possible at all times to provide appropriate machinery for reading, viewing or accessing non-paper-based materials. Please read our Use of Manuscripts Statement.
---
Biographical Note
Born December 24, 1873 on a farm in Sac County, Iowa, George J. Schaller was the son of Fred Schaller and Catherine (MIller) Schaller. The family moved to Storm Lake, Iowa, in 1882 where George's father entered the general merchandise business. George attended public school and worked for his father counting eggs, weighing butter, and helping customers. In 1892 George enrolled at Buena Vista College in Storm Lake, but after three weeks he took a position as a bookkeeper for a local bank and thus began his career in banking. By 1897 George was appointed Deputy Clerk of the District Court of Buena Vista County and in 1899 George went into partnership with his father on a land and loan business.
George started his own family in 1900, marrying Eloise Warren of Rock Valley, Iowa, with whom he had four children: Catherine, Harry, Earl, and Edward. In 1901 George and his father opened, as co-partners, the Citizen's Bank in Storm Lake; George became President in 1922 after the death of his father. From 1927 through 1928 George was President of the Iowa Bankers Association. Despite hard times after the stock market crash in 1929, George was able to keep the Citizen's Bank active and in 1934 he was elected Governor (later President) of the Federal Reserve Bank of Chicago. Upon his retirement in 1941, George returned to Storm Lake and and the Citizen's Bank as Chairman of the Board of Directors. George J. Schaller died in 1964.
A. Neville, September 2005
---
Scope and Contents
This collection consists of biographical materials for George Schaller; legal, business, and personal papers; correspondence; and photographs. It was obtained for the Libraries in the late 1950s by George Sheets.
Photographs: Box 1
---
Related Materials
George M. Sheets Collection. This link leads to the finding aid of a collection that contains an unpublished article by Sheets titled "George S.Schaller, Big Country Banker."
Acquisition and Processing Information
These papers were collected by George Sheets for the University of Iowa.
Guide posted to Internet:
O
ctober 2005
---
Folder 1: Biographical material:
"A Short Review of a Few Recollections Two and One-half Generations After the Beginning of This Story -- For My Grandchildren," dictated by George J. Schaller. Typescript. 12p. with note acknowledging his wife.

Resumé, 1 September 1954. Typescript. 2p.
2: Addresses and banking materials
Letter from Frank Warner, secretary, addressed to GJS as Chairman, with regard to legislative matters of concern to the Iowa Bankers Association, March 15, 1927. Ditto. 1p.

Iowa Bankers Association annual meeting programs:
May 21, 1928, Storm Lake, Iowa (Group Two);
May 22, 1928, Sioux City, Iowa (Group One)
May 23, 1928, Greene, Iowa (Group Three)
June 18, 19, 20, 1928, Cedar Rapids, Iowa (42nd Annual Convention).
June 18, 19, 20, 1928, 42 Annual Convention, "Program in Brief"
"Address of George J. Schaller, President of the Iowa Bankers Association, as Given before the 42nd Annual Converntion...," June 19, 1928. Ditto. 7p. (2 copies).

"Address of Geo. J. Schaller, President, Citizens First National Bank, ... Iowa State Bankers Association," June 25, 1929. Ditto. 4p.

Federal Reserve Board Certificate to serve simultaneously as director and officer of the Citizens First National Bank and director of the Federal Reserve Bank of Chicago, 24 November 1933. Printed document. 1p.
3: Business papers:
Land deed to Joseph Rosenbaum of Bremer County, Iowa, dated July 1, 1873, and signed by Ulysses S. Grant as President of the United States.

Treasurer's Office, Sac County, tax receipts issued to Fred Schaller, 1871 -- 1880. 9p. Photocopies replacing originals.

"Sale on old farm February 14 1882." 3 ledger-ruled sheets with names and amounts entered in pencil and ink on 5p. Photocopies replacing originals.
ALS Fred Schaller to ?, October 29, 1900. 2p. In German?

Memorandum of Partnership between Fred Schaller and George Schaller, June 30, 1909. 1p. Photocopy replacing original.
4: Newspaper clippings related to GJS's election as president of the Iowa Banker Association and Association activities. 1927 -- 1928 (majority are dated May 1928).
5: ----. Archival photocopies of folder 4.
6: ----. 1928 -- 1933 (majority are dated May 1928).
7: ----. Archival photocopies of folder 6.
GJS, ca. late 1930s (reproduced above).

Pest house, smallpox epidemic, Storm Lake, Iowa, 1899.

Postcard, Citizens' First National Bank, Storm Lake, Iowa, undated.

Pest house, smallpox epidemic, 1899