Collection Guide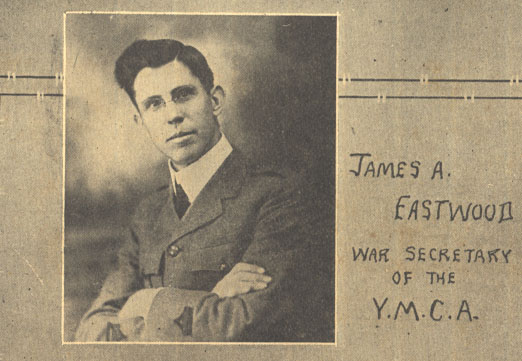 Guide Contents
---
Administrative Information
Access and Restrictions:
This collection is open for research.
Digital Surrogates: Except where indicated, this document describes but does not reproduce the actual text, images and objects which make up this collection. Materials are available only in the Special Collections Department.
Copyright: Please read The University of Iowa Libraries' statement on "Property Rights, Copyright Law, and Permissions to Use Unpublished Materials"
Use of Collections: The University of Iowa Libraries supports access to the materials, published and unpublished, in its collections. Nonetheless, access to some items may be restricted by their fragile condition or by contractual agreement with donors, and it may not be possible at all times to provide appropriate machinery for reading, viewing or accessing non-paper-based materials. Please read our Use of Manuscripts Statement.
---
Biographical Note
The Crawford and Eastwood families settled in Kansas, Nebraska, Oklahoma, and Texas in the latter half of the nineteenth century. James Abram Eastwood traveled on the Chautauqua Circuit and was away from home quite often. He kept in touch with the family by sending an almost constant flow of letters. He had five children, one of whom, Sarah "Anna Mary," married Eugene Crawford. This couple farmed near Prescott, Kansas and kept extensive records of their business. Their son David became a music professor and wrote home often. These letters comprise the larger part of this collection.
Jacque Roethler 2005
---
Scope and Contents
This collection consists mostly of correspondence, much of
it James Eastwood to his family, as well as the Crawford family, especially David and his wife Marilyn to his mother Anna Mary. Included are clippings, miscellaneous documents, legal documents, photographs, and genealogical material. Some of the families touched upon are Crawford, Dinwiddie, Eastwood, Herald, Irwin, Jarrett, Peebly, Schooley, and Wilson.
In the interest of rapid accessibility, the letters were not sorted by writer or date, but foldered as they were sent to us, roughly broken out into Crawford family correspondence, Eastwood family correspondence, and Eastwood/Crawford correspondence. The items obtained from David Crawford are originals; the two folders of materials from the Eastwood family are typewritten transcriptions of letters in the possession of various family members, with the bulk of them being from the David Crawford collection. Clippings are gathered into one folder in addition to one homemade scrapbook. Farm records of the Eugene Crawford farm are kept in ledgers in a nearly unbroken stream from 1942 to 1980.
A folder is also included of letters from Beverly Boyd to Anna Mary Crawford regarding the canonization of Phillipine Duchesne, with photographs of stained glass windows devoted to Sister Phillipine.
Photographs:
---
Related Materials
Chautauqua
collections
---
Acquisition and Processing Information
These papers were given to the University of Iowa Libraries by
David
Crawford
in 2005, with the exception of the two folders of transcribed Eastwood letters in Box 2: those were the earlier gift of ZoeAnn Holmes.
Guide posted to Internet:
February 2006
---
Box 1
Autograph Albums
Hattie Herald

Sue Herald
Baby book
Anna Mary Eastwood Crawford. Also a school Note Book

David Eugene Crawford
Clippings. 1 folder in Oversized Box 5; one scrapbook
Correspondence
Boyd, Beverly. Concerning the canonization of Phillipine Dechesne

Crawford family. 11 folders. 1 folder in Oversized Box 5

Eastwood family. 7 folders

5 folders
Box 2 Correspondence, cont.
Eastwood family, cont.

2 folders

Crawford/Eastwood family. 6 folders

Eastwood family. 2 folders of typewritten transcripts
Death of Eugene Crawford
Diaries
1945 -- 1951. Unknown writer. Sporadic entries written in a 1934 diary
1989. Inscribed to Ann from Jan
Diploma and yearbook (The Hatchet) of Ruth Herald
The Farm Problem. MA Thesis by Anna Mary Eastwood Crawford. 1964
Farm records, Gene and Anna Mary Eastwood Crawford. 38 ledger books, 1942 -- 1957, 1959 -- 1962, 1964 -- 1980
1954 -- 1956
Box 3 Farm records, Gene and Anna Mary Eastwood Crawford, cont.
1957, 1959 -- 1962, 1964 -- 1980. 1981 also contains 1991

Anna Mary Eastwood Crawford
Genealogical materials. 6 folders. 1 folder in Oversized Box 5
Legal documents. In Oversized Box 5
Memorial book
R. L. Herald. Includes photographs and negatives

Hattie Herald Crawford
Box 4
Miscellaneous documents. 2 folders, one in Oversized Box 1
Photographs. 2 folders
School documents. Anna Mary Eastwood Crawford
Scrapbook. Vernon Crawford. "For shelling, 1915." Contains clippings of poems and short items. Some typewritten entries, a few holographic entries
Talks and papers by Anna Mary Eastwood Crawford
Teaching credentials, Anna Mary Eastwood Crawford