University and college libraries across the country have embarked on subscription cancellations projects over the past decade. The University of Iowa Libraries has tracked these national trends and can provide additional information about such projects, as well as data showing the rising costs of subscriptions relative to the costs of other resources.
Data
The following graph from the Association of Research Libraries shows the national trend of steeply rising costs of information resources since 1986. Of particular note is the 521% change in cost for ongoing resource expenditures (these are the annual subscriptions libraries must pay in order to maintain access to journals, databases, and ebooks).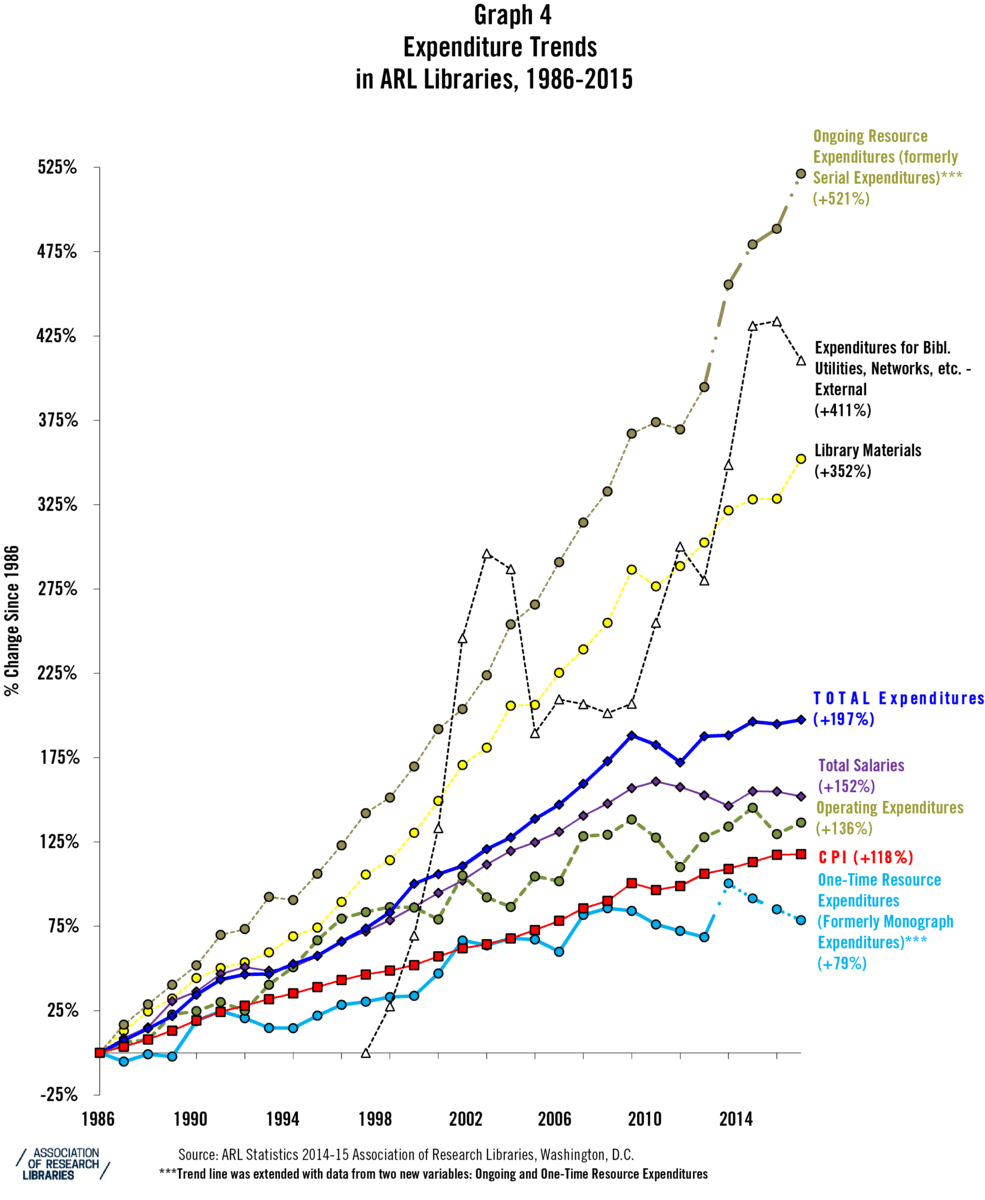 Cancellation projects in research libraries nationwide
The following are just a few examples of research libraries nationwide that are currently undergoing or have recently completed large-scale cancellation projects:
UC-Berkeley
University of Missouri
University of Maryland
New Mexico State University
University of Massachusetts
Georgia State University
University of Alaska
Organizations and efforts to reduce costs
SPARC (the Scholarly Publishing and Academic Resources Coalition) works to enable the open sharing of research outputs and educational materials in order to democratize access to knowledge, accelerate discovery, and increase the return on our investment in research and education. As a catalyst for action, SPARC focuses on collaborating with other stakeholders—including authors, publishers, libraries, students, funders, policymakers and the public—to build on the opportunities created by the Internet, promoting changes to both infrastructure and culture needed to make open the default for research and education. Read this statement to learn more about SPARC's position on the rising costs of subscriptions.
European efforts such as OA2020 advocate for collaborative efforts to create open access to scholarship and research.
The problem, according to OA2020, is that "the bulk of scholarly articles are published according to a paywall system in which the latest research is only accessible to scholars whose institutions can afford to pay hefty subscription prices to publisher platforms."
"Over the past 20 years, many thoughtful strategies have been initiated to promote open access in scholarly publishing: funders have issued mandates to require open access publication of results; researchers have been prompted to deposit some version of their articles in an institutional or discipline repository; new open access journals and publishing initiatives have been established; and efforts aimed at replacing scholarly journals altogether have been undertaken. Yet, roughly 85% of new research is published in journals that are still locked behind mounting paywalls."
Read the entire executive summary from OA2020.
Open access is a potential cost-reduction solution
The University of Iowa Libraries offers Iowa Research Online, an open access repository for publishing faculty, staff, and student research and creative work. The UI Libraries also has a publishing platform for open access journals. In collaboration with the Center for Teaching (a department under ITS), the UI Libraries offers a tool for writing open access textbooks.
For further information about open access, please contact the UI Libraries' scholarly communications librarian, Mahrya Burnett at mahrya-burnett@uiowa.edu.
View this video to hear Keith Yamamoto, PhD and other faculty speak out in support of open access.
On October 10, 2018, the Big Ten Academic Alliance published a news article, Libraries Addressing the Need of Sustainable Access to Scholarly Publications. The article states, "Year on year, publisher inflation added to the library's investment in journals, books, data, and media results in reductions in the library's purchasing power. The Big Ten Academic Alliance Libraries are working to leverage their collective buying power and to use their influence to offset traditional publisher price increases and to provide alternative paths to publication for scholarly authors."
October 19 article from Berkeley Library News: Participants from across North American met at Berkeley to move the needle on open access.