In 2001 the Engineering Library, now renamed the Lichtenberger Engineering Library, returned to the College of Engineering. The main floor of the Library is where it had been before, but what a difference!
The portrait is of Professor F.G. Higbee, who joined the staff of the College in 1905, the year the present Engineering College building was begun. The portrait was painted in 1952 when he retired. The painting was placed in the Library and been there ever since, a symbol of continuity.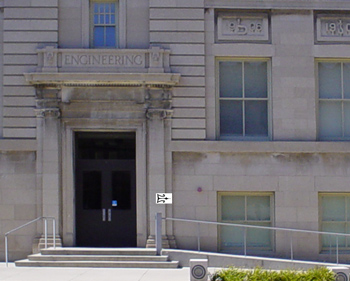 The outside of Seamans Center taken on Capitol St. near the corner with Washington St. The Library begins on the first floor, to the right of the arrow.
---