The nearly 6,500 volumes in the John Martin Rare Book Room are original works representing classic contributions to the history of the health sciences from the 15th through 21st Centuries. Also included are selected books, reprints, and journals dealing with the history of medicine at the University and in the State of Iowa.
Secondary sources such as histories of particular subjects, biographies, and bibliographies are housed in the Hardin Library main collection.
Notes from the RBR
HIERONYMUS FABRICIUS ab Aquapendente (ca. 1533-1619). De visione, voce, auditu. 3 pts. in 1 vol. Venice: Per Franciscum Bolzettam, 1600.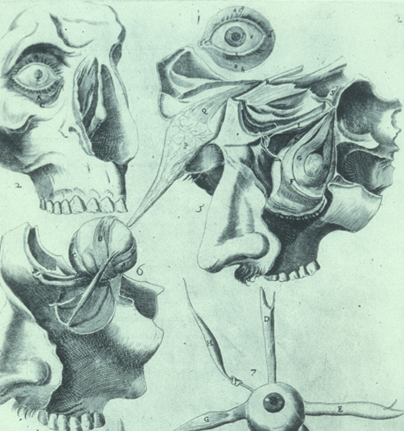 One of the great Paduan anatomists and teachers, pupil of Fallopius, teacher of Harvey, and friend of Galileo, Fabricius built at his own expense the anatomical theater at Padua, which is still preserved intact. During his long life, he produced a number of important works on anatomy, embryology, and physiology, characterized by numerous large, clear copperplate illustrations which long remained unexcelled.
More
History of Medicine Society