The nearly 6,500 volumes in the John Martin Rare Book Room are original works representing classic contributions to the history of the health sciences from the 15th through 21st Centuries. Also included are selected books, reprints, and journals dealing with the history of medicine at the University and in the State of Iowa.
Secondary sources such as histories of particular subjects, biographies, and bibliographies are housed in the Hardin Library main collection.
2018 HOMS Schedule of Events
Notes from the Rare Book Room
REALDO COLOMBO (1516?-1559). De re anatomica libri XV. Venice: Ex typographia Nicolai Beuilacquae, 1559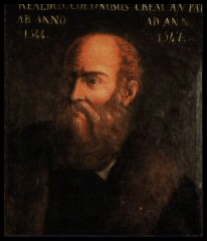 Colombo was a pupil of Vesalius at Padua and in 1544 succeeded him in the chair of anatomy. He introduced a description of pulmonary circulation and denied that the blood went through the ventricular septum. This historic breakthrough in his demonstration of the lesser circulation through the lungs secures his place of importance in the line culminating in Harvey's demonstration of the circulation of the blood
sixty-nine years later.