Hardin Library for the Health Sciences
Welcome
The nearly 5,000 volumes in the John Martin Rare Book Room are original works representing classic contributions to the history of the health sciences from the 15th through 20th Centuries. Also included are selected books, reprints, and journals dealing with the history of medicine at the University and in the State of Iowa.
Secondary sources such as histories of particular subjects, biographies, and bibliographies are housed in the Hardin Library main collection.
Click here to see a six minute video on the John Martin Rare Book Room
Notes from the RBR, May 2013
THOMAS ADDISON (1793-1860). On the constitutional and local effects of disease of the supra-renal capsules. London: S. Highley, 1855.
Possessed of rather rude demeanor, Addison nevertheless had a large practice. He was a brilliant lecturer and diagnostician and one of the most respected physicians at Guy's Hospital, devoting himself almost wholly to his students and patients. More...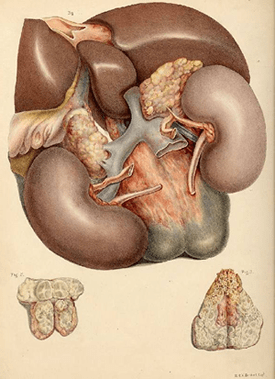 History of Medicine

History of Medicine Society Presentations and Events 2013/2014

Thursday, September 26, 2013, 5:30-6:30
African American Print Culture and the History of Medicine

Thursday, October 24, 2013, 5:30-6:30
2,000 Year History of Scabies: From Humoral Beliefs to Contagion to Modern Understanding

Thursday, November 21, 2013, 5:30-6:30
An Uncorseted Life: The Medi-cal Basis of Congressional Medal of Honor Recipient, Dr. Mary Edwards Walker's Suffrage and Dress Reform Activism

Thursday, January 23, 2014, 5:30-6:30
Expedited 'Diffusion of Innovation': A reflection on the Ponseti Method in the current era of medicine

Thursday, February 27, 2014, 5:30-6:30
Abraham Flexner's Contributions to the University of Iowa's College of Medicine

Thursday, March 27, 2014, 4:30-7:00
Open House in the John Martin Rare Book Room

Friday, April 25, 2014, 6:00-9:00
History of Medicine Society Banquet
Franklin Roosevelt's Secret 'Serious Heart Ailment' and the 1944 Presidential Campaign.