The nearly 6,500 volumes in the John Martin Rare Book Room are original works representing classic contributions to the history of the health sciences from the 15th through 21st Centuries. Also included are selected books, reprints, and journals dealing with the history of medicine at the University and in the State of Iowa.
Secondary sources such as histories of particular subjects, biographies, and bibliographies are housed in the Hardin Library main collection.
2020 R. Palmer Howard Dinner
Note: The 2020 R. Palmer Howard Dinner has been cancelled
Enslaved Women, Slaveholders, and Doctors: a Peculiar Medical Entanglement
Friday, April 24th. 6:00 PM. 1220 1st Ave Coralville.


Enslaved women of the antebellum South wanted to maintain control of their bodies during pregnancy and to experience childbirth according to time-honored notions of correct procedure, but slaveholders and physicians each sought to take charge of childbirth in the slave quarter.
Notes from the Rare Book Room
WILLIAM PORTERFIELD (1695-1771) A treatise on the eye, the manner and phaenomena of vision. Printed for A. Miller at London, and for G. Hamilton and J. Balfour 1759 1st edition.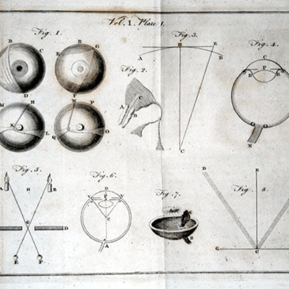 Porterfield received his M.D. in 1717 at Rheims and by 1721 was practicing in Edinburgh; he was made a professor at the University of Edinburgh in 1724. Porterfield's Treatise was carefully read by all of the subsequent great contributors to ophthalmology and visual science for more than a century after its publication. The book's greatest strength lay in its numerous original experiments and observations about visual physiology.