The John Martin Rare Book Room Presents
This lecture series highlights the breadth and depth of the collection. It brings together historians of medicine and the health sciences, humanities scholars, librarians, artists, and bibliophiles from all walks of life to tell their stories, the stories of the famous – and not so famous – medical practitioners, scientists, and patients throughout the ages, and the stories of the books themselves. The lectures occur quarterly and occasionally in conjunction with the Iowa Bibliophiles series from the University of Iowa Libraries Special Collections.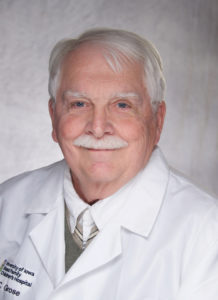 June 6 at 7 pm (central) – The John Martin Rare Book Room Presents
The origin of viruses: from Lucy Australopithecus to King Nebuchadnezzar
401 Hardin Library
Dr. Charles Grose
Professor, Pediatrics-Infectious Disease
University of Iowa Stead Family Department of Pediatrics
Join Dr. Grose at the Hardin Library for an evening of viral fun. He will discuss the history of viral infections in humans, from one of our earliest hominin ancestors to the Babylonian Empire.
Eyeing Research Rabbit Holes – Sonja Mayrhofer, PhD – February 16, 2022
The Power of Necessity – Kimberly Sprague, MSN, ARNP, CNM – October 6, 2021
The Roots of Medicine (Iowa Bibliophiles) – Chris Childs, Damien Ihrig, Matt Regan – April 14, 2021
Correctional Measures – Elizabeth Riordan – February 22, 2121
The Medical Arts – Vero Rose Smith – November 16, 2020