The nearly 6,500 volumes in the John Martin Rare Book Room are original works representing classic contributions to the history of the health sciences from the 15th through 21st Centuries. Also included are selected books, reprints, and journals dealing with the history of medicine at the University and in the State of Iowa.
Secondary sources such as histories of particular subjects, biographies, and bibliographies are housed in the Hardin Library main collection.
2018 HOMS Schedule of Events
Notes from the Rare Book Room
ALEXANDER GORDON (1752-1799). A treatise on the epidemic puerperal fever of Aberdeen. First Edition London: Printed for G.G. and J. Robinson., 1795.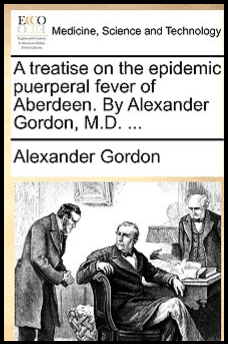 Alexander Gordon entered the Royal Navy as a surgeon's mate and advanced to the rank of surgeon. After various medical training, he gained an MD from Marischal College and was appointed physician to the Aberdeen Dispensary. Gordon's main interest was midwifery and obstetrics and, he regularly gave lectures on this subject to the University students.This treatise shows Gordon's insights into the contagious nature of puerperal fever, its epidemiology, pathology and the means of prevention. Gordon was the first to advance as a definite hypothesis the contagious nature of puerperal fever.