Welcome!
Library instructional services are available to anyone in the University of Iowa and local area K-12 schools. Librarians are happy to work directly with your class either in your classroom, online, or at the library. We provide instruction on information literacy, using library resources, and a range of specialized topics according to academic discipline.
Request library instruction
For other subject-specific instruction, please contact the Subject Liaison to your department.
If you are requesting library instruction for the first time or aren't sure who to contact, fill in the form below and a librarian will get in touch with you.
What does library instruction look like?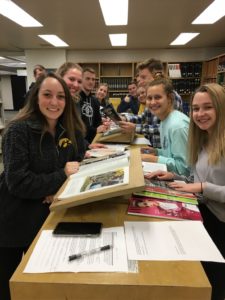 Services we offer include: 
Creation of asynchronous learning materials such as 

subject guides

 and walkthrough videos

 

Virtual and in-person course visits

Assistance through ICON as an embedded librarian

 

Assignment design consultation

 

Assistance and instruction on working with primary source materials

Making materials available through course reserve

 
You can find more information about specialized library instruction activities available below.