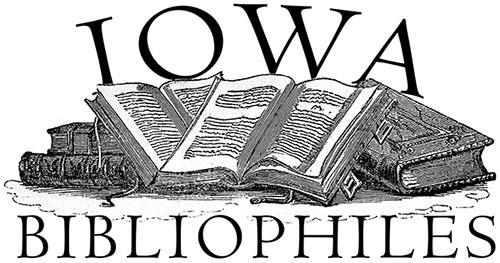 Each meeting of the Iowa Bibliophiles has an invited guest speaking about an aspect of book history or collecting featuring their collections or materials from Special Collections. Coffee and light refreshments will be available beginning at 6:30 pm, with the evening's talk starting at 7:00 pm in the Special Collections Reading Room. The Reading Room is on the third floor of the University of Iowa Main Library, at the corner of Madison and Burlington Streets, Iowa City. Meetings will generally last for an hour.
All meetings are free and open to the public.
2019-2020 Schedule (More details about each talk to come)
September 2019 – "Goya's 'Disasters of War' and Tolstoy's 'War and Peace': A Dialogue Between Art and Literature" with curators of the new Reading Room exhibit Dr. Anna Barker, Assistant Professor at the University of Iowa, and Joyce Tsai, Curator at the Stanley Museum of Art.
October 2019 –"The Man Who Loved Poe: Thomas O. Mabbott–Collector, Scholar, Fan" with Peter Balestrieri, Curator of Science Fiction and Popular Culture at Special Collections.
Balestrieri explores the legacy of the editor of Collected Works of Edgar Allan Poe and book collector Thomas Ollive Mabbott by diving into the Mabbott Poe collection at University of Iowa Libraries.
November 2019 –"European Voyages, Travels, Explorations, Conquests, and Settlements in Unknown Lands as Recounted in Books Published and Printed 1532-1633" with Arthur Bonfield, The Allan D. Vestal Chair, University of Iowa School of Law
December 2019 – A talk with Tim Barrett from University of Iowa Center of the Book
February 2020 – David Johnson, visiting Assistant Professor from the School of Art and Art History, will be discussing the world of photography books.
March 2020 –Olson Graduate Assistant, Laura Michelson, will dive into the mysteries of the Brewer-Leigh Hunt Collection at Special Collections.
April , 2020 – New Acquisitions Open House with Margaret Gamm and Special Collections staff
CALENDAR OF UPCOMING EVENTS
---
ACCOMMODATIONS
Individuals with disabilities are encouraged to attend all University of Iowa sponsored events. If you are a person with a disability who requires a reasonable accommodation in order to participate in this program, please contact Elizabeth Riordan at elizabeth-riordan@uiowa.edu in advance of the event.