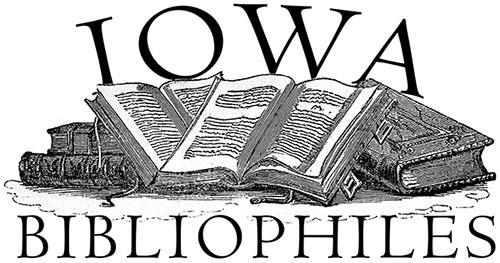 Each meeting of the Iowa Bibliophiles has an invited guest speaking about an aspect of book history or collecting featuring their collections or materials from Special Collections. Coffee and light refreshments will be available beginning at 6:30 pm, with the evening's talk starting at 7:00 pm in the Special Collections Reading Room. The Reading Room is on the third floor of the University of Iowa Main Library, at the corner of Madison and Burlington Streets, Iowa City. Meetings will generally last for an hour.
All meetings are free and open to the public.
2015 CALENDAR OF EVENTS
Refreshments at 6:30pm – Program at 7:00pm – Special Collections Reading Room – Third Floor, UI Main Library
SEPTEMBER 9
MEDIEVAL MANUSCRIPTS
BOOK ARTS
Cheryl Jacobsen, Medieval Calligraphy
Iowa City's master calligrapher and instructor at the Center for the Book will describe the process of creating manuscript letters in the medieval era, drawing on examples from Special Collections as well as her own work.

OCTOBER 14

16th CENTURY

17th CENTURY
BOOK TRADE

John Fifield, A Summer at the Recoleta
The newly-appointed Olson Graduate Assistant in Special Collections will recount his experience at the Convent of the Recoleta in Arequipa, Peru, where he assisted with identifying and cataloging early printed books in the monastery's collection. He will describe the collection and comment on its place in the history of the transatlantic Spanish book trade.

NOVEMBER 11

15th CENTURY
BOOK TRADE
HISTORY

Greg Prickman, The Nuremberg Chronicles

The Head of Special Collections will present a rare opportunity to view three complete copies of the Nuremberg Chronicle, printed in 1493. He will describe the provenance of the three copies and discuss why the copy-specific features of each book are important to our understanding of the book trade.

DECEMBER 9

16th CENTURY

17th CENTURY
COLLECTING

Arthur Bonfield, English Collections of Travel
The Allan D. Vestal Chair, University of Iowa School of Law, will discuss early printed travel literature and provide examples from his own extensive private collection.
2016 Feb. 10: TBA, Mar. 9: Doug Russell, Apr. 13: Jane Murphy, May 11: Biblio Book Club
ACCOMMODATIONS
Individuals with disabilities are encouraged to attend all University of Iowa sponsored events. If you are a person with a disability who requires a reasonable accommodation in order to participate in this program, please contact the sponsoring department or contact person listed in advance of the event.