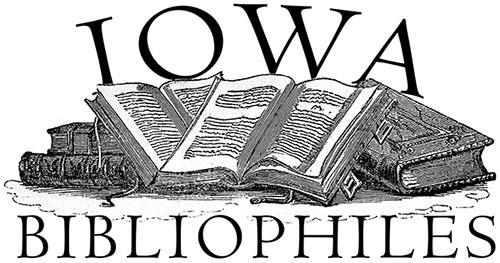 Each meeting of the Iowa Bibliophiles has an invited guest speaking about an aspect of book history or collecting featuring their collections or materials from Special Collections. Coffee and light refreshments will be available beginning at 6:30 pm, with the evening's talk starting at 7:00 pm in the Special Collections Reading Room. The Reading Room is on the third floor of the University of Iowa Main Library, at the corner of Madison and Burlington Streets, Iowa City. Meetings will generally last for an hour.
All meetings are free and open to the public.
Join the Iowa Bibliophile newsletter for more up to date information on these events.
Special Note: For the safety of our community, all fall 2020- spring 2021 Bibliophile events will be virtual, but still starting at 7pm CDT. Zoom links will be posted on our website as we get closer to the event.
2020-2021 Schedule (More details about each talk to come)
September 2020 – "The Real Life Dilemmas of Buying Rare Books" with rare book dealer Adam Weinberger, Adam Weinberger Rare Books.
Despite the impression of the rare book business as a rarefied scholar's trade, Adam has found it to be a very emotional one as well. Buying books involves many aspects of psychology including convincing owners to sell, overcoming competitive urges, underpaying, overpaying, restraining personal enthusiasm, taking risks outside one's area of expertise, the highs of closing a deal, and the lows of missing out on a treasure.
October 2020 – "Pulp America: The Mass Market Paperback as Cultural Artifact" with Corey Creekmur, Associate Professor for Cinematic Arts, English, and Gender, Women's & Sexuality Studies at University of Iowa.
Associate Professor Corey Creekmur will provide a virtual tour of the American mass market "pulp" paperback book in its most vibrant period, between World War II and the 1960s.  During this period, cheap reprints of literary classics soon gave way to original publications of popular crime and science fiction novels, among other genres.  Paperbacks of the period also shamelessly featured juvenile delinquents, sexual "deviants," beatniks and monsters on their often lurid covers.  Along with this overview, the presentation will consider the curious way in which these often sensational and otherwise ephemeral publications have become not only collectible but even of scholarly interest.
November 2020 – "Around the Library Table: An Evening with Luther Brewer and Leigh Hunt" with former Olson Graduate Assistant, Laura Michelson.
Learn more about Luther Brewer, the Cedar Rapids printer who collected Huntiana in the 1920s and Leigh Hunt, the Romantic era English writer and critic best known as a friend to "the famous."
December 2020 – POSTPONED –Join Sandra Hindman, President and CEO of Les Enluminures, as she discusses Gothic traveling coffers
February 2021– "Children's Lit is Serious Business" with Jennifer Burek Pierce, Associate Professor for the School of Library and Information Science
Join Dr. Jennifer Burek Pierce as she explores how books for young readers represent interesting and pivotal moments in the history of Anglophone children's literature, and how publishing for children has turned into big business.
March 2021- "Cartography as visual history: One Iowan's adventure in map collection" with Paul Morf, Cedar Rapids map collector.
Paul Morf takes us in a time machine exploring Iowa's history through his map collection. We'll look at Iowa's history through the 1800s and focus on Iowa's territorial period from 1838 until statehood. We'll also explore a brief history of cartography, exploring cartographers such as Waldseemuller, Fries, Munster, Apian Honter, Gastaldi, Ruscelli, Mercator, and Ortelius.
April , 2021 – "The Roots of Medicine" with Damien Ihrig, Curator of John Martin Rare Book Room, and Matt Regan and Chris Childs of Hardin Medical Library.
Representatives from the Hardin Medical Library will talk about plants and their history in medicine through the striking illustrated early printed works of medicinal plant books, referred to as herbals. The will also talk about their latest collaboration to create a medicinal garden on campus at University of Iowa.  Joining forces with representatives from the College of Pharmacy, a local gardening group, and a horticulture expert from Iowa State University, they created The Roots of Medicine project. The Roots of Medicine combines images and information from rare herbal works in the John Martin Rare Book Room (JMRBR), modern, cutting-edge medical research, and digital technology to present an augmented garden walk through history. Damien, Matt, and Chris will present on the formation of the project, a demonstration of the technology, and the individual books used in the project.
May, 2021 – "Keats Among the Private Press Printers" with Dr. Brian Rejack from Illinois State University and the John Keats Letter Project.
CALENDAR OF UPCOMING EVENTS
---
ACCOMMODATIONS
Individuals with disabilities are encouraged to attend all University of Iowa sponsored events. If you are a person with a disability who requires a reasonable accommodation in order to participate in this program, please contact Elizabeth Riordan at elizabeth-riordan@uiowa.edu in advance of the event.