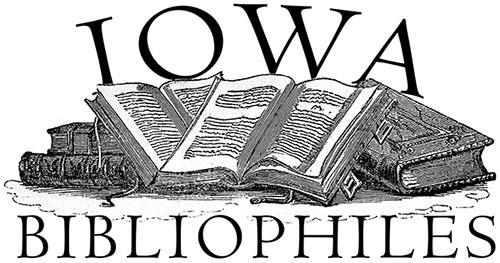 Iowa Bibliophiles is a group for book lovers and enthusiasts of all kinds. Each fall the group invites a speaker to come to campus to give a talk on an aspect of book history or collecting featuring their collections or materials from Special Collections. In the spring, Iowa Bibliophiles is invited to get an up close look at some of the new acquisitions joining the Special Collection's stacks.
All meetings are free and open to the public. You can find some of our previous talks on our YouTube page.
Join the Iowa Bibliophiles newsletter for more up to date information on these events by emailing Elizabeth Riordan at elizabeth-riordan@uiowa.edu.
Fall 2023
How to read old paper: Searching for meaning in early modern English writing paper
Please join us for our annual invited Iowa Bibliophiles lecture as we study Shakespeare's world through a unique lens.
This year we are joined by Heather Wolfe, a consulting curator of manuscripts at the Folger Shakespeare Library in Washington, DC. She will present her talk "How to read old paper: Searching for meaning in early modern English writing paper" at 6pm October 11th in Shambaugh Auditorium and on Zoom.
In the late 1580s and 1590s, England experienced a writing paper renaissance. High status people began to have access to and develop a vocabulary for an expanding range of imported fine paper. At the same time, a German refugee jeweler named John Spilman began one of the first viable paper mills in England. Despite his documented struggles in sourcing rags, he supplied writing paper to Queen Elizabeth's Privy Council and a handful of printers, adorning it with intricate watermarks depicting the queen's coat of arms, royal badges, and cypher. Join Wolfe as she digs into the archival evidence to tell a story about paper that begins with impoverished and unhoused London rag women and ends with Queen Elizabeth.
In addition to stewarding the manuscript collection, Wolfe teaches people how to read English secretary hand and oversees transcription crowdsourcing projects at the Folger. She publishes widely on early modern English manuscripts and hybrid books. Her essay "The Material Culture of Record-Keeping in Early Modern England," co-written with Peter Stallybrass, received the 2019 Archival History Article Award from the Society of American Archivists. She was also the Munby Fellow in Bibliography at the University of Cambridge in 2021/22. Wolfe received her BA from Amherst College, her M.L.I.S. from UCLA, and her Ph.D. from the University of Cambridge.
This is a hybrid event. You can join us in person at 6pm at Shambaugh Auditorium in the Main Library, or on Zoom by registering here
CALENDAR OF UPCOMING EVENTS
---
ACCOMMODATIONS
Individuals with disabilities are encouraged to attend all University of Iowa sponsored events. If you are a person with a disability who requires a reasonable accommodation in order to participate in this program, please contact Elizabeth Riordan at elizabeth-riordan@uiowa.edu in advance of the event.