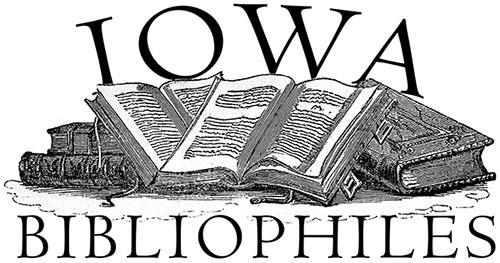 Each meeting of the Iowa Bibliophiles has an invited guest speaking about an aspect of book history or collecting featuring their collections or materials from Special Collections. Coffee and light refreshments will be available beginning at 6:30 pm, with the evening's talk starting at 7:00 pm in the Special Collections Reading Room. The Reading Room is on the third floor of the University of Iowa Main Library, at the corner of Madison and Burlington Streets, Iowa City. Meetings will generally last for an hour.
All meetings are free and open to the public.
Join the Iowa Bibliophile newsletter for more up to date information on these events.
2021-2022 Schedule (More details about each talk to come)
September 2021 – "The Why, How, What, and Result of Almost 65 Years of Rare Book Collecting" with Arthur Bonfield, the Allan D. Vestal Chair, University of Iowa School of Law
October 2021 – "I know what you bought last summer" with rare book dealer Pat Olson
November 2021 – "Morris at Iowa: The William Morris Archive and the Kelmscott Press" with Professor Florence Boos and Professor Kim Maher
December 2021 — Special Gallery Tour of the "From Revolutionary Outcast to a Man of God: Dostoevsky at 200" exhibit with curator Dr. Anna Barker
February 2022–"Hidden Collections: Artist Books in Spanish and South American Indigenous Languages" with Karen Carcia and Julie Leonard, faculty from UICB
March 2022-"Pop Ups and Movables in Books Are Older Than You Think" with book artist and Adjunct Assistant Professor for UICB Emily Martin from Center for the Book
April 2022 – No meeting
May 2022 –New Acquisitions to Special Collections & Archives with Curator Eric Ensley
CALENDAR OF UPCOMING EVENTS
---
ACCOMMODATIONS
Individuals with disabilities are encouraged to attend all University of Iowa sponsored events. If you are a person with a disability who requires a reasonable accommodation in order to participate in this program, please contact Elizabeth Riordan at elizabeth-riordan@uiowa.edu in advance of the event.