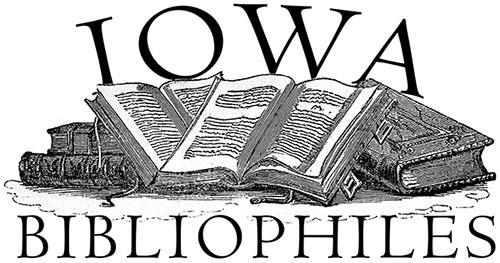 Each meeting of the Iowa Bibliophiles has an invited guest speaking about an aspect of book history or collecting featuring their collections or materials from Special Collections. Doors will open beginning at 6:30 pm, with the evening's talk starting at 7:00 pm in the Special Collections Reading Room. The Reading Room is on the third floor of the University of Iowa Main Library, at the corner of Madison and Burlington Streets, Iowa City. Meetings will generally last for an hour.
All meetings are free and open to the public. You can find some of our previous talks on our YouTube page.
Join the Iowa Bibliophiles newsletter for more up to date information on these events by emailing Elizabeth Riordan at elizabeth-riordan@uiowa.edu.
2022-2023 Schedule (More information will be added throughout the year)
September 2022 – "Ancient Anime: Dynamic Text and Image in Medieval Japanese Handscrolls" with Kendra Strand, Assistant Professor of  premodern Japanese literature and visual culture, University of Iowa
October 2022 – Talk with Iowa Initiative for Scientific Imaging and Conservation of Cultural Artifacts (IISICCA)
November 2022 – Conversation with new Sackner Archive project coordinator librarian Rich Dana and director of Special Collections Margaret Gamm
December 2021 — The Salisbury House Library with librarians Chris Jones and Laura Michelson, Grinnell College
February 2022– A study in lithographs with Meghan O'Conner, Coastal Carolina University (this talk will be on Zoom)
March 2022- Visit with John Martin Rare Book Room and curator Damien Ihrig, University of Iowa
April 2022 – New Acquisitions to Special Collections & Archives
CALENDAR OF UPCOMING EVENTS
---
ACCOMMODATIONS
Individuals with disabilities are encouraged to attend all University of Iowa sponsored events. If you are a person with a disability who requires a reasonable accommodation in order to participate in this program, please contact Elizabeth Riordan at elizabeth-riordan@uiowa.edu in advance of the event.