All classes are free, but registration is required to attend.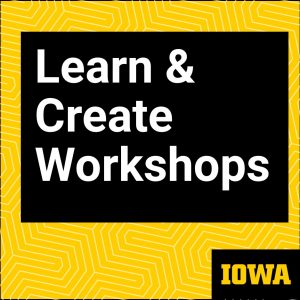 Sponsored by: University of Iowa Libraries, Engineering Electronics Shop, and NEXUS programs.
Wednesday, September 14, 2:00 pm – Soldering Basics Through-Hole
Wednesday, September 21, 2:00 pm – Soldering Basics Surface-Mount
Wednesday, October 5, 2:00 pm – Build Your Own: LED Pendants
Friday, October 14, 10:30 am – Noon – How to 3D Model: Cookie Cutters
Wednesday, December 7, 6:00 pm – 7:30 pm – Build Your Own: IoT Weather Station
---
Individuals with disabilities are encouraged to attend all University of Iowa-sponsored events. If you are a person with a disability who requires a reasonable accommodation in order to participate in this program, please contact Kari Kozak, at kari-kozak@uiowa.edu in advance of the event.