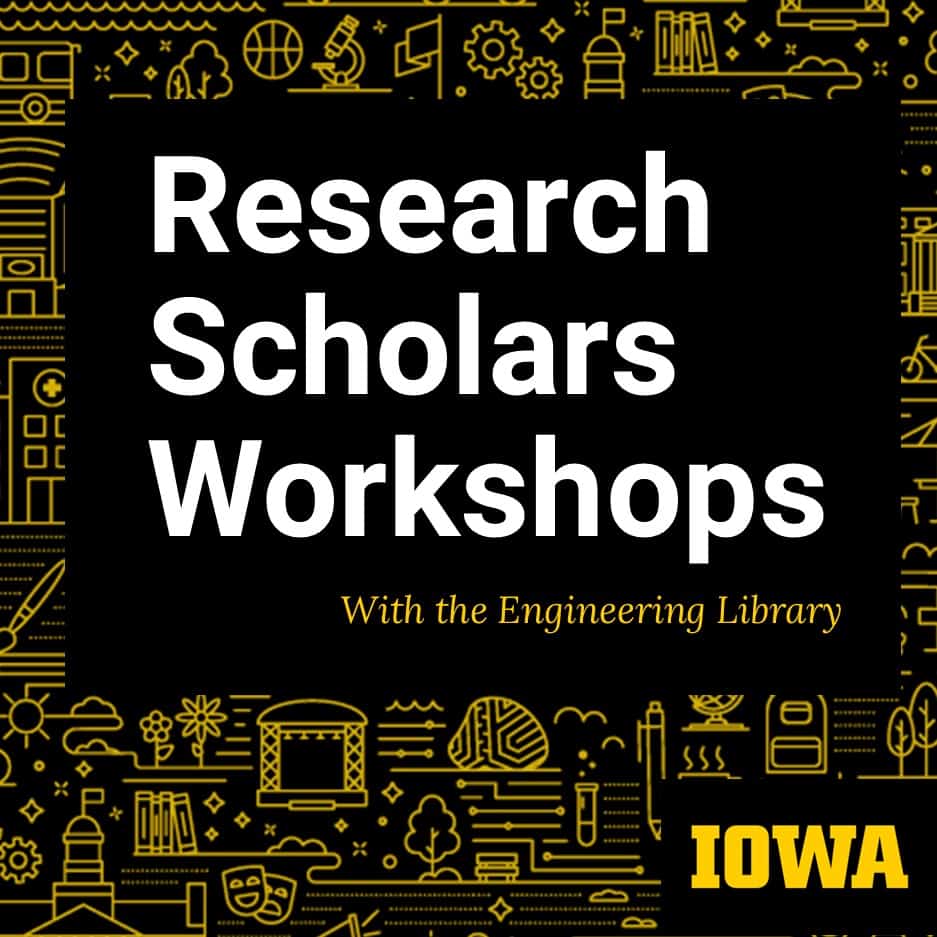 This informative series of four virtual workshops is designed to aid researchers, of all levels, with scholarly publishing, technical writing tips, citation management, searches and more.
All 45-minute workshops are Thursdays at 2:00 pm – 2:45 pm on Zoom. Anyone is welcomed to join these virtual workshops. All students, Iowa Honors Program, researchers, staff, and faculty.
Registration is required – the Zoom link will be emailed to registered participants one hour before the workshop starts.
If any questions or concerns, please email Marina Zhang (qianjin-zhang@uiowa.edu or lib-engineering@uiowa.edu). Presenters include those from Lichtenberger Engineering Library, the Speaking Center, and IEEE.
---
September 8 – Thesis Formatting and Submission
Learn about the thesis submission process, issues related to copyright and embargo, and additional resources available from the Graduate College. Learn more about the Microsoft Word tools you can use to format your thesis. Presented by Dr. Erin Kaufman, Academic Affairs Coordinator, Graduate College. 
September 22 – Introduction to LaTeX Editor: Overleaf
Description:
LaTeX is a document preparation system which uses markup tagging conventions to define the general structure of a document, to format text, and to add citations and cross-references. Instead of trouble shooting LaTeX software and packages locally in your computer, you can take advantage of the online LaTeX editor, Overleaf. In this workshop, we will introduce the free version of Overleaf and LaTeX basics. Presented by Marina Zhang, Engineering & Informatics Librarian, Lichtenberger Engineering Library.
Before the workshop, sign up for Overleaf free account and copy the template and slides.
To make a copy of the documents:
Follow the link to the Overleaf Project Template and Slides

In the "Menu" select on "Copy Project"

Rename the file
October 20 – T-Shaped Engineer
Let's a dive to discuss what are some skills that can help us out as engineers entering the market. We'll discuss some key skills companies look for when hiring engineers and also some tools available to you through the library that can help. We'll discuss how you can use these tools to solve real word problems, networking, or becoming a better research. We'll learn about Knovel and Engineering Village and how those tools can help us while in school, doing research, or getting ready for industry. Prsented by Walter Coto, Engineering Customer Consultant for Elsevier.  
November 10 – Patents 101: what are they and how to find them
Explore the hidden resources of patents.  About 85% of the technical information in patents is found nowhere else.  This workshop will feature a basic introduction to what a patent is, the various types of patents in existence, and how to complete patents searches. In addition to providing inventor exclusive rights to products they produce, patents also give great detailed information on certain products and methods. Taught by Kari Kozak, Director, Lichtenberger Engineering Library. 
---
Individuals with disabilities are encouraged to attend all University of Iowa-sponsored events. If you are a person with a disability who requires a reasonable accommodation in order to participate in this program, please contact Kari Kozak, at kari-kozak@uiowa.edu in advance of the event.