Current Exhibit
For three decades, Granary Books has brought together writers, artists, and bookmakers committed to exploring and expanding the relations among the verbal, visual, and other arts. Presenting a selection of UI Libraries' comprehensive collection of Granary editions, this exhibition traces Granary publisher Steven Clay's career from his beginnings as a UI undergraduate in the 1970s to his present position as one of the most significant small publishers in the country. Selected items include printed matter in a wide variety of formats, among them Western and accordion-fold codices, broadsides, and a wall-hung contemporary quipu. The artists represented include John Ashbery, Susan Bee, Charles Bernstein, Ted Berrigan, John Cage, Henrik Drescher, Emily McVarish, Carolee Schneemann, Buzz Spector, and Cecilia Vicuña.
Friday, February 15th, 3pm
Granary Books proprietor and publisher Steven Clay joins English Professor Jennifer Buckley for a public conversation in the Main Library Gallery.
Sneak Peek of the Next Exhibit
Upcoming Exhibits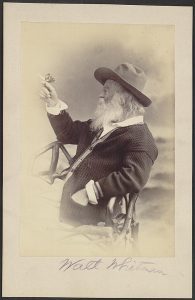 April 5 - August 9, 2019
Walt Whitman: A Bicentennial Celebration