The University of Iowa Libraries' Main Library Gallery welcomes all learners.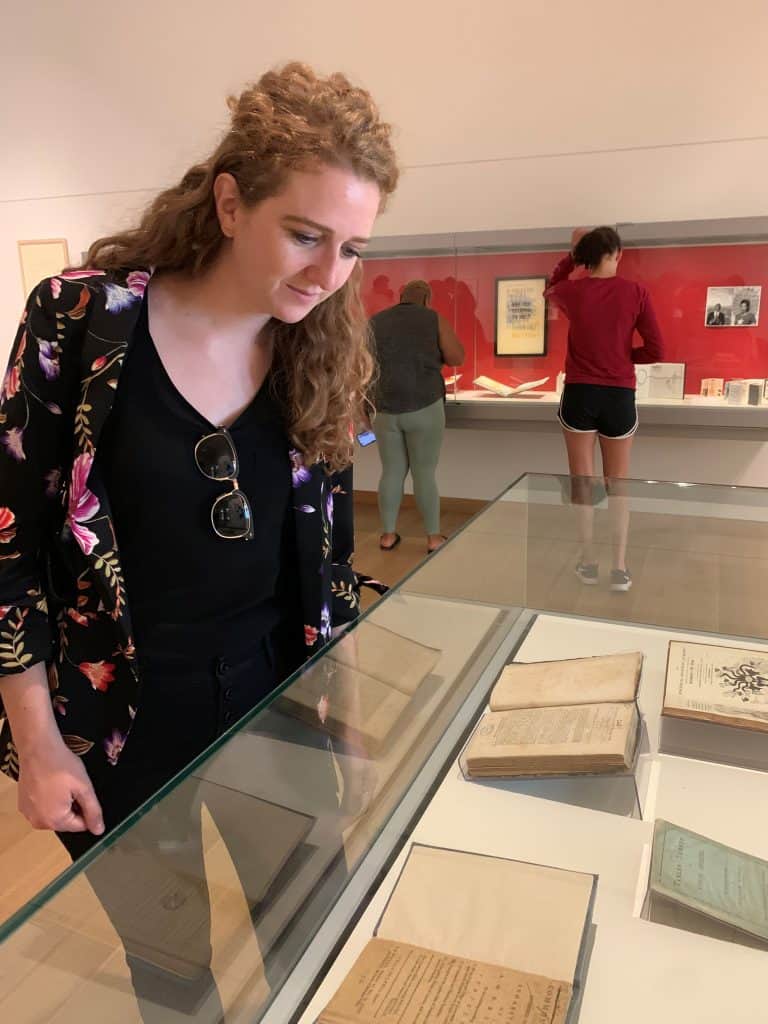 ---
Main Library Gallery Open Hours
Monday: 9:00am – 6:00pm
Tuesday: 9:00am – 8:00pm
Wednesday: 9:00am – 6:00pm
Thursday: 9:00am – 6:00pm
Friday: 9:00am – 6:00pm
Saturday: 1:00pm – 5:00pm
Sunday: 1:00pm – 5:00pm
The easiest way to access the Main Library Gallery is via the north entrance of the Main Library.
General Public
Guests from the general public and the University community are welcome to stop by the Gallery any time during open hours. No appointments are needed. Please visit coronavirus.uiowa.edu for the latest campus updates about COVID-19. Classes may occasionally be visiting the gallery during open hours.
Because the Main Library Gallery is an active educational space on campus, classes occasionally meet here to learn about our exhibitions or UI Libraries collections. Visitors are still welcome to enter and view the current exhibit during classroom activities. Thank you for understanding! Contact Sara Pinkham, exhibition and engagement coordinator, with any questions.
---
Plan Your Class Visit
University instructors are encouraged to incorporate current or upcoming Main Library Gallery exhibits into their course schedules.
This could include, among other things:
Class visits as a group to view an exhibit
Assigning students to visit the Gallery outside of class
Scheduling a curator guided tour (as possible)
Using exhibit images, catalogs, literature, or videos as reference material
Adding an assignment from the Main Library Gallery to a course
Distance engagement options are available for online classes.
Student support for Gallery-related assignments is available.
Please book class visits at least 1 week in advance.
Contact us to include the Main Library Gallery in your course!
Available Assignments:
Reading an Object in the Main Library Gallery
From Gallery Object to the Stacks
View our subject guide to learn more about using one or both of these assignments with your students in the gallery, or with the gallery's virtual exhibits.
---
About the Gallery
Exhibits at the Main Library Gallery give the University of Iowa campus community and the general public access to the rich collections of the University of Iowa Libraries, including rare and historically significant items. From among treasures archived deep in University Libraries Special Collections, exhibit curators select unique objects, photos, papers, and books for each exhibition that tell fascinating stories about a range of topics. Additionally, visitors may also find carefully chosen artifacts and papers from partner institutions. The Main Library Gallery is a member of the American Alliance of Museums.
Contact the Main Library Gallery
---
Accessibility
Individuals with disabilities are encouraged to visit the Main Library Gallery. If you are a person with a disability who requires a reasonable accommodation in order to visit or participate in a program, please contact Sara J. Pinkham in advance using the contact information above. The gallery is equipped with an accessible door and is located on the first floor of the Main Library. Descriptive tours are available by request for visitors who are Blind or partially sighted. We look forward to welcoming you!