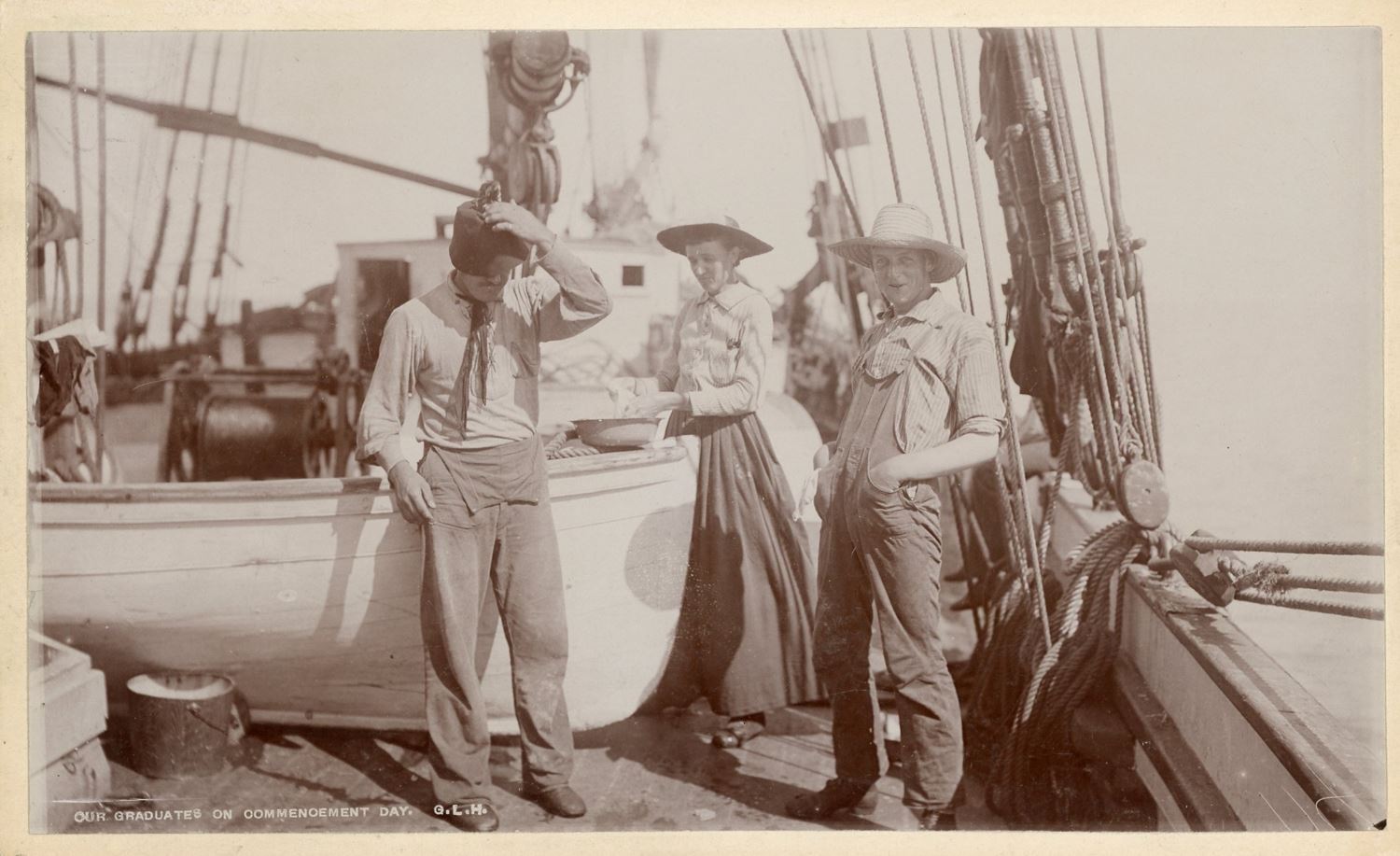 Three graduates on the deck of the Emily E. Johnson, 1893. William Larrabee, Jr. Papers, University Archives.
---
Text by Denise Anderson, co-curator of We Are Hawkeyes: Celebrating 175 Years of Student Life at the University of Iowa.
In 1891, progress reports about a planned trip to the Bahama Islands began to appear in The Vidette-Reporter, a forerunner to The Daily Iowan student newspaper, which were "arousing considerable enthusiasm" among the students.  Ten applications had been submitted by November 1891.   
The purpose of the expedition was to provide students with an opportunity to experience this faraway environment and to collect natural specimens for study and display at the State University of Iowa's  Museum of Natural History, located in the Natural Science Building, later named Calvin Hall. 
From 1887 to 1924, University expeditions enriched the collections of the Museum of Natural History, which was originally called the Cabinet of Natural History from 1858-1887. In 1888, Professor Charles C. Nutting and his wife sailed to the Bahama Islands to collect specimens. Professor Nutting later planned a second expedition to the Bahamas in 1893 that included student participants. 
Nutting wrote in The Narrative and Preliminary Report of Bahama Expedition, 1895, that he viewed the 1893 expedition as an opportunity for students and others to learn firsthand about life in these tropical islands. 
"Our graduating exercises were held June 15 at 10 am.  Barrett, tying his hat on with a string, Miss Williams washing her handkerchief in a basin, and I leaning up against the yawl boat, apron of overalls hanging down as I had no suspenders – I who was dubbed Dirty Billie by Merrill and yet was the only one that always wore a necktie." [Merrill was first mate to Captain Flowers.] – William Larrabee, Jr., student
Because they were not in Iowa City, the graduation ceremony for these three seniors was held onboard the Emily E. Johnson schooner on Thursday, June 15, 1893 at 10:00 AM. The ceremony occurred onboard ship in waters off Fort Jefferson, U. S. Dry Tortugas, after they had traveled from Cuba and were heading home. First stop: the disinfecting dock at Fort Jefferson, where burning sulfur was used to sanitize the vessel of rats and smells.
Contents of one haul.  Dredging for specimens – including this large starfish – was a frequent activity of the students during the three-month voyage. Their collecting work enhanced the holdings of the University of Iowa Museum of Natural History. Dangers of the trip included seasickness, sunburn, attacks by swarms of mosquitoes, cuts from coral, being swept overboard during rough seas, and the threat of disease. 
Women were permitted to participate in the Bahama expedition because the State University of Iowa was a coeducational institution. Seven women and fourteen men sailed from Baltimore aboard the Emily E. Johnson, a 95-foot schooner, on May 5, 1893, and returned to Baltimore on July 27, 1893, where their next task was to arrange for shipment by train of thousands of specimens to Iowa City, where specimens were cataloged over the next year.