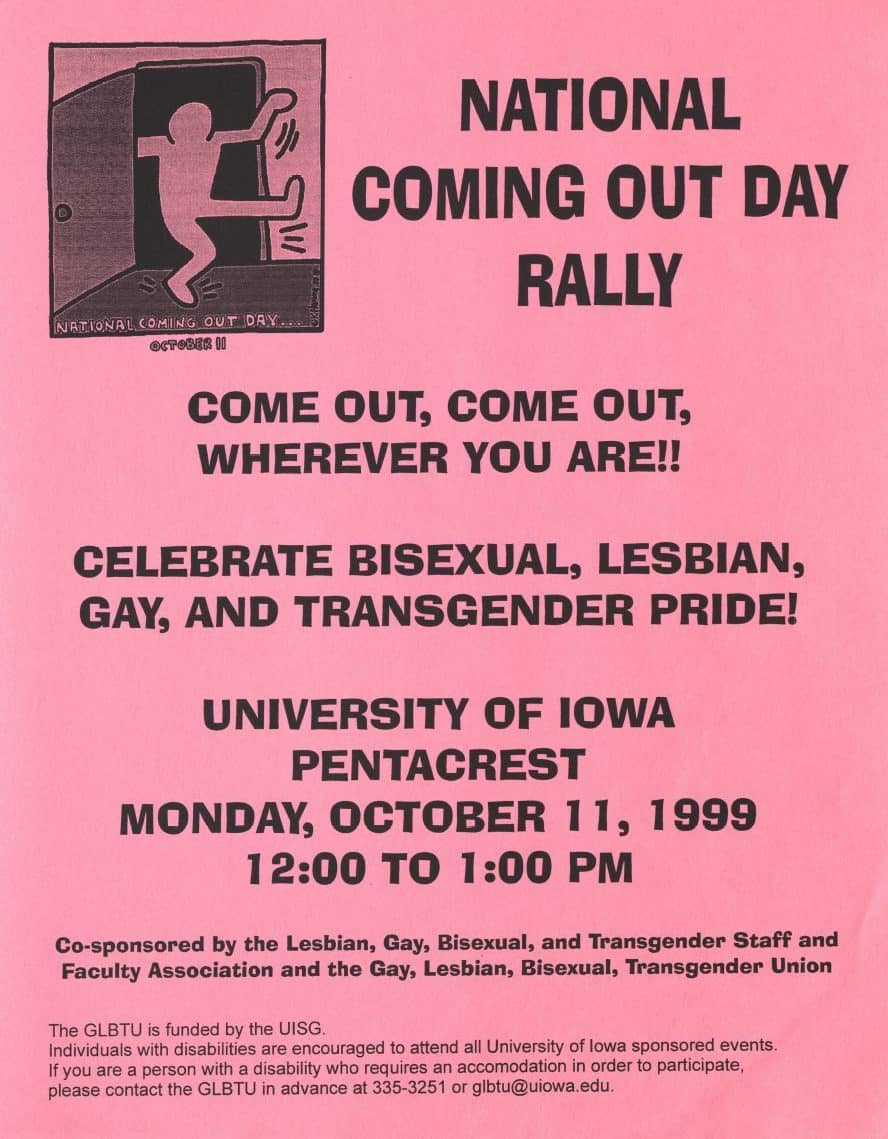 National Coming Out Day Rally flyer, 1999. Lesbian, Gay, Bisexual, and Transgender Staff and Faculty Association Records [RG03.0011.001], University Archives.
---
From the exhibit:
National Coming Out Day is celebrated annually on October 11 and supports LGBTQ people who are "coming out of the closet," or stepping into their truth in a more public manner. Beginning in 1988 as a commemoration of the March on Washington the year before, the movement seeks to celebrate coming out, to allow people to recognize LGBTQ individuals they know, and to eradicate homophobia by helping people acknowledge that they have loved ones who are part of the queer community.  
As part of larger LGBTQ History Month celebrations in October, National Coming Out Day is usually honored at the University of Iowa with activities at the Pride Alliance Center and by other organizations on campus. 
Although created to celebrate LGBTQ people and their ability to live freely and openly, there has since been further discussion about why not everyone can (or may not want to) come out publicly. Coming out can present a real danger for folks depending on their unique situations and social contexts.  
Today, LGBTQ people are encouraged come out in their own ways and in their own time when they feel safe doing so.
Flyer transcript:
NATIONAL COMING OUT DAY RALLY
COME OUT, COM OUT, WHEREVER YOU ARE!!
CELEBRATE BISEXUAL, LESBIAN, GAY, AND TRANSGENDER PRIDE!
UNIVERSITY OF IOWA
PENTACREST
MONDAY, OCTOBER 11, 1999
12:00 TO 1:00 PM
Co-sponsored by the Lesbian, Gay, Bisexual and Transgender Staff and Faculty Association and the Gay, Lesbian, Bisexual, Transgender Union
The GLBTU is funded by the UISG.