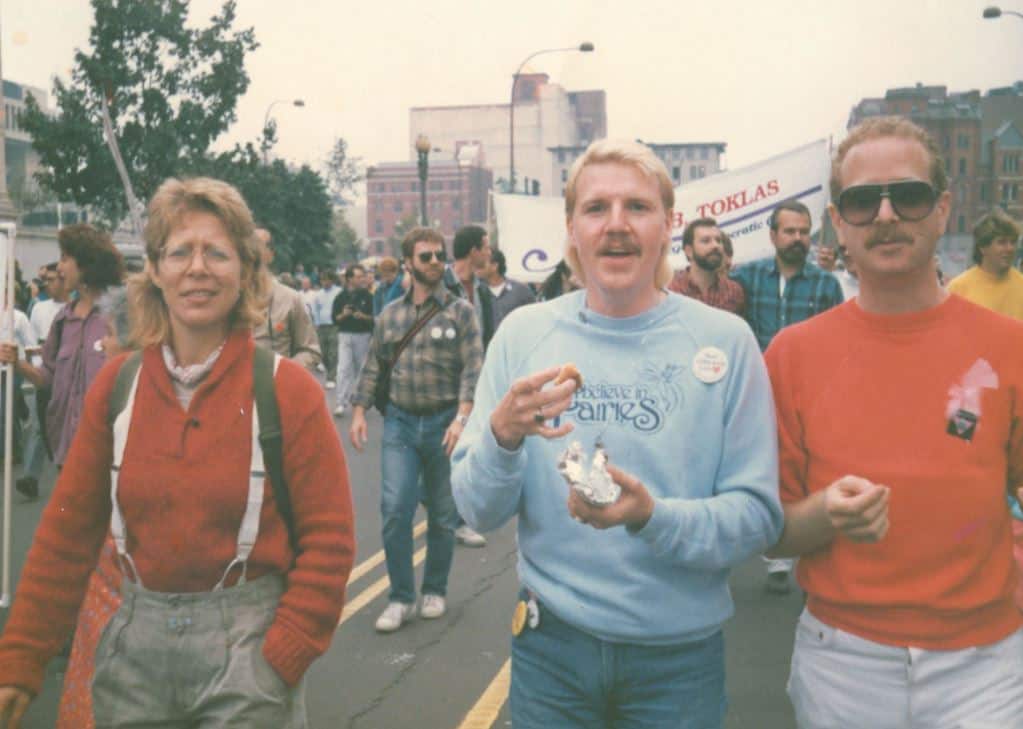 From the March on Washington, 1987. Tracy Bjorgum Papers, LGBTQ Iowa Archives & Library, Iowa City.
---
Note from co-curator Madde Hoberg: "I adore the pictures from Tracy Bjorgum's collection that show him with friends at the March on Washington. They show the joy, humor, and friendships that keep our community afloat even as we protest and fight for equity and protections from the greater society and government."
From the exhibit:
The Second National March on Washington for Lesbian and Gay Rights was a massive political rally in Washington, D.C. The rally took place on October 11, 1987. Due to its large turnout of around 750,000 participants and the focus on AIDS activism, this March on Washington stands as an important part of LGBTQ history. Marchers came from all over the United States, including many participants from Iowa who marched together under a banner representing the state. 
The rally was the first time that ACT UP, an activist group that advocated for people with AIDS, received national media coverage. Occurring at the height of the AIDS pandemic and during a time when there was a massive stigma around people living with HIV/AIDS, centering and humanizing people with AIDS carried an important message on this larger, national scale. This March also marked the first public display of Cleve Jones' NAMES Project AIDS Memorial Quilt. 
In addition to the advocacy for people with HIV/AIDS, protestors also sought the legal recognition of lesbian and gay relationships, a repeal to laws that criminalized sodomy between consenting adults, and a call for greater legal protects against anti-LGBTQ discrimination.
More demonstrations in Washington, D.C.
National March on Washington for Lesbian and Gay Rights – 1979

 

National March on Washington for Lesbian and Gay Rights – 1987

 

March on Washington for Lesbian, Gay, and Bi Equal Rights and Liberation – 1993

 

Millennium March on Washington for Equality – 2000

 

National Equality March – 2009

 

Equality March for Unity & Pride – 2017