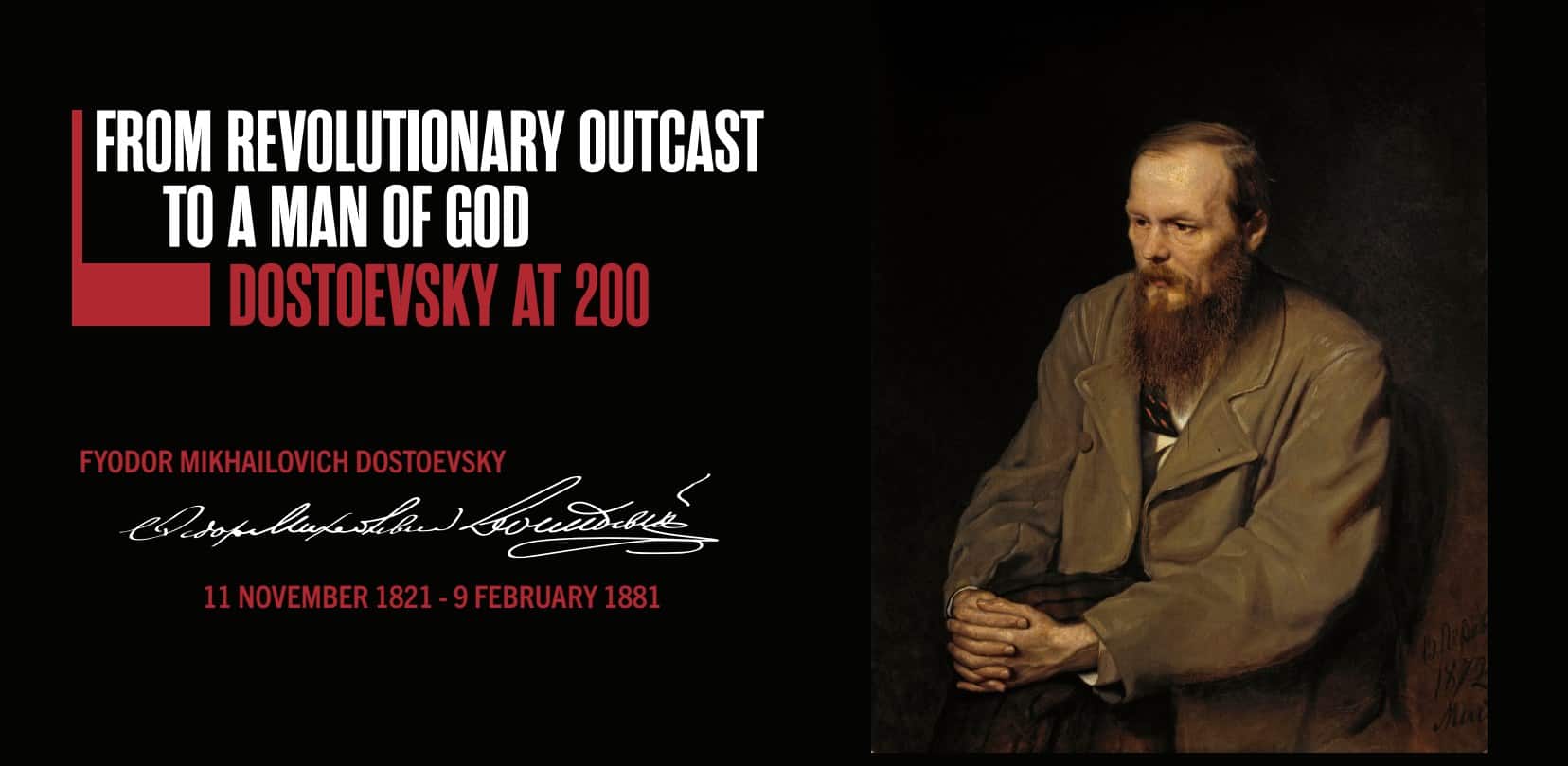 August 16 – December 17, 2021
The Fall 2021 Main Library Gallery exhibition, From Revolutionary Outcast to a Man of God: Dostoevsky at 200, is dedicated to the life and work of the Russian writer Fyodor Dostoevsky (1821-1881). Curated by Dr. Anna Barker, University of Iowa professor of Russian literature, the exhibition covers the entirety of Dostoevsky's prolific literary career. His youth, his years of exile in Siberia, a period of gambling addiction, and his philosophical and theological teachings are explored in the context of Russian historical events and many of his most famous novels, from Poor Folk to The Brothers Karamazov.
The exhibition is divided into four sections:
"Rebel" explores Dostoevsky's youth and college years as well as early publications such as Poor Folk, The Double and White Nights.
"Convict" focuses on the years of exile to a penal colony in Siberia and on his novels Notes from the Dead House, Humiliated and Insulted, and Winter Notes on Summer Impressions.
"Gambler" chronicles the post-Siberia period, which includes the novel The Gambler as well as Notes from Underground.
The final section, "Prophet," celebrates the five great Dostoevsky novels Crime and Punishment, The Idiot, Demons, The Adolescent and The Brothers Karamazov.
In addition to focusing on Dostoevsky's literary compositions, the exhibition briefly highlights the two operas based on Dostoevsky novels, Sergei Prokofiev's The Gambler and Leos Janáček's From the House of the Dead, as well as Dostoevsky film adaptations.
Dostoevsky Exhibit Guide (PDF)
The exhibition guide above includes a curator statement by Dr. Anna Barker as well as a complete list of items on display. The numbers in the guide correspond with numbered objects in the exhibit.
Curator Highlights
Credits
Exhibition Curation
Dr. Anna Barker
Preparation & Conservation
Bill Voss, Giselle Simón
Installation
Bill Voss, Giselle Simón, Kalmia Strong, Sara J. Pinkham
Design
Kalmia Strong
Exhibition Coordination & Editing
Sara J. Pinkham
Exhibition Technology
Will Brown, Chris Clark
Publicity & Website
Sara J. Pinkham, Ken Clinkenbeard, Jennifer Masada
Virtual Exhibit Assembly & Photography
Sara J. Pinkham
Financial Support
Friends of the University of Iowa Libraries
Special Thanks
Katie Buehner, Director of the Rita Benton Music Library, University of Iowa Libraries
Dr. Eric Ensley, Curator of Rare Books & Maps, University of Iowa Libraries Special Collections & Archives
Lisa Gardinier, Curator of International Literature, University of Iowa Libraries
Lindsay Moen, Public Services Librarian, University of Iowa Libraries Special Collections & Archives
Rob Durham, Scene Shop Supervisor, University of Iowa Theatre Arts Department
F.M. Dostoevsky Literary Memorial Museum, Saint Petersburg, Russia
Dostoevsky House Museum, Staraya Russa, Russia
Father Ignatius Valentine, St. Raphael Orthodox Church, Iowa City
The Barker Family