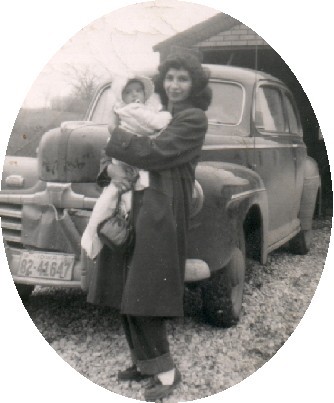 The following list has been compiled to serve as a guide to the collections in the Iowa Women's Archives relating to Latinas and their families. If you have questions about the collections or the ongoing work of the Mujeres Latinas project, please contact the archives.
Collections relating to Iowa Latinos

Printed materials
Digital Collection (selections from manuscript collections)
Left: Aurora Hernandez with her daughter in Davenport, Iowa, 1952.
---
The Mujeres Latinas Project is funded in part through grants from the the State Historical Society of Iowa's Resource Enhancement and Protection–Historical Resource Development Program; the State Historical Society, Inc.; the University of Iowa's Year of Public Engagement and Year of the Arts and Humanities; and the University of Iowa Libraries' Library Innovation Fund.
---
INDIVIDUAL AND FAMILY PAPERS
Papers, 1950-2004. 2.5 linear inches.
Factory worker who was among the first Latinas to be hired to work at the International Harvester Company Farmall plant in Davenport, Iowa.
Papers, 1946-2002. 5 linear feet.
Activist and administrator at the University of Iowa whose papers provide insight into Latino life and culture in Iowa and across the Midwest.
GARCÍA, INÉS (1931- )
Papers and oral history, 1923-2005. 2 linear inches.
Inés García was born in Fort Madison, Iowa to Mexican immigrant parents. The family photos and oral history interviews document the Mexican American community in Fort Madison.
LEASMAN, SYLVIA
Unprocessed papers and oral history. 1 linear inch.
LOZANO, ALEJANDRA PORREZ (19 – )
Unprocessed papers and oral history. 2 linear inches.
Papers, 1922-2005. 2.5 linear inches.
A former resident of Cook's Point, Davenport, whose parents emigrated from Mexico to the United States in the early 1900s.
Papers, 1976-2005. 2.5 linear inches.
María Cano came to Iowa City from Guanajuato, Mexico, with her family in 1928. She was instrumental in creating the Spanish language interpreter program at the University of Iowa Hospitals in 1975.
MORENO, JOSEPHINE GARNICA
Papers, 1949-1978. 1 linear inch.
Photographs and correspondence of the Moreno family of Davenport , Iowa.
Papers, 1923-2003. 1.5 linear inches.
Political activist from Davenport, Iowa, who was involved in the Ladies Auxiliary of the Iowa chapter of the American G. I. Forum and co-founded the Quad Cities "Viva Kennedy" club with her husband.
Photographs, 1902-2008. 2.5 linear inches.
Family photographs taken in Iowa, Mexico, and Alabama include photos of the Bettendorf barrio, known as Holy City, and coal mining communities in south central Iowa such as Buxton.
Papers, 1910-2007. 5 linear inches.
Civil rights activist from Holy City in Bettendorf, Iowa.
Papers, 1959-2004. 7.5 linear inches.
Sioux City business owner and political activist who emigrated to the United States in 1978.
Papers, 1913-2006. 1 linear inch.
The family came to Horton, Kansas, from Mexico in 1910 and moved to West Des Moines in 1941.
Papers and oral history, 1936-2005. 2.5 linear inches.
Davenport area community activist and leader in the city's Mexican American community.
Papers, 1892-1989 (bulk 1928-1989).
Native of Mexico who came to Fort Madison, Iowa in 1914. Werner's community activism centered on the Iowa State Penitentiary in Fort Madison
---
ORAL HISTORIES
Oral history interviews are a major component of the Mujeres Latinas Project. Over eighty interviews have been recorded with Iowa Latinas and Latinos in communities including Des Moines, Fort Madison, Mason City, Muscatine, the Quad Cities, and Sioux City.  Once the interviews have been transcribed, audio recordings and transcripts will be available to researchers.
---
ORGANIZATIONAL RECORDS
LA CASA LATINA (SIOUX CITY, IOWA)
Records, 1989-2007.  5 linear inches.
Non-profit organization that helped recent Latino immigrants and non-English speakers in the Siouxland area obtain human services, healthcare, housing, and other basic needs.
Records, 1959-2010.  5.75 linear feet.
---
COLLECTIONS RELATING TO LATINOS IN IOWA
Papers, 1927-1998. 7.25 linear feet.
Mason City, Iowa-born civil rights activist. The papers include scrapbooks and other records of the Migrant Action Program in Mason City which was started during the 1960s to provide assistance to migrant workers and their children.
Oral histories, 1998-1999.
Collection of 77 oral histories of Iowa women artists conducted by Jane Robinette. Includes an interview with Concetta Morales of Des Moines, Iowa.
Records, 1960-2006. 10 linear feet and audiovisual material.
The collection includes oral history interviews with Rusty Barceló, Papusa Molina, and Téresa Sierra.
---
PRINTED MATERIALS
"Conoceme en Iowa,"Official Report of the Governor's Spanish Speaking Task Force Submitted to Governor Robert D. Ray and the 66th General Assembly. [F630 S7516]
"The Hispanics, a Missing Link in Public Policy," the official report of an Hispanic conference in Des Moines, Iowa, 1979.
"A donde vamos ahora? (Where are we going now)," 1970. A report on the problems of the Spanish surnamed and Migrant population in Iowa prepared by the Iowa State Advisory Committee to the United States Commission on Civil Rights.
"Peregrinacion," 1967-1972. Division of the Spanish Speaking, Midwestern Regional Office.
"Voices of a Different Color: An Oral History of Eastern Iowa Mexican American Women," by Grace Núñez. University of Iowa M. A. Project, 1993. Includes interviews with former residents of Cook's Point, (Davenport)and Holy City (Bettendorf).