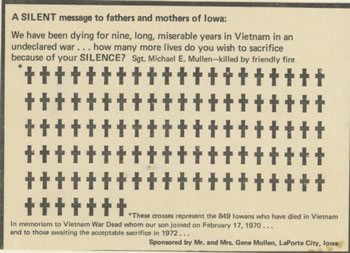 Papers, 1930-1974. 10 linear feet.
Civic leader in Des Moines who was involved in the Iowa Study Committee on International Peacekeeping.
Papers, 1962-2004. 5 linear inches.
Graduate of Ministry at the University of Dubuque Theological Seminary who took part in the Cedar Rapids Area Women's Peace Inquiry and Action Group.
Papers, 1935-1994. 10 linear feet and audiovisual material.
Family farmer and community activist who served on U.S. National Commission for UNESCO. Materials include information about the 1983 AAUW peace conference and the Iowa Peace Institute.
Records, 1985, 2 linear inches.
Newsletters of pacifist group Peace Links. Edited by Olive Wilson and based in Northwest Iowa towns of Paullina and Primghar.
Papers, 1956-1999. 34.5 linear feet.
Iowa activist whose involvement in the peace movement included unternational outreach programs.
Papers, 1939-2007. 2.5 linear feet.
Papers of an activist from West Branch, Iowa, include correspondence and newspaper clippings relating to her husband's status as a conscientious objector.
Papers, 1964-1992. 7.5 linear feet.
Former state legislator from Iowa City who served as president of the Iowa Peace Institute from 1985 to 1991.
Papers, 1968-1996. 5.5 linear feet.
Anti-Vietnam War activist whose son, Michael, was killed by "friendly fire" in Vietnam in 1970; her story became the basis for the book Friendly Fire by C.D.B. Bryan.
Papers, 1973-1996. 10 linear inches.
Peace activist from Sioux City, Iowa who was involved in organizations such as the Iowa Church Leaders Peace Caravan.
Papers, 1939-1995. 2.75 linear feet.
Executive director of the Martin Luther King, Jr. Center for Education and Vocational Training in Waterloo, Iowa from 1981 to 1995. Active member of the Archdiocese Council for Catholic Women on the local and national levels.  Nash attended the United Nations Women's Role in Peace Education Conference in Nicosia, Cyprus in 1972.
Papers, 1964-1997. 4.3 linear feet.
Organic farmer and political activist who helped organize the first Iowa meeting of the Farm Unity Coalition and served as president of National Family Farm Coalition.  Includes materials from the Iowa Peace Institute Peacemakers Council, 1991, Box 11.
Papers, 1950-2006 (bulk 1980-2000). 4.75 linear feet.
Iowa City peace activist and educator who was executive director od UNA-USA Iowa Division from 1976 to 1996.
PEACE LINKS
Unprocessed records.
Northwest Iowa organization founded in the mid-1980s.
Papers, 1973-1995. 9 linear inches.
A founding member of the Dubuque National Organization for Women and a proponent of nuclear disarmament.
Papers, 1947-1981. 5 linear feet.
Supporter of the arts and civil rights and community activist who founded the Iowa Division United Nations Association in 1953.
Papers, 1955-2004. 5 linear inches.
Peace activist and volunteer from Marion, Iowa who was involved in UNICEF for over thirty years.
Papers, 1933-1988. 65 linear feet.
First woman to chair the Republican National Committee, serving from 1974 to 1977. Co-founder of the Louise Noun-Mary Louise Smith Iowa Women's Archives.  See Box 157, Peace groups.
Papers, 1969-2001 (bulk 1969-1974). 5 linear inches.
Active member of Another Mother for Peace which mobilized to protest the Vietnam War during the 1970s.
Records, 1962-2002. 1.75 linear feet.