About
The Rita Benton Music Library is named in honor of its founder and first director, Dr. Rita Benton (1918-1980). The Library is located on the first floor of the Voxman Music Building (Room 1451A).

Collections
The Music Library currently holds over 90,000 music scores (including chamber music sets), 55,000 books (including bound journals), 3,200 microforms (chiefly manuscripts and early printed books), and 38,000 media items in all formats. The Library currently receives around 300 journal titles.
The large reference collection is supplemented by several online resources including RILM, RISM, RIPM, Music Index, ProQuest's Music Database, Grove Music Online, Oxford Bibliographies for Music, WorldCat, and InfoHawk+ (the University's online search tool). Streamed audio resources include Classical Music Library, Naxos Music Library, Naxos Jazz, African-American Song, Smithsonian Global Sound, and the Database of Recorded American Music (DRAM); for streamed video, Naxos Video Library, Opera in Video, Met Opera on Demand for Students, and the Berlin Philharmonic Digital Concert Hall.
Arthur and Miriam Canter Rare Book Room
The Canter Rare Book Room contains nearly 3,000 rare books and scores. The collection has particular strengths in 18th- and 19th-century music theory treatises and instrumental methods, and a notable collection of keyboard and chamber music by Ignaz Pleyel (1757-1831).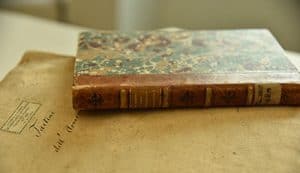 School of Music Archives and other special collections University Archives holds the papers of composer Richard Hervig, choir and opera director Herald Stark, Iowa's Center for New Music (1967-present), and papers of the composer Phillip Greeley Clapp (Director of the School Music, 1919-1944). All School of Music archival collections are housed in the University of Iowa Special Collections, located on the third floor of the Main Library.
The Goldman Band Collection is also kept in the Main Library under the supervision of emeritus band director Myron Welch.
Select collections from the RBML are available online through the Iowa Digital Library, including the Ignaz Pleyel scores, Stradivari String Quartet recording archive, select items from the Canter Rare Book Room, and recordings of the University of Iowa School of Music ensembles (only available to current students, faculty and staff).
Using the Library
All print materials are on open shelves; patrons must request audio recordings, video recordings, and microformats at the Service Desk.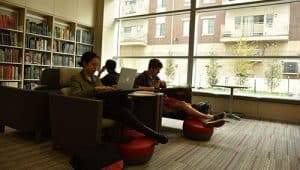 Materials circulate according to their type and the status of the borrower. In general, items circulate to faculty and students of the University of Iowa, and to those institutions with which this university has reciprocal agreements; non-academic residents may qualify for borrowers' permits. Detailed information on loan of print, audio, and visual materials, is outlined in the Borrowing Policies.
The RBML is furnished with standard audio playback equipment (cassette, CD, and vinyl), a microform/film reader, and 11"x17" flatbed scanner.
Prospective visitors from out-of-town are advised to contact the Music Library in advance if they anticipate needing the assistance of library staff, with some indication of their specific interests or concerns. For more information on visitor policies and procedures, consult our Services for Visitors page.