Above: A group photograph taken August 9, 1945 at the U.S. Naval Training Center, Great Lakes, Ill.
A
"A. Lincoln Republican Candidate for Elector Will Speak in Galena July 23, 1856 DeSoto House! Rally Round the Flag!!!; reproduction poster from the Galena Gazette Museum.
"American Dream in the Heartland, The"; poster.
An advertising poster for Clarence A. Andrews' six-part audio cassette series about the history and culture of the Midwest. Sponsored by the University of Iowa Division of Continuing Education.
"Authors of Iowa"; poster (11 copies).
Poster by the Iowa Council of Teachers of English, 1991.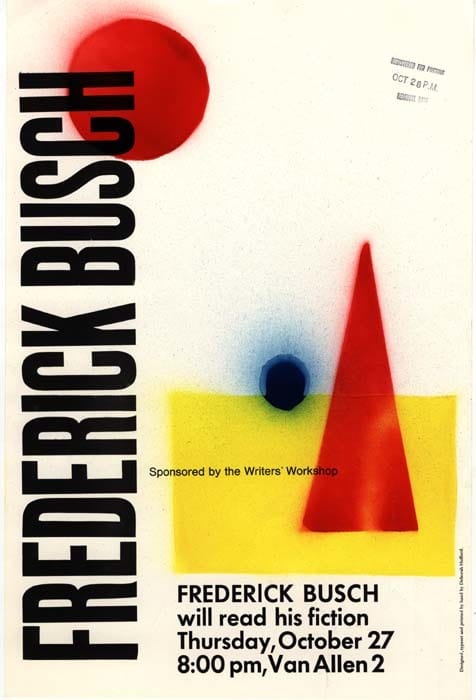 An Iowa Writer's Workshop poster designed and printed by Deborah Hufford.
B
Barnes-Crosby Company; matted photoengraving.
Caption of the photoengraving reads "The 200,000 Electrical Horse Power Hydro-Electric Development of the Mississippi River Power Company at Keokuk, Iowa."
"Bolivar, Simon"; etching.
An original etching by Pierre Noyttens of Simon Bolivar in military dress.
C
"Carl Van Vechten – Cultural Contributions of a Century 1880-1980"; poster
A poster from Kirkwood Community College's June 14-17, 1980 celebration of the author. The poster features a large photo portrait of Van Vechten.
"Celebrating Iowa Authors"; poster.
Poster for LAGBRAI V October 1991. Designed by Amy N. Warthan.
"Chautauqua – American Writers of the Golden Age"; poster.
Poster for August 9-18, 1996 Chatauqua festivities at the Iowa State Fair Grounds.
"Cunning Little Vixen, The "; poster.
Poster advertising the performance of this three-part Czech opera at Hancher Auditorium, May1 and May 3, 1981.
D
"Daily Planet, The" flier.
"Dance of Death"; reproduction woodcut.
Reproduction of a woodcut printed by Matthias Huss in Lyon, France in 1499.
Decree. From Alexander, hier to the throne, son of Peter I, King of the Serbs, Croats, and Slovenes to Dr. Walter H. Fox, in recognition of his service in the war. Belgrade, March 14, 1919.
Dom Casmurro – Numero Especial Sobre – Shakespeare; magazine, letter.
The one-page letter included in the magazine is from Bill Griffin to Professor Kuhl and explains the gift of the magazine. The letter is dated February 12, 1947.
E
F
Falcucci, Nicolo; print.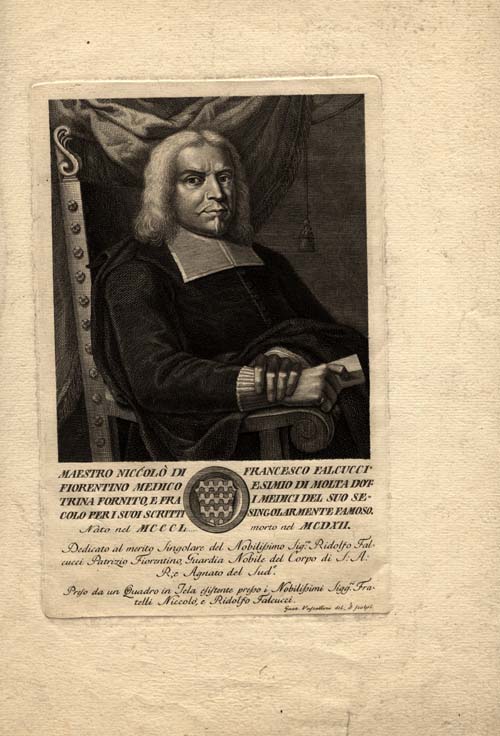 A print of Nicolo Falcucci given to the University of Iowa Libraries by Professor Emeritus Arthur L. Benton, M.D. in 1987. Falcucci was the author of
Sermones Medicinales
, a summary of all medieval medicine published ca. 1484.
"15e Fespaco – Festival Panafricain du Cinema et de la Television de Ougadougou"; poster.
"Frederick Busch"; small poster for the Writer's Workshop.
G
H
Heartfield, John; two large desk calendars.
Each calendar page is printed on both sides. One calendar is printed in English and French, the other is in Spanish and Russian.
Hoover, Herbert; photo portrait.
A photo portrait of Herbert Hoover with the words "The Good Wishes of Herbert Hoober" written beneath the image.
"Hubbell Mansion , The"; watercolor with overleaf.
A watercolor of "Terrace Hill" by Paul N. Norton with an overleaf about the history of the mansion and its occupants.
I
"Image Du Burkina: Un Grenair a Cereales"; poster.
Depicts a white rooster sitting atop a large grain basket in the middle of a cluster of thatched cottages.
"Iowa 's Distinguished Statesmen"; Des Moines Sunday Register political advertisement.
Political advertisement for Democrats Guy M. Gillette and Nelson G. Kreschel for United States Senate and Governor. On the reverse of the advertisement page is an article entitled "Iowa's '37 Crop Makes Good in Hollywood," which features articles and photographs of Ronald Reagen, Joy Hodges and the "Lane sisters."
J
Johnson, Lyndon B; two posters.
Both posters feature large photo portraits of Johnson. One also has red, white and blue trim.
K
Kennedy, John F; two posters.
Each poster features a large photo portrait of Kennedy. One also has red, white, and blue trim.
"Kerouac"; poster.
Stylized portrait of Jack Kerouac by G. Mabe.
Kuhl, E.P.; nine engravings.
Edward III, King of England and France.
Edward IV K of England and France.
Edward V KING of England and France.
Edwardus II Rex Ang.
Henricus III Rex.
Henry, Duke of Glocester.
Henry, Prince of Whales, Eldes Son of K. James I.
Johannes Rex Angl.
John Duke, of Bedford, Regent of France.
L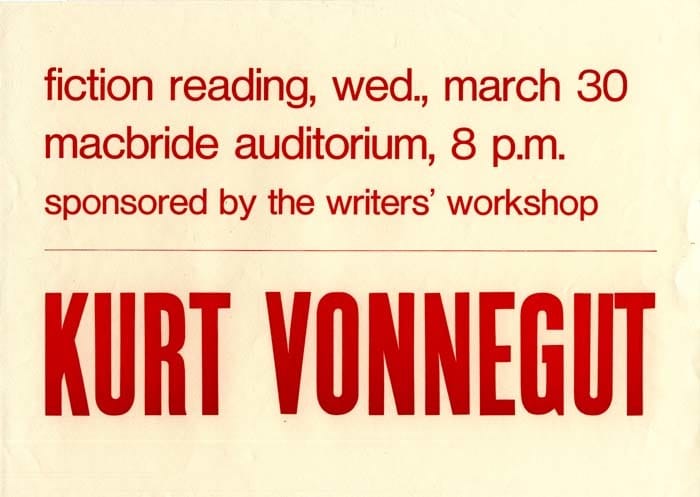 One of the twenty-nine posters in the collection of uncatalogued broadsides from the Writer's Workshop poetry and fiction readings.
Leary, Bernice; transparencies for Christmas cards.
"Le Regne de L'Avenir"; two posters.
"Banc des Ministres"
"Cour de Polyte 1er"
"Leigh Hunt: Bicentennial Celebration – a Symposium on the Life and Times of Leigh Hunt (1784-1859)"; poster.
Poster features an image of a man seated at a desk and the list of speakers at the University of Iowa's symposium on April 13, 1984.
M
"Milwaukee Depot, Davenport, Iowa"; watercolor by Paul N. Norton.
N
"Nile Kinnick – All-American"; art reproduction.
Portrait of Nile Kinnick carrying a football and wearing a football helmet and jersey by Wendy Jo Schmidt.
O
P
Plasse, Georges; painting.
Painting of a building against the night sky.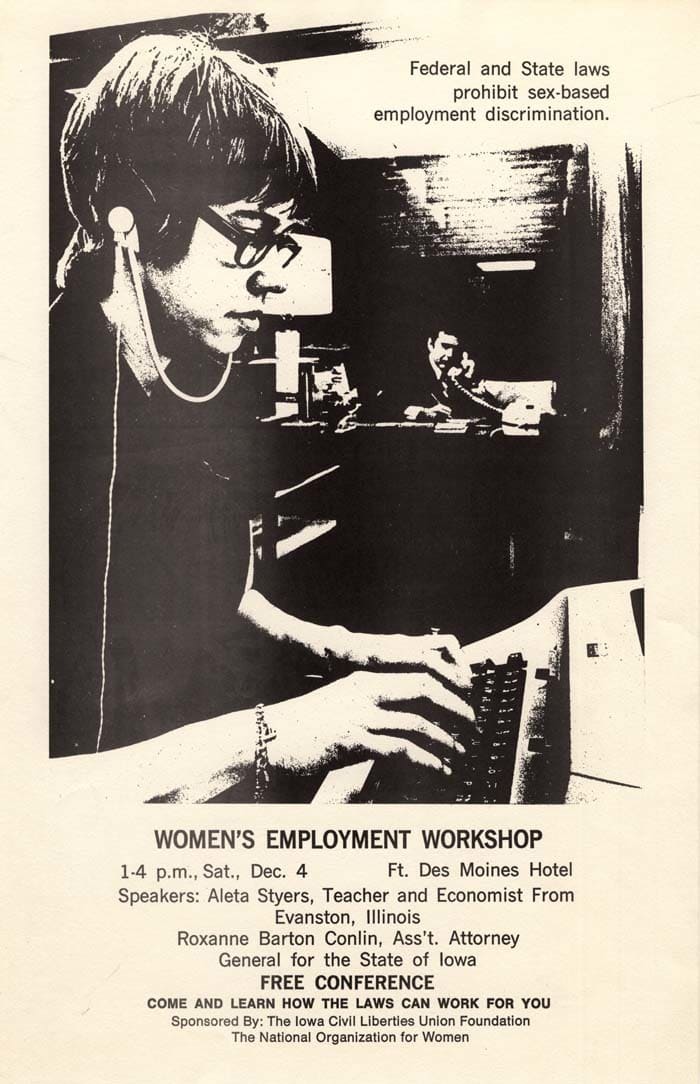 A poster from the Women's Employment Workshop.
"Portfolio of Literature in Art"; sixteen duogravure reproductions.
The Abbe Constantin
The Bride of Lammermoor
Dante and Beatrice
The Decameron
Elaine
A Florentine Poet
Hypatia
Joan of Arc
Judith
King Lear Disinheriting Cordelia
Mr. Micawber
Paul and Florence Dombey
Romeo and Juliet
Sunshine
Too Near the Warpath
Vicomte de Bragelonne at the Castle of Saint-Blois
"Portrait of Baudelaire" etching by Katharine Hefner.
"President, The"; supplement to the Columbus Safeguard. .
Image of Theodore Roosevelt. Dated November 10, 1904.
"Pub-Lick Sale"; poster.
Poster by the American Novelty Co. announcing the "Closing out of the Grand Old Party" on Thursday November 3, 1932.
Q
R
"Rock Island Legend, The"; print.
Photographic print (Series B) of the Rock Island Legen's engine and coal car.
"Rock Island Rocket"; matted picture.
"Roger Ramjen and the Torpedoes…Plus Sweet Nothing"; poster.
Poster by Steve Cox depicting three rockets playing in a band.
S
"1776 – 1876 A Centennial Exhibition"; poster.
Poster depicting a shield with a pro trait of George Washington in its center. Above the shield is an array of flags, the phrase "E Pluribus Unum," and an eagle.
Sketching of early machines; two-sided reproduction.
T
"Tattooed Countess, The"; poster (2 copies).
A poster designed by Ralph Barton for Carl Van Vechten's novel, The Tattooed Countess. The poster was part of Kirkwood Community College's celebration of author.
U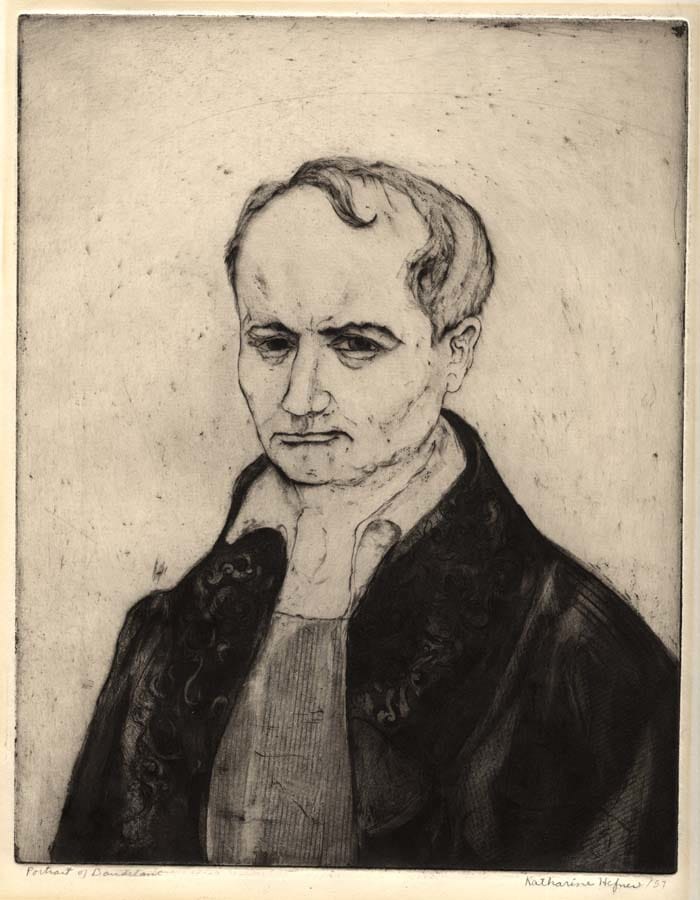 A portrait of Baudelaire by Katharine Hefner.
"U.S. Naval Training Center – Great Lakes, Illinois"; group panoramic photograph.
"Unique Limited Edition for the Bi-Centennial Celebrations, A"; poster.
A poster featuring a reprint of the 1818 Ornamental Edition of the Declaration of Independence designed by John Binns.
V
W
"Western Defense Command and Fourth Army"; flier (2 copies).
Announces the "April 26, 1942 Instructions to all Persons of Japanese Ancestry Living in the Following Area…"
"When Pen Gave Way to Press"; poster.
Poster for "An exhibition representing the transition from manuscript book to the printed volume during the late medieval and Renaissance period" held March 14-April 4 at Central College in Pella, Iowa.
"William Wordsworth and the Age English Romanticism: An Exhibition of Literature and Art"; two posters.
Two posters advertising the New York Public Library's October 31, 1987-January 2, 1988 exhibition. One poster features a detail from John Constable's Double Rainbow, while the other features a detail from J.M.W. Turner's Dolbadern Castle.
Women's Employment Workshop; poster and fliers.
"Do you know that if a man were doing your job he'd be making 40% more than you do?"; flier (four copies).
"Federal and State laws prohibit sex-based employment discrimination"; poster.
"World of Books – Clarence Day, The"; 8.5×11″ broadside featuring a reproduction of an illuminated manuscript page.
Writer's Workshop and others; twenty-nine fliers.
Marvin Bell
Donald Barthelme
An Beattie
Frederick Busch
Robert Coover
Alan Dugan
William H. Gass
Louise Gluck
Louise Gluck, Jon Anderson and William Matthews
Richard Hugo
John Irving
Walter Knupfer and Jody Swilky
Robert Mezey
Leonard Michaels
Hillis J. Miller "The Mirror's Secret: Dante Gabriel Rossetti & the Specular Tradition"
Penelope Mortimer
Richard Murphy
C.E. Poverman
Judith Rossner
Mary Lee Settle
Steven P. Scher "Brecht & Music"
Jon Silken
Louis Simpson
Sloan Summer Scholarships for study in England
George Steiner
Hyemeyohsts Storm
Ellen Voigt
Kurt Vonnegut
"When this you see, remember me"
Charles Wright
X
Y
Z