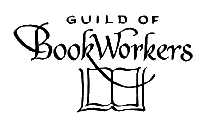 The Guild of Book Workers Library is housed in the Special Collections Department of the University of Iowa's Main Library and holds over 700 volumes which focus on the arts of the book, particularly hand bookbinding techniques, but also contains volumes on the history of bookbinding and bookbinders, papermaking, paper decoration techniques, calligraphy, printing, and book conservation. By trading newsletters and journals produced by the Guild, the Library also receives current periodicals on binding from similar organizations in England, France, Spain, the Netherlands, and Australia. Videotapes and DVDs which document the annual Guild Standards Seminars are another important component of the collection, now the most frequently borrowed items because they demonstrate techniques that cannot be adequately described in print sources.
The holdings for each of these major parts of the Library are listed on their own page: monographs and individual print titles; serials in substantial runs; and CDs, videotapes and DVDs.
This page is a list of the DVD/videotapes. Tapes created during Standards Seminars are listed first, by year of Seminar; a list of purchased videos and DVDs follows.
For further information about the Guild Library, please see the introduction to this site or contact:
Ann Frellsen, Collections Conservator & Guild Librarian
Emory University Libraries
540 Asbury Circle
Atlanta, GA  30322
404-727-0307
ann.frellsen@emory.edu
Holdings in electronic formats: CD, Videotape, DVD:
GBW STANDARDS SEMINARS
Note: ***One tape/DVD per title (not location); e.g., 4 tapes/DVDs were produced in 2009 (San Francisco)
2009, SAN FRANCISCO:
Methods of Approach, Carolee Campbell.  Slides and demonstration of the methods of approach that lead to the creation of an edition, from how concepts take shape to use of jigs and models, and simple methods used to add color and texture to both boards and text sheets.  Campbell is the proprietor of Ninja Press, editions of which are held nationally and internationally. All Ninja Press books are designed, printed letterpress and hand bound in limited editions by Campbell.
Tool Repair, Tom Conroy.  Examines the repair of small tools and benchtop equipment, showing many useful techniques for maintaining tools as well as discussion about their repair. Conroy is a book restorer, binding historian, toolmaker and fine binder. He is affiliated with the Museum of the American Bookbinder in San Francisco.
Dyeing Japanese Paper with Natural Dyes, Tatiana Ginsberg.  The steps involved in extracting and applying natural dyes and pigments to handmade paper, to achieve a rainbow of colors. Ginsburg spent two years in Japan on a Fulbright grant learning traditional methods of dyeing Japanese paper.
The Art and Science of Cloth Rebacking – Some Useful Techniques Shared, Dominc Riley. The restoration of Victorian cloth bindings using techniques that ensure an invisible repair yet maintain the structural integrity of the original binding, including cover repair with paper and cloth, and rebacking with cotton. Riley is a bookbinder, teacher and occasional filmmaker. He is a Fellow of the Designer Bookbinders.
2008, TORONTO, ONTARIO:
Contemporary Applications of Wheat Paste on Cloth, Martha Cole. Custom designed cloths using contemporary applications of wheat paste by integrating colored pencils, paints and ink & oil & chalk pastels as well as acrylic mediums. Examples also include stenciling, stamping and collage. Cole is a fabric artist who creates one-of-a-kind artist's books and limited editions.
Sixty Sewing Structures, Betsy Palmer Eldridge. A compendium of sewing techniques from different bookbinding traditions, evaluated for their particular strengths and weaknesses and their suitability for various applications. Eldridge studied Book Arts at Wellesley College, in  Germany, France, and with Carolyn Horton in New York.
Alum Tawed Bindings, Don Etherington. Full alum tawed binding reveals specific and interesting differences when compared to other structures. Etherington apprenticed in bookbinding in England before studying at the London School of Printing; since the 1960's, has developed conservation programs, taught, and established the HF Group, LLC.
In Love with Paper, Claire Van Vliet. Several versions of the paper strip bindings developed for recent Janus Press books.Van Vliet is the proprietor of the Janus Press.
Finishing Tools, Michael Wilcox. Explains how Wilcox makes finishing tools and blocks by hand and incorporates them into his creative work. Wilcox apprenticed in bookbinding in England and studied at Bristol College and West of England college of Art. He creates design bindings in Ontario.
2007, DALLAS:
Gold Leaf Tooling on Leather, Stuart Brockman. Methods and skills for gold leaf tooling of labels on goatskin, use of line fillets and patterned rolls on boards and board edges, lettering a convex spine and use of pallets and center tools. Brockman trained with his father James in the UK; has led workshops and lectured in the UK, Canada, Finland, and the USA.
Plain-Jane Restoration – Making Books Functional, Catherine Burkhard. Basic, cost-effective, yet quality restoration techniques for books with personal value. Burkhard is a bookbinder and calligrapher and has been an instructor in both fields. Owns Books'n Let­ters Studio in Dallas.
Original Binding Structures and Decorations, Roberta Lavadour. Focus on original binding structures and book decoration inspired by the cowboy and Native American heritage of Eastern Oregon. Lavadour publishes her artist's .books at the Mission Creek Press.
Practical Strategies for Editions, Kitty Maryatt. Designing a student letterpress edition of 100 copies demonstrates a variety of traditional and non-traditional materials and use of jigs for repetitive tasks. Maryatt directs the Scripps College Press and owns Two Hands Press in Playa Vista, CA.
Creating Medieval Stationer's Binding Structures: Lacing Patterns, Tacketing Methods, and Leather Making, Chela Metzger. Stationers' bindings with visible lacing and ticketing; closures with loops, ties or buttons; history and conservation of blank books. Metzger teach­es book history and conservation at the University of Texas at Austin.
Design Principles and the Book, Keith Owens. Foundational design and color prin­ciples and their use in innovative book design. Visuals illustrate the application of these principles in book design. Owens is assistant professor of communication design at the University of North Texas School of Visual Arts and teaches at Texas Tech. He designs custom books, albums and boxes; Education chair of AIGA Dallas-Ft. Worth chapter.
Behind the Design, Priscilla Spitler. Designer binding process of overall cover design, from concept to thumbnail sketch to laying out a final blueprint for leather onlay. Spitler studied printmaking at CA College of Arts and Crafts, bookbinding at London College of Printing and design binding at University of Texas. An edition binder, owns Hands On Bookbinding, Truth or Consequences, NM.
2006, Centennial Conference NEW YORK:
Boxed set of 8 DVDs.
2005, PORTLAND:
Wunderkabinette: Architectural Book Environments. Hedi Kyle
Edelpappband. Renate Mesmer
Lacunose (An Artistic Invention). Paul Delrue
Drum Leaf Binding. Timothy Ely
Traditional Marbling on Paper, Cloth and Leather. Peggy Skycraft
Letterpress Printing (Foundations Session). Inge Bruggeman
2004, PROVIDENCE:
Half-leather Trade Binding. Mark Andersson
Edge Decoration Techniques. Peter Geraty
Japanese Pouch/Four Hole Binding. Kiyoshi Imai.
Medieval Limp Vellum/Leather Structure Conservation of Historic Bindings Using Adhesive and Non-adhesive Methods. Nancy Southworth.
Photographing Your Artwork. P. J. Saine
2003, DENVER:
Spring Back Ledger Binding. Richard Baker
Incorporating 3-Dimensional Objects Into Cover Design. Tini Miura
Covering in Leather. Mark Esser
Presentation Considerations in the Design and Creation of Artists' Books. Julie Chen
2002, MINNEAPOLIS:
Slipcase and Chemise. Monique Lallier
Illumination. Dennis Ruud
Papermaking: Before and After: Pulp, Paper and Beyond. Bridget O'Malley
Historical and Contemporary Album Structure. Olivia Priminas
2001, ALEXANDRIA:
Romanesque Bindings. Jiri Vnoucek
Traditional Foundations Of Non-Traditional Artwork. Suzanne Moore
Vellum Binding. Peter Verheyen
Paper Repair. Christine Smith
Leather Decoration. S.A. Neff, Jr.
2000, SALT LAKE CITY:
Medieval Bookbinding. Terry Buckley
Examination of the Jacques Board Shear. William Minter
Adhesives. Karen Zukor
Girdle Bindings. Pamela Spitzmueller
Miniature Binding. Gabrielle Fox
1999, CHICAGO:
Action on the Case. Maureen Duke
Rounded Leather Drop-spine Boxes. Scott Kellar
Wire-Edge Binding. Daniel Kelm
Know Your Endpapers. Terry Boone, Jesse Munn, and Mary Wootton
1998, GREENSBORO:
On the Ellesmere Manuscript. Anthony Cains
Paper Engineering and Pop-Ups. Carol Barton
Decorated Papers. Linda Hohneke
English & German Style Leather Paring. Linda Blaser and Franklin Mowery
1997, ANN ARBOR:
Long and Link Stitch Sewing. Pamela Spitzmueller
How to Treat Wooden Boards. Dag-Ernst Petersen
Gold Tooling. Don Glaister
Japanese Papers: Identifying and Using. Nancy Jacobi and Don Etherington
1996, PASADENA:
Cuir Cisele or Leather Schnitt. Jan Sabota
Opening up Photo Album Possiblities. Richard Horton
Exposed Spine Binding. Louise Genest
Dying and Staining Leather. Terry Buckley
1995, TUSCALOOSA:
Rx for Sick Books from NYAM. Elaine Schlefer
Edge Gilding. John Mitchell
Danish Millimeter Binding. John Hyltoft
Contemporary Edition Binding. Mindell Dubansky and Priscilla Spitler
1994, DALLAS:
Techniques of Vellum Repair. Frank Mowery
Board Edges Redefined. Eleanor Ramsey
Modified Limp Vellum Bindings. Robert Espinoza
From the Leather Book to the Extra Terestrial Book. Timothy Ely
1993, BOSTON:
Sewing Variations. Betsy Eldridge
Simplified Binding Structure. Sun Evrard
Pastepaper – Traditional & Contemporary
Using the Hot Stamping Press. William Minter
1992, SAN FRANCISCO: These DVDs/tapes can be borrowed by GBW members BUT THEY ARE NOT FOR SALE
Box Making. Daniel Kelm
Rebacking a Leather Tight-Back. Bernard Middleton
The Making of a Book – Bone Songs. Clair Van Vliet
Box and Sculptural Bindings. Jan Sobota
1991, BLOOMINGTON, IN: These DVDs/tapes can be borrowed by GBW members BUT THEY ARE NOT FOR SALE
Conservation Treatments. Don Etherington
Case Binding. David Bourbeau
Design Bindings. Don Glaister
Special Enclosures. Hedi Kyle
1990, WASHINGTON, DC: These DVDs/tapes can be borrowed by GBW members BUT THEY ARE NOT FOR SALE
Edge to Edge Doublures. Monique Lallier
French Onlays. Tini Miura
Techniques and Logic in German Bookbinding. Frank Mowery
1989, PORTLAND: These DVDs/tapes can be borrowed by GBW members BUT THEY ARE NOT FOR SALE
Suminagashi. Don Guyot
Paper Repair for Bookbinders. Betsy Palmer Eldridge
1988, CHICAGO: These DVDs/tapes can be borrowed by GBW members BUT THEY ARE NOT FOR SALE
Sewing Through the Fold. Pamela Spitzmueller
Gougless Onlays. Sylvia Rennie
Japanese Side-sewn Bindings. Catherine Atwood
Letterspacing. Kay Amert
1987, AUSTIN: These DVDs/tapes can be borrowed by GBW members BUT THEY ARE NOT FOR SALE
Endbands. Jenny Hille
Rebacking Leather Bound Books. Bruce Levy
Tools and Techniques of Paper Repair. Barbara Meierhusby
Collaboration Between Binder and Printer. Craig Jensen & Richard-Gabriel Rummonds
1986, IOWA CITY: These DVDs/tapes can be borrowed by GBW members BUT THEY ARE NOT FOR SALE
Doublures, Endpapers and Leather Hinges. William Anthony
Turkish Marbling. Paula Gourley
1985, PHILADELPHIA: These DVDs/tapes can be borrowed by GBW members BUT THEY ARE NOT FOR SALE
Tool Sharpening. David Brock
Rebacking Cloth Bindings. Jerilyn Davis
Expanded Piano Hinge Album. Hedi Kyle
Covering Fine Bindings in Full Leather. William Anthony
1985, SAN FRANCISCO: These DVDs/tapes can be borrowed by GBW members BUT THEY ARE NOT FOR SALE
Half Vellum Over Stiff Boards. Silvia Rennie
Paper Cover, Case Construction, Conservation Rebinding. Gary Frost
Gold Tooling: Gerard Charriere and Michael Wilcox
1984, PITSBURGH: These DVDs/tapes can be borrowed by GBW members BUT THEY ARE NOT FOR SALE
Paring of Leather Covers, and Board Preparation. Don Etherington
Gold Tooling Using Gold Leaf. Michael Wilcox & Don Glaister
Edge Gilding and Gauffering. Hugo Peller
Covering Techniques Using Vellum Over Stiff Boards. Heinke Pensky-Adam
1983, BOSTON: No tapes produced
1982, WASHINGTON, DC: No tapes produced
NON-SEMINAR TAPES & DVDs ACQUIRED FOR THE GUILD LIBRARY:
Bridwell Library Geoffrey Chaucer, the works now newly imprinted, Kelmscott Press, London 1896. 2 CD set produced buy Octavo, Inc.. Shelf #1245.
Book Boys. San Francisco Public Library, 1995-1996. v. 1-2 (2) VHS tapes.
Susan Kapuscinski Gaylord, The Spirit Book Series. 2008. DVD.
Johanna Drucker,  Extensions of the Codex: Virtual, Electronics, and Esthetic Dimensions. HISTORY OF THE BOOK,  April 25, 2003. Syracuse. VCR.
The Anatomy of a Book, Part I: Format in the Hand-Press Period, Terry Belanger, 1991.  The Making of a Renaissance Book, Plantin-Moretus Museum Antwerp, 1969. Book Arts Press. DVD.
Eberhardt.  A video about bookbinder and teacher Fritz Eberhardt.
MARCHETTI – NY Edge Gilding, Shop Tour and Demonstration; Tools and Techniques of Japanese Paper Conservation
Susan Joy Share Performances. 2006. DVD.
Bookbinding at the Harcourt Bindery. 2006, Samuel B Ellenport. DVD.
Nineteenth-Century Bookbinding Techniques at the Harcourt Bindery. 2007, Samuel B Ellenport. DVD.
BINDER VISION PROGRAMS.
Program 1 – Elizabeth Greenhill: Bookbinder Talks to Marianne Tidcombe. With Comments on Her Work in His Collection from the Lord Wardington
Program 2 – Rebacking an Antiquarian Book with Bernard Middleton: A binders' Exhibition with Jan Ascoli: A Visit to Cockerell Marbled Papers
Program 3 – Angela James: Sewing on Tape and Cords; Maurice Parkinson: The "Master Pulp" Leaf Casting
Program 4 – Edgar Mansfield and James Brockman Talk to Rodney Crouch; Making Books with Concave Spines
HOME STUDY PROGRAMS FROM THE CANADIAN BOOKBINDERS AND BOOK ARTISTS GUILD. Supporting workbooks and materials with each program.
Program 1 – Setting up shop, tools and materials, framing, sewing, making the case, hanging in the text block. 3 DVD's (or 6 VHS tapes on request).
Program 2 – Making paper cloth, rounding and backing, trimming and edge treatments, headbands, spine lining, German case, and special endpapers section. 6 VHS tapes. 3 DVDs (or 6 VHS tapes on request). .
Program 3 – Joint construction, sewing variations, more rounding and backing, hanging on boards, leather spine and corners, finishing, and special leather section. 3 DVD's (or 6 VHS tapes on request). .
Program 4 – Restoration and Repair. 5 DVDs (or 5 VHS tapes on request).
Program 5 – Finishing. 3 DVDs