The files presented here are copies of the newsletter of this name created by and distributed to members of The University of Iowa, College of Engineering, Mechanical Engineering Class of 1930. Please read the explanatory text Hard Times, A Group Memoir by Jean Florman.
Please note: Due to the condition of the originals, some images may be difficult to read.
Technical details
As noted in the Jean Florman's explanation, the original, typewritten, submissions for this newsletter were copied to blueprint paper for distribution to the members of the class. The instructions to writers are preserved as document 3 in the 1937 issue

.
To produce the present electronic version , the blueprint originals were first digitized by scanning on a flatbed scanner and 300dpi using 1 bit color followed by conversion to PDF files. This work was done by, and under the direction of Bu Wilson, a member of the staff of the Preservation Department in The University of Iowa Libraries.
The issue covers and continuous-tone materials were rescanned [by Jeff Dodd] using an HP3500c flatbed scanner at 300 dpi. The images were processed in Photoshop Elements 2, saved as TIFF files, integrated into the original PDF documents and resaved as optimized PDF files.
Text pages that could not be reproduced legibly by the original one-bit scan (black and white) were rescanned as continuous tone material and processed in Photoshop Elements 2 as noted above.
OCR was not carried out for this project due to numerous irregularities in the typeface images.
Original materials
The original blueprint newsletters are being prepared for cataloging and deposit in The University of Iowa Archives.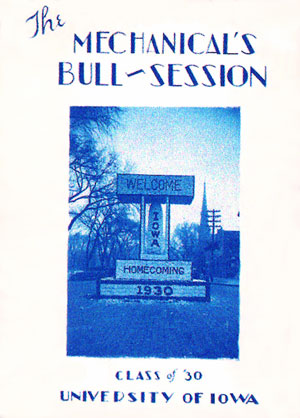 — Jeff Dodd, editor of the electronic version
The People Who Wrote and Were Referred-to in the Mechanical's Bull-Session
1930

1931

1932

1933

1934

1935 (missing)
1936 (missing)
1937

1938