South Building (Old South Hall), adjacent to the Old Capitol, was one of the first University Buildings. Established first as a dormitory, South Building gradually was taken over for other uses. Prior to the construction of the Medical Building (Old Medical) in 1882, one of these was as quarters for part of the medical school. Sometime later the Civil Engineers inherited the first floor and basement of South Building. Among the rooms devoted to engineering was the first engineering library for which we could find photographic evidence. If one assumes morning, rather than evening, light, the library probably was in the corner marked on the photo of South Building.
The caption to the photograph of the Civil Engineering Library in 1896 reports that the library contained 500 volumes. By 1901 when a catalog of the Civil Engineering Library was published it was 22 pages long. For librarians it is interesting because it shows not only which books were held, but how they were arranged.
South Hall was in rather sad shape by 1900 as can be seen from the letter written by Professor Alfred V. Sims. The wearing of the floor paint he referred to can be seen even in the photograph from 1896. It is not known if Prof. Sims ever got his granite floor paint, but the point became moot on March 10, 1901 when a fire in Old Medical spread to Old South Hall and reduced both buildings to ashes.
The medical library was utterly destroyed, but according to the General Librarian's report, only 42 engineering books were lost. The rest were saved thanks to some (admittedly rather foolhardy) heroics on the part of students who were able to rescue much of the contents of South Hall before it was engulfed in flames.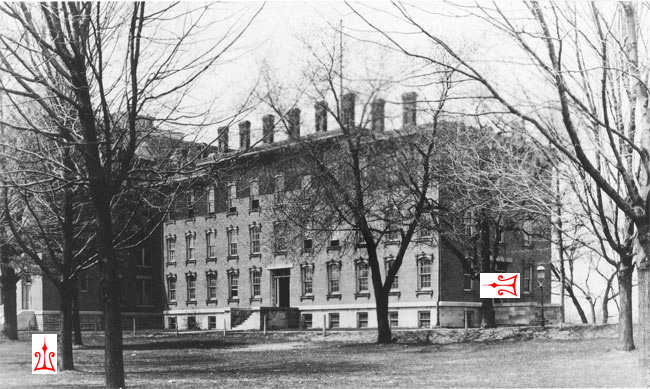 The Left arrow points to Old Medical, the Right arrow to the Library